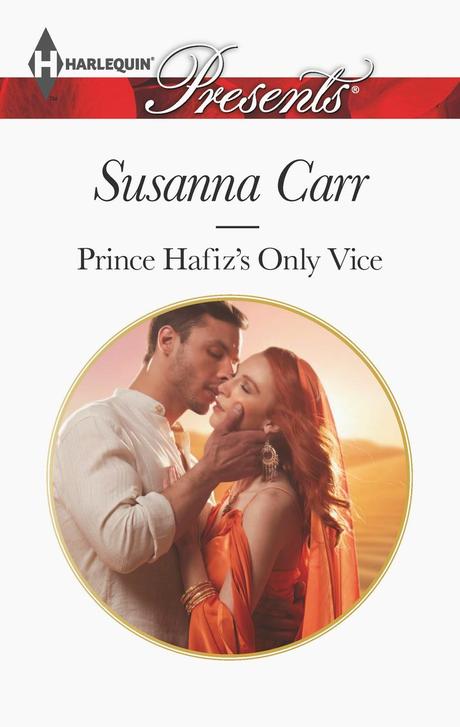 Prince Hafiz's Only Vice
by Susanna Carr
~~~~~~~~~~~~~
BLURB:
What a royal wants…
Prince Hafiz devotes his days to his people and his nights to indulging his desires with his stunning American mistress, Lacey Maxwell. But duty requires him to marry a "suitable" bride.
In her deepest secret fantasies, Lacey naively hopes to one day wear Hafiz's ring, until her dreams are shattered and he chooses someone else.
Faced with the reality of a passionless union, Hafiz realizes the years spent with Lacey have done nothing to slake his hunger for her. Instead he's determined to turn his only vice into a virtue for the sake of his country…and each other!
~~~~~~~~~~~~~
EXCERPTS
:
Excerpt One:
Lacey stared at the engagement announcement. Her mind refused to comprehend the words. "Marry?" she whispered. Her wild gaze flew to Hafiz's harsh face. "You're getting married?"
She waited in agony as he rose to his full height. He looked very tall and intimidating. Almost like a stranger.
Lacey didn't realize she was holding her breath until he answered. "Yes."
The single word sent her universe into a spiral. "I don't…I don't…." She stared at the headline again, but the pain was too raw, too intense.
Her hands shook as the rage and something close to fear swirled inside her. Fear of losing everything. Pure anger at the thought of Hafiz with another woman. The fury threatened to overpower her. She wanted to scream at the injustice and claw at something. Stake her claim. Hafiz belonged to her.
"You have been with another woman." She couldn't believe it. "All this time, you were with someone else."
Hafiz's eyes narrowed at the accusation. "No. You have been the only woman in my life since I met you in St. Louis a year ago."
She was the only woman, and yet he was going to marry another? "Then how are you…I don't understand."
He braced his feet a shoulders' width apart and clasped his hands behind his back, preparing for battle. "I met the bride today and she agreed."
Lacey's mouth gaped open. "You just met her?" She snatched the flicker of hope and held on tight. "So, it's an arranged marriage."
Hafiz let out a bark of humorless laughter. "Of course."
"Then, what's the problem?" She moved slowly as she stood. Her arms and legs felt limp and shaky. "Say that you won't get married."
He looked away. "I can't." Regret tinged his voice.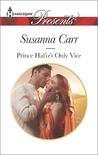 Prince Hafiz's Only Vice by Susanna Carr
My rating: 3.5 stars
Prince Hafiz's Only Vice by Susanna Carr is a 2014 Harlequin Presents publication. I was provided a copy of this book in exchange for an honest review.
Lacey becomes involved with Price Hafiz after meeting one another in the states. Now he has brought her to his country so they may continue their affair. However, life for Lacey in too restrictive and she wants to learn the language and culture of Hafiz's home land. However, she is stunned to learn Hafiz plans on getting married... just not to her.
Prince Hafiz embarrassed his family in a big way and as a result was stripped of his birthright. In order to get back his inheritance and his place in line to rule, he will have to give up his playboy days and marry the woman his parents have chosen for him. Desperate to avoid dishonoring his family more than he already has, Hafiz plans to go through with the marriage.
I don't typically chose the Arab or Sheik romances all that often, but on occasion I like to read one for a change of pace. The type of person I am often makes me curious how a writer will manage to pull off this sort of romance since we all know that things in Middle East countries are very different for women. With this one naturally, there were a few glitches. For starters, Hafiz's treatment of Lacey was not all that wonderful to begin with. He abandoned her all day and came home thinking all she had done while he was away was pine for him. Then of course, he intends to marry and thinks nothing of this or how it will affect Lacey. She will be just thrilled pink to maintain her mistress status... right?
Wrong.
From the moment Lacey realizes her prince intends to marry another women, even if it was arranged and he didn't have feelings for his bride, she is in tight spot. For one thing she needs to leave, but there is a problem with getting out of the country. The back and forth banter between Lacey and Hafiz is spirited, funny at times since she one ups him frequently, and his puzzlement of course is priceless. The story also raises the hackles if you are even moderately feminist. Part of the fun though was watching the prince come around to Lacey's way of thinking.
This is a short contemporary read with interesting cultural details and became a very absorbing novel. The characters were well written, and I became emotionally involved in the plot. I was on the fence about it in some ways but really liked it other ways. Remember, even if you are in a relationship just for fun and you think you can keep it on the causal side, like Lacey did, be prepared for the possibility you may really fall in love.. like Lacey. While the book got off to a tiny bit of a slow start, it quickly sped up and I couldn't keep from turning pages to see how everything was going to turn out. The Prince's attitude was hard to take at times and it was hard for me to relate to him, so I spent the majority of the book invested in Lacey's angst and her heartbreak. However, the ending of book makes the emotional rollercoaster worth the ride. This one is a 3.5
View all my reviews
 


~~~~~~~~~~~~~


AUTHOR Bio and Links:


Susanna Carr is an award-winning author known for her contemporary romances. Readers throughout the world find Susanna's stories a delightful escape that has often helped them through difficult times. Reviewers frequently describe her work as "fun", "sexy" and "a must read." When she isn't writing or spending time with her family in the Pacific Northwest, Susanna enjoys reading romance and connecting with readers online.




Website: susannacarr.com




Facebook: facebook.com/pages/Susanna-Carr/242944799620




Twitter: twitter.com/susannacarr




Goodreads: goodreads.com/author/show/22371.Susanna_Carr




Buy links:




Amazon Kindle: http://www.amazon.com/Prince-Hafizs-Only-Royal-Ruthless-ebook/dp/B00JZFS08U/




Barnes & Noble: http://www.barnesandnoble.com/w/prince-hafizs-only-vice-susanna-carr/1119221410?ean=9780373132850




Google Play: https://play.google.com/store/books/details/Susanna_Carr_Prince_Hafiz_s_Only_Vice?id=jGB0AwAAQBAJ




Kobo: http://store.kobobooks.com/en-US/ebook/prince-hafiz-s-only-vice


a Rafflecopter giveaway