As the weather is getting warmer, it is time to shed the heavy, closed shoes and look for something a little more open and airy for the Summer.  In men's leather sandals – a very particular focus of menswear – there are three basic styles.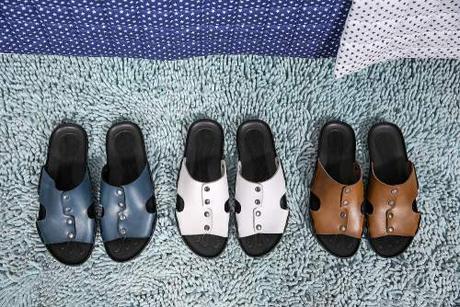 First, are the ever-popular flip-flop or thong sandals.  It is the most open type of sandals and a great choice for casual wear.  Sometimes this type of "flip-flop" sandal can be more of an athletic or "beachy" look, but there are some that can be worn with a dressier outfit.  These white leather thong sandals, for example, have a white leather upper and twisted/woven brown and blue leather that keeps the sandal interesting and less boring than the rubber type of flip-flops.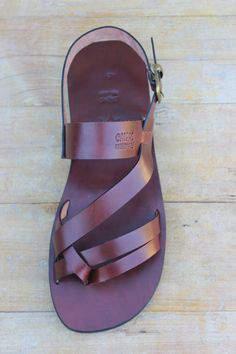 Another favorite style of men's sandals is the "gladiator" or strap sandals.  One, like this pair of brown leather sandals, gives you a little more support than the thong style sandal because of the straps across the toes and at the heel.  They would be a nice alternative to a walking sandal because it is a look that can be worn with both shorts and casual pants.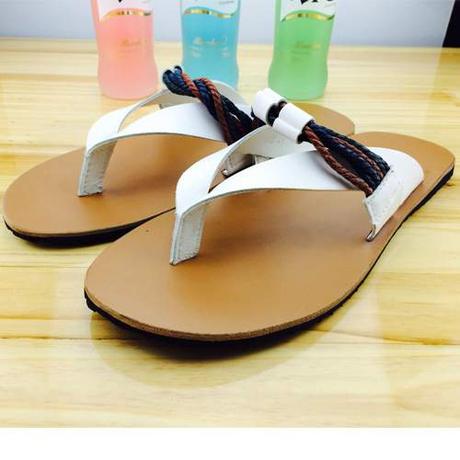 The third basic style of sandal is the "slide"  This one is easy on and easy off and doesn't have what might be an annoyance, if you are not partial to anyone around or between the big toe.  In this photo, they have overlapping leather uppers that have side cut-outs, which will give you a fuller coverage on the foot, as well as a more secure fit.  It is a great sandal to keep by the door because it will be a shoe that you will reach for over and over again.  The stud detail that runs down the front, is also a nice modern touch and the gives the sandal more interest.