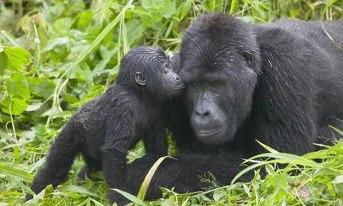 Photo courtesy of Amahoro Tours
I'm soooooo excited to announce that as I write this I am about to begin my dream trip, something I've waited years and years for…..a Primate Safari in Rwanda!
 I love primates so much that I even hold a Bachelor of Science degree in Primatology (study of primates) and have worked in a zoo designing environmental enrichment programs for gorillas.  Now I actually get to observe them in the wild!
I'm in Rwanda for seven days.  Today I will be exploring Kigali (the capital city) and visiting the Kigali Genocide Memorial Centre.
Tomorrow I'll be visiting Volcanoes National Park and with a little bit of luck meet my very first mountain gorillas in person!  I've loved gorillas long before I read and saw Gorillas in the Mist written by Diane Fossey, the famous primatologist who studied mountain gorillas.  I'm even more excited after discovering that there are one year old twins and Omar my guide from Amahoro Tours said that because it's off season it's possible that we will be visiting the gorillas with a very small group!  Fingers crossed!