After spending over an hour in Primark earlier this week I came out with some stunning items that were definitely worth a mention on here. I have noticed that when I do go to Primark I don't just go silly because everything has a small price tag. I tend to carefully pick items that I need and items that don't have that Primark look about them. I like to find statement items that look far more expensive than they actually are. Hence the saying Primarni.
Here is what Primark currently have on offer, and here were the lucky ones that made it home with me: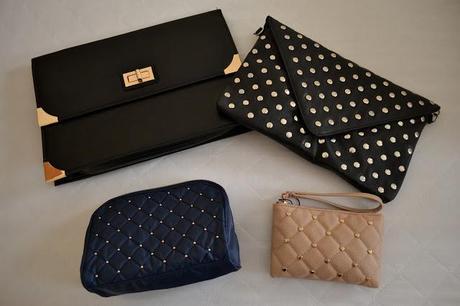 Black & Gold Clutch: £8.00
Black & Silver Studded Clutch: £6.00
Blue Quilted Bag: £3.00
Pink & Gold Heart Purse: £3.00
Two gorgeous clutches, a make up bag and a little purse. Notice how all bar one has studs on. I loved the black & gold over sized clutch. Something about it just speaks designer/expensive. The black and silver studded clutch also has an expensive look to it, with the added benefit of a strap which I've tucked inside as I will probably be more inclined to use it as a clutch. The blue quilted bag I have used as a make-up bag, and the pink and gold heart studded purse was just too cute not to buy.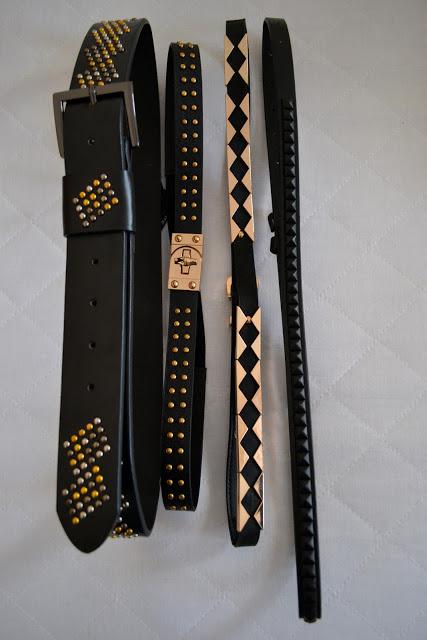 Black Stud Belt: £4.00
Black & Gold Twist Lock Belt: £3.00
Black & Gold Slide Charm Skinny: £2.50
Self Stud Skinny £2.00
As some of the belts were a couple of pounds it would be silly not to pick up a selection and you can never have too many. The two middle belts are waist belts which will look good round a knitted dress this winter. I'm such a fan of black and gold as I am sure you can tell. The one on the far left is my favorite which will look great around a pair of black skinnies.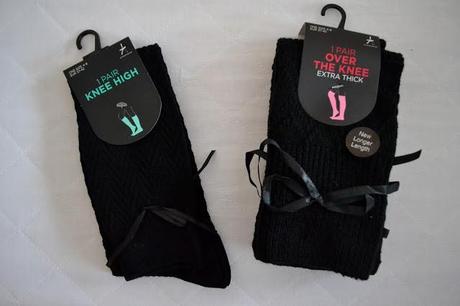 Knee High Socks with Bow: £1.50
Over the Knee Extra Thick Socks with Bow: £2.50
Two pairs of knitted socks to keep those tootsies warm this winter. I love chunky socks with my winter ankle boots, especially with cute bows on the side to show off.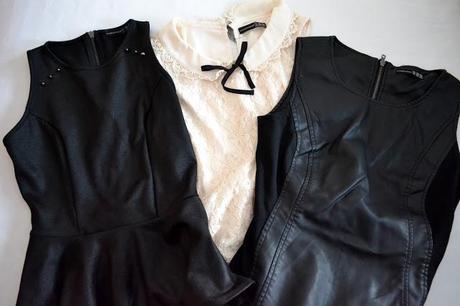 Black Studded Peplum: £8.00
Lace Collar Shift Dress: £15.00
Pleather Bodycon Dress: £17.00
And clothes. A gorgeous stud peplum top, a cream lace dress with a black detailed bow, and a pleather dress. I definitely don't look at the them and think Primark. A tip from my mom. With Primark, you have to take an item of clothing away from everything else within the shop to appreciate its visual quality. The two dresses will be perfect for evening dresses, and the peplum top I just absolutely fell in love with.
And here's my gorgeous oversized knit cardigans to wrap up in as it gets colder. Chunky knits are compulsory for the winter.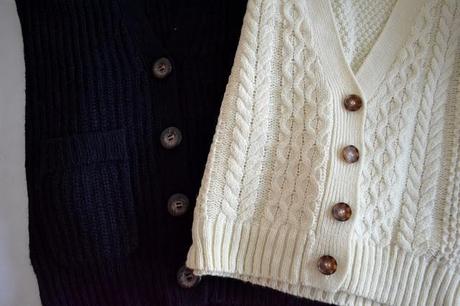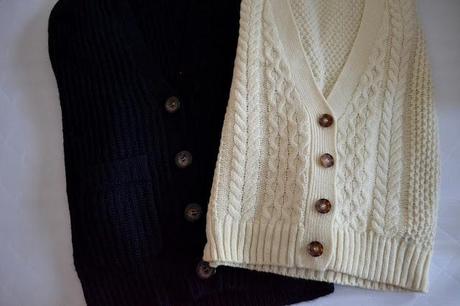 Navy Chunky Knit Cardigan with Pockets: £12.00
Cream Cable Knit Cardigan:  £12.00
Oh my oh my. Now would you look at these. The color burgundy/plum is right on trend for this Autumn/Winter.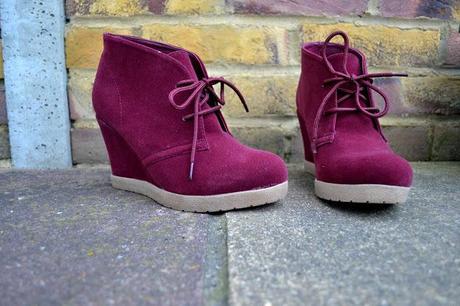 Now tell me you don't think they are adorable. For comfort I would give them an 11. Imagine them with a chunky knit and some skinnies. For £15 I would of been silly to walk off without them.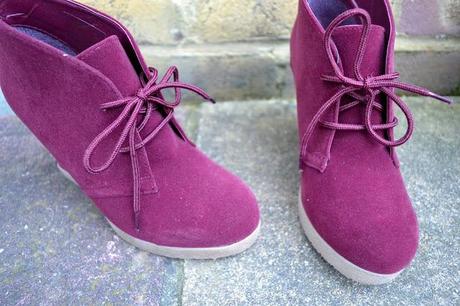 Wedge Ankle Boots: £15.00
And these gorgeous black and gold lace up ankle boots.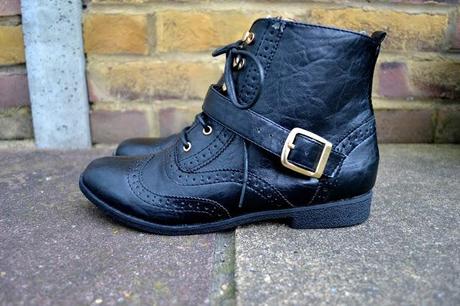 Boots like these never go out of fashion. Year on year they make their place on the shelves. I love the dotted detail and the gold buckle. If I hadn't of told you they were from Primark and lied and said they were from Topshop would you question me? Somethings telling me you wouldn't!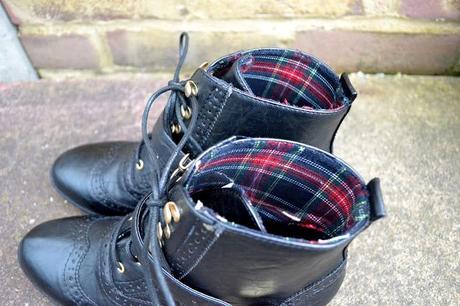 Cute tartan material inside the boot.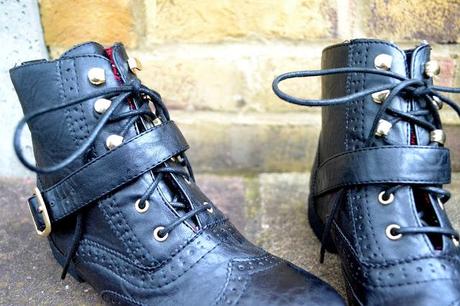 And cute little gold hooks for the laces.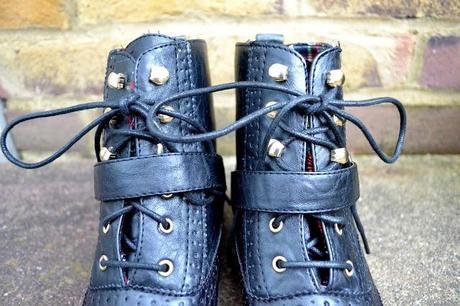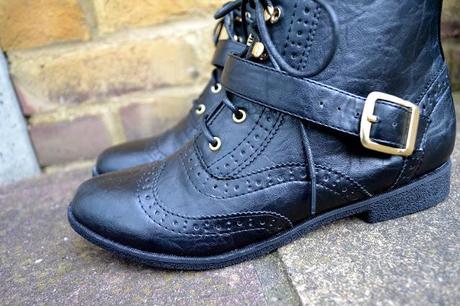 And last but not least my gorgeous Gold Peter Pan Collar Necklace. This will look great around the top edge of a top or simply on its own. It looks so expensive and elegant. The chain link design allows it to just fall neatly into a collar shape. p.s. I am not naked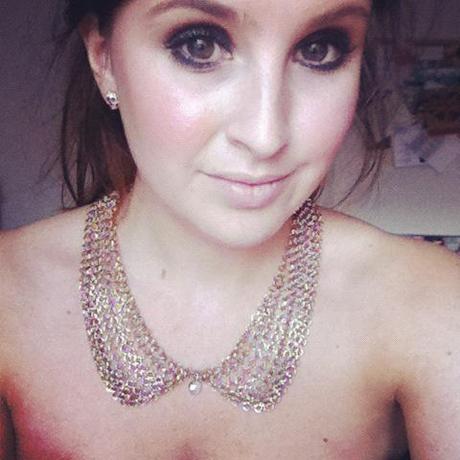 Gold Peter Pan Collar Necklace: £5.00
I also bought a Black Faux Fur Snood which is featured in my previous post. Looking at my winter wardrobe I still have a fair bit to buy. What are your winter must haves? Are there items that you find yourself wearing every winter without fail?
Amie
♥