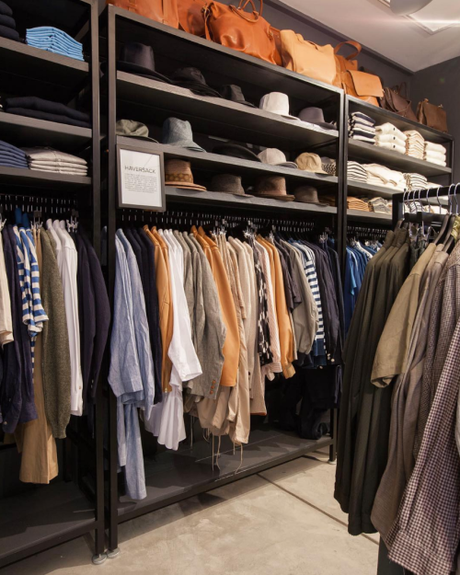 For a blog called Die, Workwear, I'm really into Unionmade. The store specializes in hard-to-find workwear, heritage brands, and Japanese imports. Basically the sort of things you'd see in Free & Easy, back when they were still being published, but available in one (very large) boutique. 
They also have some great sales every once in a while, which make their admittedly high prices a bit easier to stomach. Last night, they cut prices in their sale section, where you can knock another 20% off with the checkout code EXTRA20. Shipping is a reasonable $10 for most of the United States ($40 to $60 international). 
You'll find a lot of good basics here. Gitman Vintage button-downs, striped Saint James Bretons, Wolverine work boots, New Balance sneakers, and the lowest price I've ever seen for a staple Barbour jacket. I also really like these light washed Levis jeans, which come in the 1947 version of their 501s (the cut has changed a lot over the years, but the 1947 version is probably the easiest to wear with its slim-straight fit). On a hot summer's day, I can imagine those being worn with this white Arpenteur camp collar shirt and some Yuketen huaraches. 
The best stuff, however, is in the outerwear section. I love this infantry jacket from Shuttle Notes, which is a ready-to-wear label connected to a famous Japanese textile mill. It somehow manages to look like the softest blanket on your bed, but also something you'd wear in the trenches. This black RRL double rider is one of the better designs I've seen for the style; this marled Mackintosh would be a nice way to add some pattern to an autumn outfit; and this Margaret Howell fishtail parka comes in an interesting rust color. Likewise, Chimala and Eidos are worth a look. The Eidos coat is simple, but it would go great with that Breton shirt mentioned above and some denim. 
There are some notably wild items, as well. This SK Manor Hill dressing gown vaguely looks like something Alfred Molina's character would have worn in that Boogie Nights scene, where he smokes a bit of crack before blowing someone away with a revolver. (My friend RJ, who's a bit of a trivia buff, tells me the scene was inspired by the Wonderland murders). You can wear the SK Manor gown with these unlined Barbanera slip-ons and skip the killing. And for the truly adventurous, Haversack has a seersucker jumpsuit this season. Wear it when you're diving into Ivy Style's fractious comment section, then put on that infantry jacket once you land.