Happy New Year and let's hope 2021 treats us a lot less roughly than 2020 did.  I'll kick the year off with a post on two men and one painting.  To start with, here is the painting...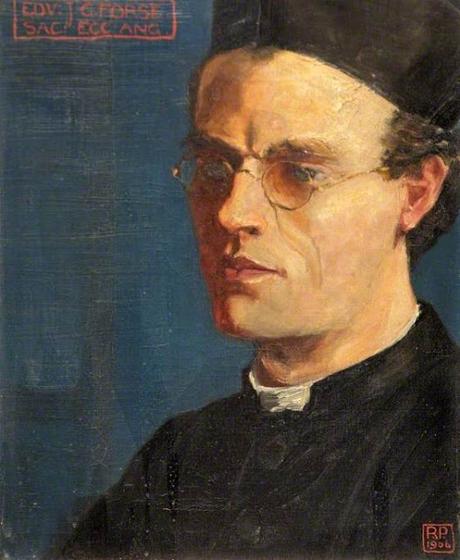 Reverend Edward John George Forse (1906) Reginald Price
Here we have a nice chap of the cloth, the Reverend Edward John George Forse, painted by Reginald Price, but who were these men and how did they come to meet?  I love a good mystery and so I did a bit of digging.  Let's start with Reginald Price...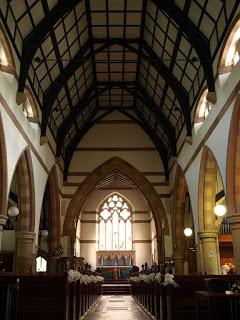 St Mary's Church, Selly Oak - Thomas Price was the first incumbent in 1862
Actually, Mr Price turned out to be the least interesting of the two in terms of what he left behind him, which is terribly unfair as he came from an interesting enough background. He was the youngest son of thirteen children (thirteen! heavens...) and only older than his younger sister Helena.  Born in Selly Oak in 1878, he was baptised by his father, Reverend Thomas Price, the Vicar of St Mary's Church.  The Price children were obviously close with each other, and through the censuses you can see them staying with each other, or living with each other, the married siblings taking the single ones in. I wonder if there was a 'second parent' sort of a relationship between them all as there was twenty years between eldest Price child, Clement, and Reginald.
By the 1891 census, the Price family were living at Claverdon in Warwickshire, with Reverend Thomas looking after the church there.  He must have made the job look attractive because his son Hugh was his curate and other son Bernard was studying theology.  Reginald had other ideas than going into what seems to have been the family business and took himself off to study art in Birmingham.  Hurrah!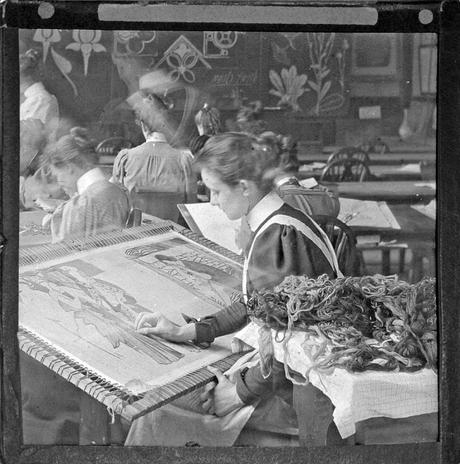 Birmingham School of Art (c.1900)
Full disclosure, I massively miss Birmingham which contains many family, friends and Pre-Raphaelite Society meetings.  Anyway, Reginald took himself off to the Art School there which had girls and art and no-one becoming a vicar! Looking at this image (and the others on this site) it looks heavenly and I want to go too.  By 1901, Reginald was staying with brother Hugh (who had his own vicarage and everything, level unlocked!) in Aston Manor and working in metals as a 'craftsman' of the arty persuasion. He found employment at Rossell School in Fleetwood, teaching art, including painting in oil and watercolour, drawing from cast, nature and the blackboard, drawing from memory and outdoor sketching in the summer (according to their advert in 1911). Just before this however, Reginald became acquainted with a young Edward Forse, a clergyman three year his senior...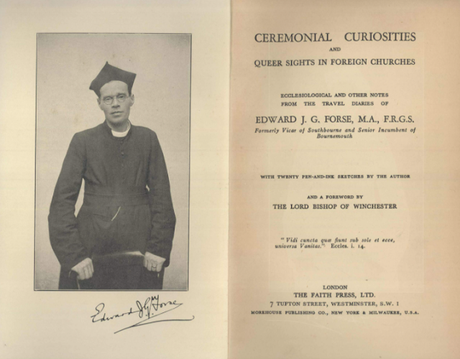 Edward John George Forse was definitely a force to be reckoned with. With both his parents teachers, I guess it is unsurprising that Edward was clever.  Born in 1876 in St Jude's Schoolhouse, Englefield, he went off to London University at a very early age, graduating at 18 while also acting as a pupil/teacher. As he was the youngest ever to achieve his degree while teaching, a newspaper report praised his ability and dogged determination in his studies, working seven and a half hours a day, five days a week.  One of the tactics Edward had deployed was if he had not understood part of a text he was studying, he would write to the author and ask.  This paid off well in the case of The Brus, a poem translated by Walter William Skeat, who when asked, wrote back 'a long and most kind letter, literally teaming with information'.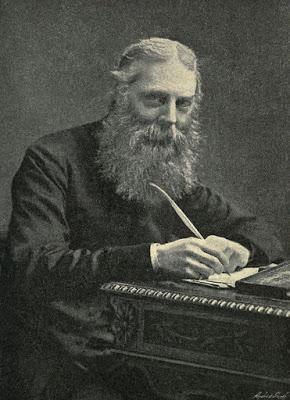 Walter William Skeat, very helpful indeed.
Less helpful was William Morris, who, when asked about his work Jason, replied that it was so long since he wrote it he had forgotten the subject matter himself.  Seeing as it was around 30 years since Morris had written, this would have been fair enough had Edward Forse not  seen an advert shortly afterwards for a new edition of Jason, 'thoroughly revised by the author'. The newspaper concluded 'Mr Morris's Socialism seems to be of the strictly academic kind which does not permit of his sharing anything, even information, with a casual correspondent.' Ouch.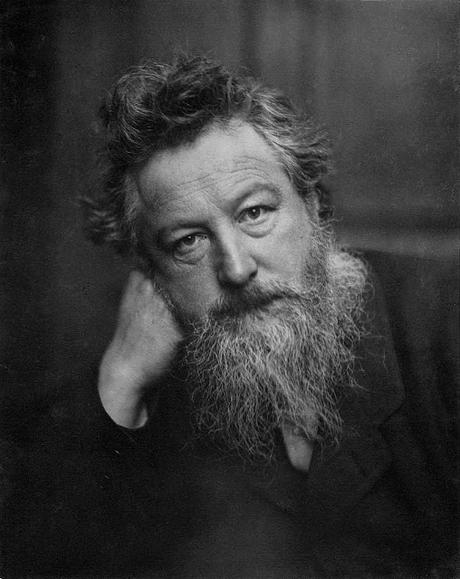 William Morris, not helpful, apparently.
After London came Cambridge where he received an MA - it's not noted whether he bothered any authors there too, but I'm assuming he did as he was a thorough fellow and I respect that. He also was not short of opinions and certainly not backward in coming forward, as we shall see...
The first letter I found was from 1904 where he wrote of the failings of paraffin lamps and how you have to clean them, you filthy people.  He followed that up with a 1906 letter which went into the statistics for illegitimate births. Apparently the people who compiled the statistics had not gone into the matter of lower infant mortality and longer life expectancy and so the percentages were not telling the whole story.  This is technically correct (the best kind of correct) but makes you wonder who feels moved enough to write a letter to this effect to the newspaper. A man of substantial intellect and desire to share it, no doubt.
Edward was also responsible for numerous books including Glimpses of Poland (1917), La Frontera (1933) and a book of poems and prose, not to mention my personal favourite, Ceremonial Curiosities and Queer Sights in Foreign Churches (1938).  He was also quoted from his parish magazine to the local newspapers, mainly because of his extraordinary trains of thought.  Being one who is not averse to a random thought myself, he is an absolute hero...
The Sydney Herald 1929 (yes, that's Australia), quoted Edward's article about snobs and language.  This is absolutely corking so I hope you will forgive me quoting fullsome-ly...
'The sniffy genteel who contemptuously abhor vulgar abbreviations and never, never, never say 'bike' when they mean 'bicycle', might at least practice what they preach. By George and James and Jehoshaphat and the living Jingo, they will have their work cut out! Remember that 'cab' is a vulgar abbreviation of 'cabriolet', 'pun' should be 'pundigrion', 'mob' is 'mobile vulgus', 'wig' is short for 'periwig', 'chum' is short of 'chamberfellow', 'wag' for 'waghalter', 'rum' for rumbullion', 'gin' from 'Geneva' and so on, ad infinitum. On the other hand, 'pal' is not an abbreviation at all, but a highly respectable Sanskrit word meaning brother. And 'guts' is a polite Anglo-Saxon term of the same origin as ingot.'
Marvellous, and I shall henceforth call people 'chamberfellow'! Another one of Edward's glorious pieces was quoted in the Daily Mirror in 1934 on the subject of London, which he confidently predicted would not exist in 60 years time.  Cities of the past had vanished, he reasoned, and these had been built of solid stone, rather than today's modern 'friable brick, rusting steel and crumbling mortar'.  London would be reduced back to 'a walled town the area of Green Park' surrounded by bramble, most probably by 1995...
Edward obviously traveled with his work, serving as curate in St Paul's in Jarrow, St Bede, Monkton, Maidenhead, Guildford and Southwark, as well as travels abroad, before settling later in life as the vicar of St Katherine's in Bournemouth.  There he stayed, living at 3 Wollaston Road, Southbourne (very nice too, have a look on Google maps), still writing and providing clues for crossword puzzles in The Scotsman. On his retirement, he moved to Boscombe and possibly had to downsize (Vicarages are often generous in size) and so donated the painting by Reginald Price to his local art gallery, the Russell-Cotes. He died in 1944, aged 67 and left his money and belongings to his younger brother Leslie, who was also a vicar. Naturally.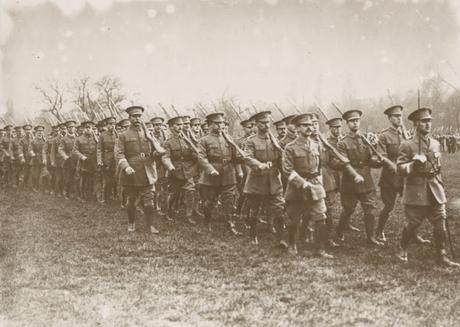 Royal Warwickshire Regiment, First World War
I wish I could say that Mr Price had as happy an old age but he did not reach it.  As a teacher at Rossall School, he felt the call on the outbreak of war in 1914 and enlisted immediately. Rossall seems to have embraced the military life as part of its regime, and many pupils both past and at the time joined up as soon as they could.  Reginald rose through the ranks becoming first a corporal and then a second lieutenant with a commission in the autumn of 1915 with the 6th Battalion Royal Warwickshire Regiment in France. His battalion arrived at Mailly in time for the beginning of the Somme and on the first day, 1 July 1916, they moved forward only to be trapped, pinched in from the sides by German troops. Of the Royal Warwickshire's 1st 6th battalion (there were three different 6th battalion due to size of area they were drawn from, Birmingham) on that first day of the Somme, 130 men were killed or missing presumed dead, with 316 wounded.  Among them was Reginald Price, missing presumed dead, only 37 years old. His name is among those of the boys he taught on Rossall School memorial which is depressingly long.  He is listed on the second panel, one of almost 300 Rossallians who died.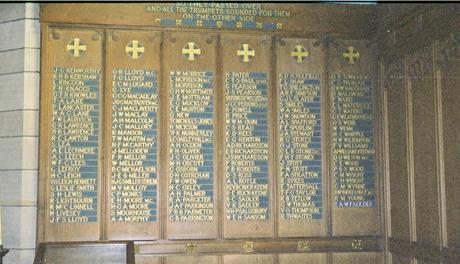 So how did these two very different men meet and how did a painting come to be? I like the mystery of this as, on the face of it, they did not seem to know each other, and Reginald Price was not a portrait painter (that we know of) and so how did we end up with this work?  It's a really beautiful painting and judging by the photograph in the front of Edward Forse's book, a good likeness.  Reginald specialised in metalwork, not painting, but obviously was skilled enough with oil to create this work. As Edward was a vicar, along with many of Reginald's brothers I think it likely that is how the pair met.  Edward is a striking looking chap, so possibly either Reginald just wanted to paint him or Edward commissioned him to do the portrait, which he kept until just before his death.  He obviously thought enough of the work to take it to his local art gallery to donate it, even though Reginald never had the chance to become a well-known artist (no other paintings by him are in public collections). It's a wonderful painting, giving us a thoughtful young man with his fragile golden glasses glinting on a handsome face.  It would be entirely fanciful to presume any other sort of relationship between the two men, but Reginald gives us a very beautiful image of the young, dynamic curate, one the latter would treasure to the end of his life.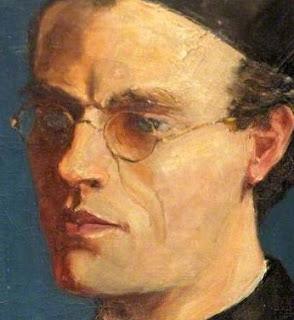 So, Chamberfellows, I shall leave you with this mystery.  I now want to read more of the Reverend Edward's thoughts on any subject, but we shall probably never know more of Reginald Price, who died without leaving a trace.  At least we have this painting revealing the talent of one and the beauty of the other.