The Paybacks #4 Preview (Dark Horse)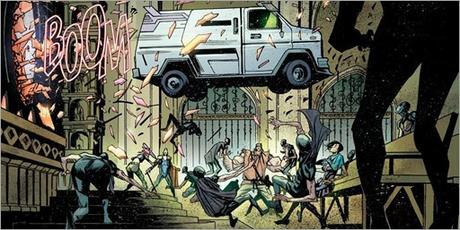 Here's a short preview of The Paybacks #4 by writers Donny Cates & Eliot Rahal and artist Geoff Shaw, on sale December 23rd, 2015 from Dark Horse.
THE PAYBACKS #4
Writer: Donny Cates, Eliot Rahal
Artist: Geoff Shaw
Colorist: Lauren Affe
Cover Artist: Geoff Shaw
Everyone's favorite superhero repo squad finally confront the shadowy organization that's been offing bankrupt heroes, and they work out their differences with poise and civility. No, actually, they fight. But one of the Paybacks is fed up with the life of indentured servitude and decides it's time to default . . . no matter the cost!
Genre: Humor, Superhero
Publication Date: December 23, 2015
Format: FC, 32 pages; Ongoing
Price: $3.99
UPC: 7 61568 26259 9 00411