Rock Candy Mountain #7 Preview (Image)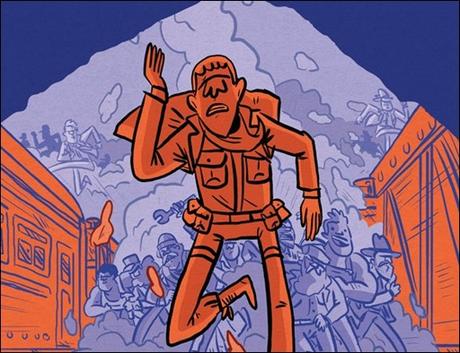 Here's a 4 page preview of Rock Candy Mountain #7, the penultimate issue by creator Kyle Starks, on sale January 3rd, 2018 from Image Comics.
ROCK CANDY MOUNTAIN #7
Story / Art / Cover: Kyle Starks
CHAPTER 7: "THE JUNGLE FIRES WERE BURNING"
Old friends reunite and old enemies return as the World's Toughest Hobo finds himself in the final stretch of his journey for the mythical hobo heaven but faces his toughest challenges yet as the stakes continue to rise. I do suspect you've seen some wild things in your days, Dear Friends, but this issue finds us in a trainyard war-a hobo donnybrook like you've never imagined! So boil up your glad rags, and grab your bindle as we find out if Jackson and company find salvation or a one-way trip on that westbound train to the boneyard!
Part one of the two-part series finale of ROCK CANDY MOUNTAIN.
U.S. Cover Price: $3.99
Published: January 3, 2018
Diamond ID: NOV170800