"Provenance" was one of the foodie buzzwords of 2015 and one restaurant to take that a step further in 2016 is the Edinburgh Larder on Alva St in the capital's west end, which we last visited for a food and beer pairing menu in September 2013. Since then the Larder have acquired the (organic) cafe/restaurant at Whitmuir farm on the A701 just past Leadburn near the Spanish-sounding Lamancha and now animals reared at Whitmuir are on the menu (and being butchered) at both restaurants. The intention is to use as much, and waste as little, of the animals as possible so that today's steak is tomorrow's sausages and next week's stock (which is what restaurants should be doing anyway).
We ate in one of the St John restaurants in London last year, famed for "nose to tail" eating, where tripe and bone marrow are heralded, and with bone marrow now quite popular in steak restaurants will there be a resurgence in tripe too? On a similar note we met up with Jian Wang from Chop Chop recently and she mentioned how you can't find pigs trotters here but they're in restaurants all over China. So it would interesting to see how the link with Whitmuir develops and what trends might decide what ends up on your plate.
The other important factors for Edinburgh Larder are seasonality and sustainability, so the menu changes often. I visited when Whitmuir-bred lamb was the animal of the moment.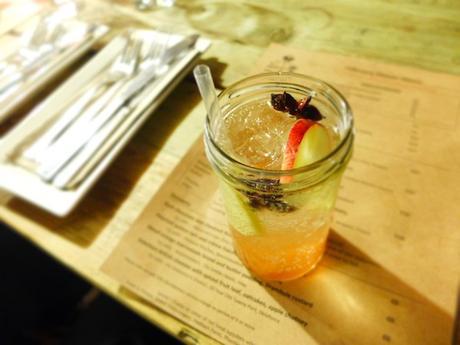 On arrival I received a spiced pear and apple vodka cocktail which was pleasantly sweet and syrupy.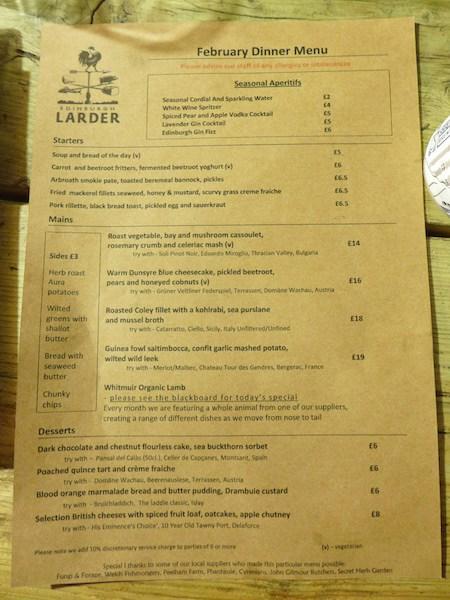 Here is February's Dinner Menu which I ate from.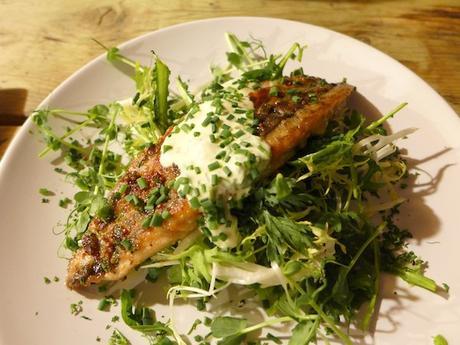 Fried Mackeral fillet, seaweed, honey & mustard, scurvy grass creme fraiche.
Edinburgh Larder.
For the first course I opted for mackeral and it was a pretty big portion for a starter. The fish was delicious and I was sure it came with horseradish but it must've been the scurvy grass which was a lot stronger tasting than I expected. I do love horseradish though – I even brought a bottle of horseradish vodka back from a holiday in Ukraine! Rather than vodka, the fish was washed down with an organic white wine, which is possibly the first cloudy wine i've drank! It was lovely though – light and sweet.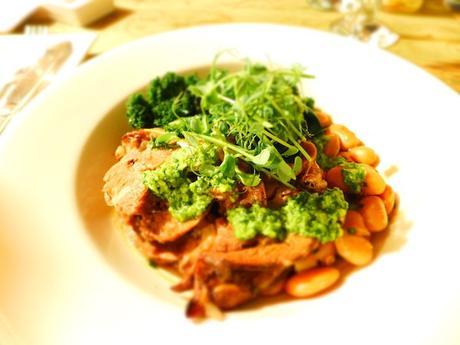 Whitmuir Organic Lamb
Edinburgh Larder
The main attraction was the braised organic lamb shoulder with butter beans, spring greens and wild garlic pesto. Luckily it wasn't date night as there was a lot of garlic in the pesto! Coming from the shoulder the slow-cooked lamb was perfectly tender and not fatty. I washed this down with a can of Franz Pils from Stewart Brewing, which was a pretty good mild bitter lemon pilsner (good artwork on the can too!)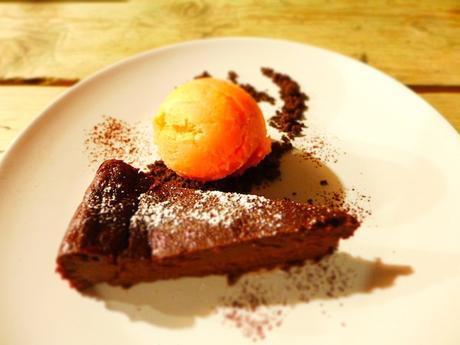 Dark chocolate and chestnut flourless cake with sea buckthorn sorbet.
Edinburgh Larder
To finish off I had a gluten-free chocolate cake, which was soft and choclatey but lacked delicious gluten! The sea buckthorn sorbet was wonderfully tart and hopefully full of vitamin C to negate the effects of eating pudding! I washed this down with a glass of tap water as I'd run out of booze!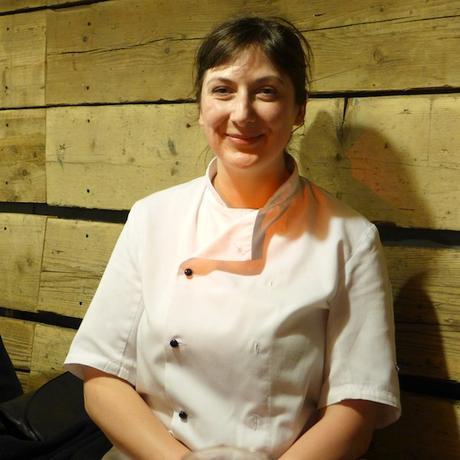 A happy head chef: Caoimhe
Tonight at 7:30pm is the inaugural monthly #EH Dinner where a 3 course meal showcasing a local supplier with an Edinburgh postcode (hence the "EH") will take place. First up is Whitmuir farm and another cut of their lamb will be featured. The farmers (Heather Anderson and Pete Ritchie) will also be in attendance to talk about the farm and their work. For £35 you get 3 courses of local sustainable and organic food, some chat and a welcome drink. What I ate isn't what will be on the menu tonight but it hopefully gives you a taster of the quality scran that will be available.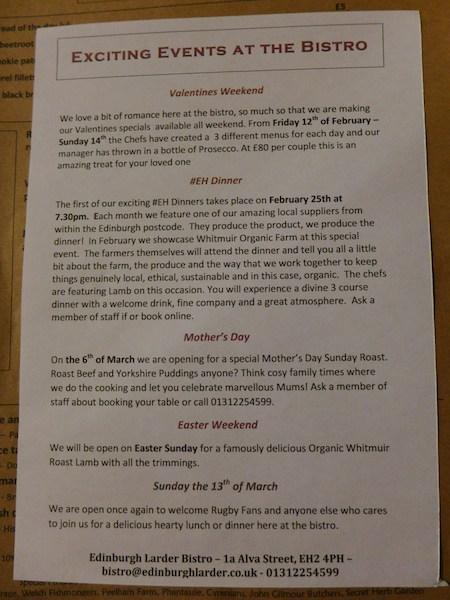 If you can't make that, the lamb will be on the menu again at the Easter weekend (25 – 27 March) for a roast.
Edinburgh Larder is a great wee place with fantastic food, rustic surroundings and attentive service. I saw that a Michelin inspector was in recently and left a promising comment on Twitter.
Click below to find out more about:
Edinburgh Larder
Edinburgh Larder on Facebook
Edinburgh Larder on Instagram
Whitmuir Organic Farm

Disclaimer: I received a meal for one to promote the launch of the #EH dinner nights.