From the Press Release:
Airs Friday, November 11 7/6c on Cartoon Network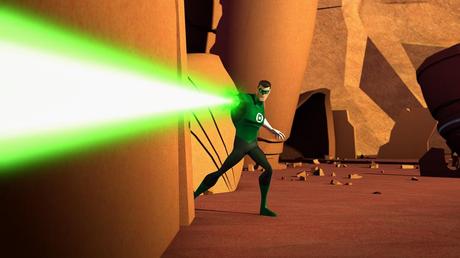 Based upon the DC Comics super hero, GREEN LANTERN: THE ANIMATED SERIES follows Earth's Green Lantern, Hal Jordan, who is used to being in dangerous situations — but never anything like this! In the farthest reaches of deep space, Hal patrols the Guardian Frontier, where he must face down invasions from the evil Red Lantern Corps., who have sworn to destroy the Green Lanterns and everything they stand for. With ever-emerging galactic threats, Hal is soon joined by an all-new group of heroes on a mission to protect Guardian Space — and the Green Lantern Corps itself!
In the first part of the two-part series premiere episode, ace test pilot Hal Jordan (voiced by JOSH KEATON), who leads a secret life as Earth's guardian Green Lantern, is called back to Oa. Searching for the culprits behind a series of Green Lantern deaths in "Frontier Space", Hal and his gruff fellow Green Lantern Kilowog (voiced by KEVIN MICHAEL RICHARDSON) "commandeer" The Interceptor, a prototype spaceship powered by pure Green Lantern energy and an advanced artificial intelligence system that Hal names Aya (voiced by GREY DeLISLE).
In the second half of the two-part series premiere episode, Hal and Kilowog discover that a group of Red Lanterns, including the conflicted Razer (voiced by JASON SPISAK) and the vile Zilius Zox (voiced by TOM KENNY) have been targeting and eliminating Green Lanterns in Frontier Space. Along with the help from a surviving Frontier Space Green Lantern Shyir Rev (voiced by KURTWOOD SMITH), Hal and Kilowog must stop the Red Lantern leader Atrocitus (voiced by JONATHAN ADAMS) from destroying Shyir's home planet of Colony 12.