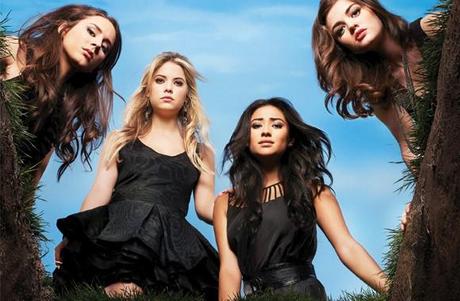 [Image from wegotthiscovered.com]
Bring your "A" game tonight, PLL fans, and prepare yourself a wild ride.
Warning: this contains mild spoilers of tonight's episode.
At the end of last week's episode of ABC's Pretty Little Liars, we were hit with a major plot twist: there are two As this time around. For tonight's mid-season finale, Pretty Little Liars is set to reveal who A is, or at least who has betrayed the liars. Will it be Caleb, Hanna's beloved beau? Or will it be Paige, Emily's possessive new girlfriend? Or Maya's cousin Nate, or someone else?
Tonight's mid-season finale of Pretty Little Liars has brought about a lot of internet speculation as to who A is this season. What we already know from previous episodes is that anyone is possible, even one of the liars. At the moment, a lot of evidence points to two characters, both tied to Emily and Maya, but anything could happen tonight.
Away from the A drama, Aria and Ezra's relationship will be tested, as Ezra's ex (and baby mama), Maggie, comes to town, Spencer and Toby will be reunited, and Emily may finally find peace in the big reveal of Maya's murderer.
The Pretty Little Liars mid-season finale, "The Betryal", airs tonight at 8/7c on ABC Family. The first two seasons can be streamed on Hulu and Netflix, as well as the ABC Family website.