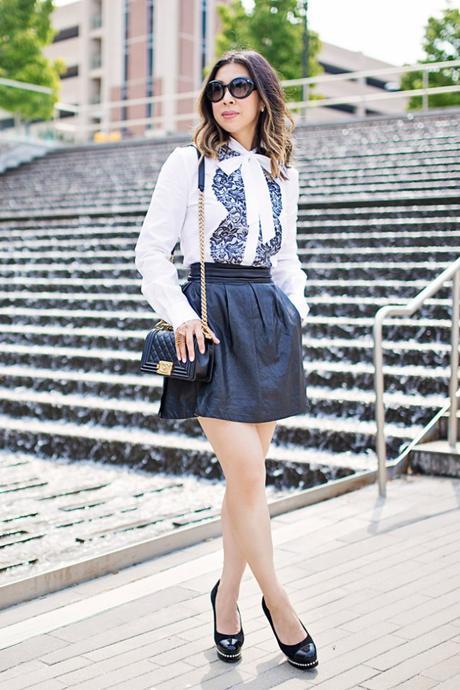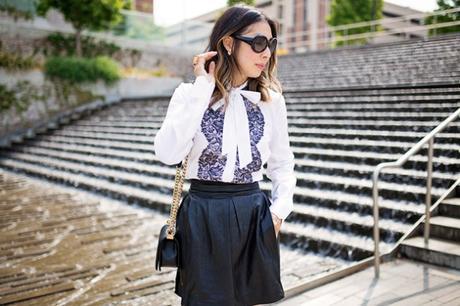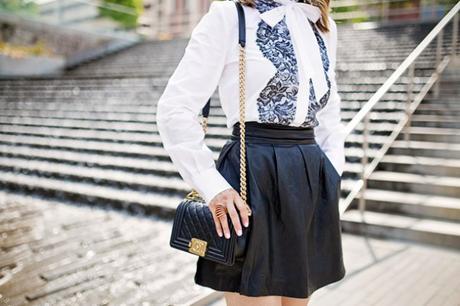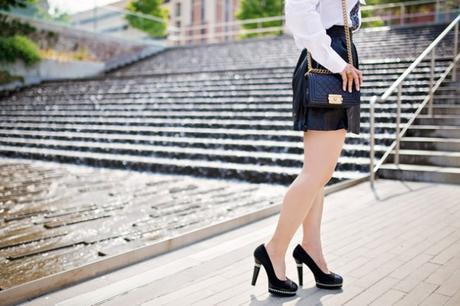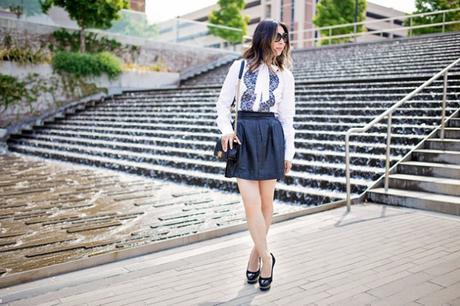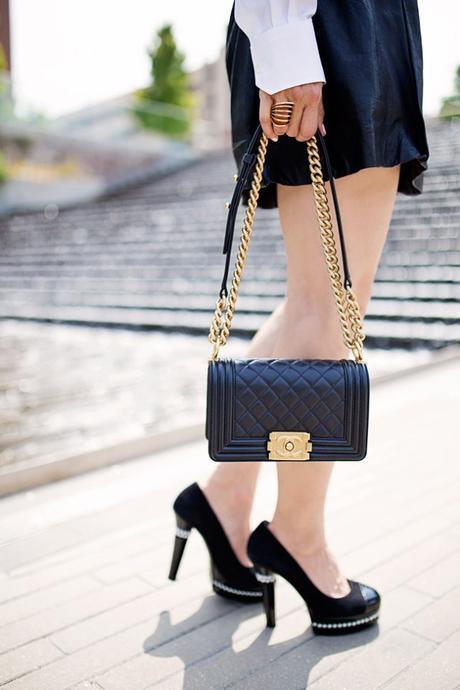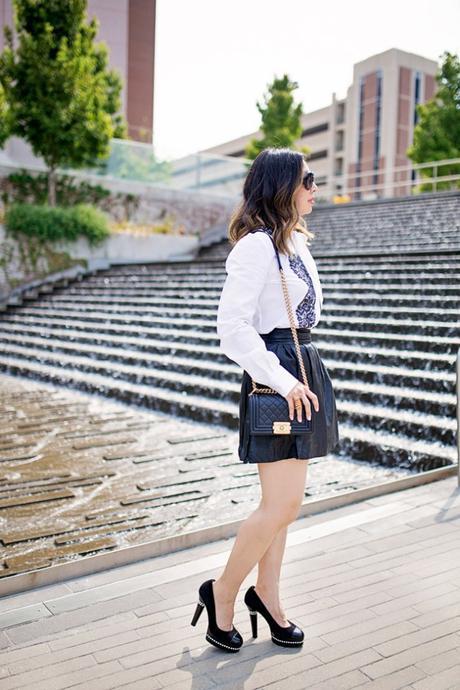 Photography by Angie Garcia
GET THE LOOK
---
blouse VALENTINO {in white lace, similar for less} and leather skirt ELIZABETH & JAMES {similar for more or less} via CLOTHES CIRCUIT || double pearl earrings SHASHI || ring VITA FEDE || boy bag CHANEL {similar for less} || pearl pumps CHANEL {similar}

Turn on your JavaScript to view content
Happy New Year Friends!!!  Thank you SO MUCH for coming over to my little part of internet and taking the time to read, get inspiration, or just check out what's going on in my life.  I am blessed to have this outlet to express my "style creativity" and feelings.
It's a New Year, and there's so much happening already.  This blog post has been in my head for months.  Awhile back, I had ever so slightly mentioned quitting the blog all together.  In fact, I did decide to completely STOP and confided in Angie on the very day of this photo shoot for Clothes Circuit for their Style Muse Campaign.  It had been an inner dialogue for awhile…
*Warning: This is a super long and wordy post!*
KEEP GOING
I LOVE fashion. It's always been a fun thing for me that started when I was younger.  We were on a budget growing up, and I had to be resourceful with hand-me-down clothes.  At the time, I just wanted to look like everyone else and have that "name brand" whatever. Later on, I realized it gave me a "skill" to mix and match different things.  The blog is my outlet for trying different things that wouldn't be work appropriate and just plain having fun!
With the blog, I've had opportunity that never would have occurred with my career as a pharmacist working in the hospital.  BTW, I LOVE my job but you don't see celebrities walking through the halls!  Who gets to meet Gwyneth Paltrow, Diane Von Furstenburg, or Nicole Miller?  So many of my friends were met because of blogging, and I've made acquaintances with so many amazing people. I've learned so many skills like photography (kind of), Photoshop, coding (very little but enough to tweak my site when it was blogger), and social media (still working on it -FB kills me! Can never tag!).
Additionally, I've worked with brands and companies that I love, adore, and use my in daily life!  WOW!  I was getting paid for something that I already did or LOVE!  How awesome is that!
My "hours" are flexible – I would blog in the morning, during nap time, or evenings around Little M's schedule.  It's "not messy"!  My creative outlet used to be art, as in painting, which requires preparation before and afterwards and LOTS of cleaning up.
STOP THIS
Blog posts starting becoming a chore. I had a set routine, at first, doing a blog post Monday through Friday.  Then, I slowed down and only did three days a week (Mon, Wed, Fri) but would feel so guilty if I didn't get them done on time.  This would "stress" me out because it was yet another item on my To-Do list that wasn't completed. Throw motherhood into the mix, and I barely get anything done.  If I decided to take some "time for myself", then I felt extremely guilty. Throw wife responsibilities into the mix, and things got really messy. If you're always tired and trying to make meals, keep the house in a less-than-chaos state, and actually spend time with your husband while he's wondering why you are Instagram-ing or SnapChat-ing during whatever time, then quality time is not so quality!  Don't even mention the job which is only work part-time!  Because of all of this "self-inflicted" chaos, I really wanted to stop.
Mr. S used to take my pictures, which was a fun thing for us (and not gonna lie, did cause a few tiffs).  After Little M was born, I didn't feel like we had enough time for pictures, so I started using a professional photographer, Angie. She is SO TALENTED!! (For y'all that have read from the beginning, isn't it crazy how the images have changed?!)  But photography costs money. So that was another "cost" for what Mr. S called an expensive hobby.  And if your earnings aren't more than your cost, well then that's a poor business model and definitely an expensive hobby, right?!
After reading Kristin's post, I really wondered where my future was leading with the blog.
TO QUIT OR NOT
After telling some close friends and family of plans to stop, I received mixed feedback. Mr. S and my mom urged me to continue blogging.  Mr. S told me to stop only if my passion had faded away.  That really stood out in my mind. At one point, I was texting my girlfriends from Chic at Every Age and was so emotional at the thought of not doing another post with them again. So many people suggested slowing it down so it didn't seem overwhelming, but continue.  Other friends were supportive and thought that I should do what was best for my family.
I was looking for some answers or some kind of sign from God. That may sound cheesy, but it's the truth.  Whenever I feel so torn with an answer, I look to the higher power for guidance. Sometimes answers comes easily and sometimes not.
As of today, I've decided to continue blogging but slow it down. Mr. S was right. I still LOVE fashion and blogging, and it made me SO SAD to consider the thought of stopping. We are starting the adoption process again, but I want the house (and my mind) organized before we bring another blessing into our family.  I'll be taking some time off to get things ready, and I can't wait to start blogging refreshed and renewed in 2016.
This year, I'm taking the blog back to grass roots!  I remember talking to my SIL about my struggle with time and organization, but she thought that I had it "under control" by all of my social media posts.  And that's the thing, you only post what you want people to see or think. I want to show y'all some of the "realness" that happens.  (I'm working on my closet with the Kondo method and have taken "before" pictures to post on the blog. Yikes!) I am BY NO MEANS perfect in any way, but social media can make you look flawless.  I have a messy house, forget appointments (especially if not on the calendar), have mommy guilt, run late to every appointment, wear comfy clothes at home, etc.  I am like every other person, wife, mother, or sister!
If you've made it this far, thanks for getting through all of it!  I hope you are having a FABULOUS 2016 so far and can't wait to share this new year with you!