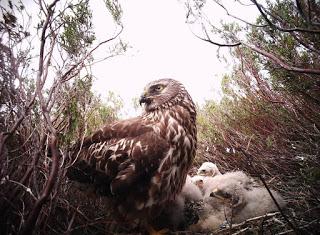 As part of efforts to conserve hen harriers, 21 estates across Scotland have now joined the Heads Up for Harriers project in 2017.
This year has seen a bumper number of 37 young successfully fledging from nests located on 7 of the 21 participating estates. This is the highest number of fledged birds ever for the Partnership for Action Against Wildlife Crime Scotland (PAW) Scotland project, led by Scottish Natural Heritage (SNH).
As in previous years, estates have agreed to have cameras installed on their land to monitor nesting hen harriers and help determine reasons affecting survival. A total of 11 nests were monitored, with nine nests successfully fledging 37 young and two nests failing.
Fox predation was responsible for one of the nest failures, while the second nest failed as a result of natural causes, according to analysis of the eggs by the Predatory Bird Monitoring Scheme.
Significantly, this second nest was located on a grouse moor in the southern Angus Glens, an area that hasn't recorded any hen harriers for some time. The Heads Up for Harriers project will be working with the estate again in 2018 and hope to see a nest successfully fledging some young harriers.
This year, Hen Harrier Species Champion, Mairi Gougeon MSP, has given her support to the project. Mairi said, "Hen harrier conservation is a complex and sometimes divisive issue – however, this project has shown the benefits of partnership working, with some encouraging results.
"Persecution is obviously still a major concern which affects the expansion of the species. But we must persist with positive work like the Heads Up for Harrier project which further ostracises those who choose to break the law."
Professor Des Thompson of SNH, Chair of the PAW Scotland Heads Up for Harriers Group, added, "The 2016 National Hen Harrier survey has shown a decline in hen harrier numbers in Scotland at 460 pairs, down on the 505 pairs recorded in the 2010 survey. But we're hopeful that given time and continued cooperation of project estates, we will see birds reoccupying former territories. We have to be realistic though: this will take time. Hen harriers may be slow in returning to former occupied territories with a limited number of young birds available to move back in – they need every encouragement to settle and breed, and that is what we need to work at supporting."
Estate participation is key to the project by ensuring as much hen harrier habitat is available as possible, with nests covered by camera monitoring.
Tim Baynes, Director of the Scottish Land & Estates Moorland Group, explained, "The Heads Up for Harriers project has estates representing a range of upland land uses. The survival pressures will naturally vary between land uses, but where possible we can try and make a positive difference, such as retaining some long heather for harrier nesting. The project partners and project officers undertaking the field work have developed a good working relationship with the participating estates, who have impressed by really subscribing to the project.  We'll be looking to increase the number of estates next year, as the more we can have on board, the better."