When you have announcement for your business or simply want to boost awareness, you can count on press releases to do the instant trick. You submit your article announcement to Backlinkfy PR distribution for distribution to online news media sites that host and expose your content to a larger audience. Based in Los Angeles, we have helped more than 2000 small business and big businesses across the USA and around the world to increase exposure for their business announcement.
To get started with distributing your Press release, here are some frequently asked questions.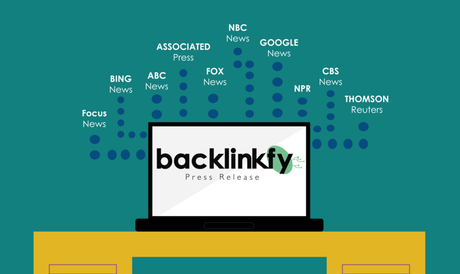 Why should I choose Backlinkfy PR Distribution?
Backlinkfy PR Distribution has simply become a leader in the press release distribution arena. You can reach top-tier Online news networks, search engines, TV, social sites, radio stations, Niche blogs and industry journals all over the USA and the world. All of these available to you at just a fraction of the cost of our most of our competitors. Bonus: We also submit your press release to 3 of the top PR wires online. Including; Cision CNW Group, PRweb.com, PRNewswire.com, eReleases.
Why should I choose PR Distribution for single PR distribution?
Backlinkfy PR Distribution provided superior benefits of a high-end PR distribution service without the crazy high price tag. We have 100% of the same media contact base as some of the huge PR distribution sites like; PRNewswire and Newswire.com, but we charge just a tiny fraction of the price and still have your articles featured on those outlets too! A single press release with our VIP distribution plan gets distributed to over 1000 quality media sites, including the PR newswires above for just under $700.
How much does Backlinkfy charge to distribute a single PR?
We have 4 primary packages and vary depending on the services level that fits your needs. Price is as follows: Silver: $179 up to 200 online media outlets, Gold: $389 500+ media news outlets, Diamond: $489 1000 media news outlets, VIP: $689 covers all media outlets in our database plus a handful of PR wires and news sites like USAToday News. Custom distributions, you can contact us.
Do I have to pay extra to upload a logo, image or video to my press release?
No. All you need is a link for your video or image. We will include them in your PR at no extra cost to you. This will cost extra for most of our competitors. We know we offer the best service, so we are willing to make sure you are completely satisfied.
Where online can I expect to see my published press release?
We guarantee distribution to popular search engines Google, Bing and Yahoo News based on your package. We will also reach out to blogs, TV and radio news sites, industry journals that fit your niche. At higher service levels like VIP, we guarantee syndication to premium online news networks like ABC, CBS, NBC, FOX and affiliates, Associated Press (AP News), Reuters and Bloomberg Business. We are simply the best and fastest PR distributing service you'll ever need.
Can you match competitors pricing?
We don't match competitors because we distribute your PR to most of them and charge nothing extra. Our fees have already been discounted and you'll still pay less than our average competitor and reach far more news outlets.
Does Backlinkfy guarantee the time and date of distribution?
While we cannot make any guarantees about the time and date when your press release will be distributed to our media and PR partners, we do know 99% of our press releases are published and distributed without on scheduled times as requested.
We cannot guarantee immediate release due distribution to multiple outlets but we promise to never send out your press release before its due publishing day and time. With that said, you can schedule your Press Release for distribution with us any day at anytime, just tell us when you want it distributed and we'll take it from there.
Will press release distribution help my SEO?
Press release help with faster indexing of your site from Search Engines like Google, Yahoo and Bing. This can drastically help with increasing your ranking for specific keywords. So remember to include your site URL and keywords that are relevant to your business.
How many words can I have in my press release?
300-400 will be best. Other sites will charge more for extra words but it will be better to have at least 300+ words. If you choose to add more words, we don't charge extra, simply keep your count under 1000 words or we will have to trim down you PR.
Can I change my press release once it has been distributed?
We recommend that you review, edit and review your press release content before you submit to us. Once we have published your press release, we can remove it from our partner websites if you request us to do so. We charge a fees due to our partners $600. However, we have no control over other sites that may have picked it up your PR.
What is the process of submitting a press release to PR Distribution?
It's easy! Simply click on the "Order Now" button to open up a form to submit the main body of your press release or schedule . Be sure to fill it out in detail, including the headline and correct contact information for your Press release.
What's next?
We send you a full PR Report within 2-4 business after distribution with all your live links.
Backlinkfy is simply one of the fastest PR distribution service for small businesses and entrepreneurs. Press Release submission for Media Coverage from sites like; Google News, Bing News, Yahoo News, Fox, NBC, ABC, CBS, AP News, Bloomberg, USA Today, Market Watch, Reuter's and major PR Wires like; Cision Wire!
PR Distribution Only. One flat rate per article to powerful your digital visibility and online exposure for small and growing businesses! We distribute to all major PR wires online.
Targeted media distribution in press release distribution means reaching and helping companies reach their news releases strategically to specific media outlets, reporters, editors and online and offline publication resources that are relevant to their business niche. Press release distribution that's focused on a select target media segment can yield significantly better results and in a cost-effective manner, while building your audience further.
Backlinkfy offers one of the best exclusive targeted media distribution services. We do not simply distribute your news releases on all available online and offline news channels unlike most other PR services. With targeting, this ensures that journalists and prospects searching for your business industry news will find you easily on our press release partner media outlets.
What Makes Us The Best In PR Distribution

You will gain better exposure among targeted audience at budget-friendly prices, you won't find anywhere for same-day, next day and scheduled distribution.

We work and go beyond online outlets to make use of every available resource to get your news across your target industry and potential audience.

You can be sure your news is available to every media outlet relevant to your niche
Our digital marketing experts target qualified audience to ensure maximum visibility for your brands message within your targeted market segment. We strictly focus on delivering your PR release news to those who are keen to know about the latest developments in your business, market segment and industry.
Our PR media outlet contact list for your niche is updated regularly by an alert and PR expert staff to make sure your publicity efforts bear optimum results without wastage of money or time. Reaching out to topic specific media outlets is our specialty and we do it in a professional manner by complying with all the rules and guidelines of the industry.
Backlinkfy is the preferred press release distribution service of top small companies and startups across various industry sectors. Our target PR media distribution services give you the power to maximize the results from your public relations, media relations and search strategies.