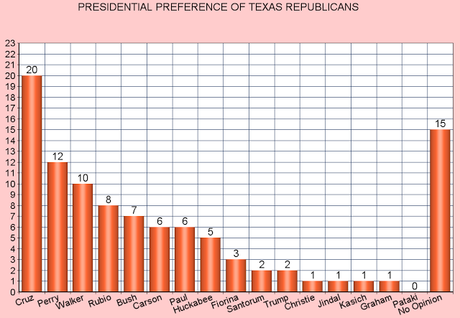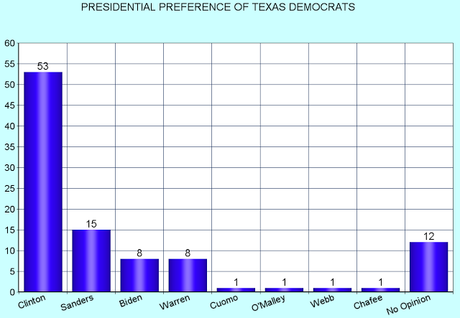 This is the first Texas survey done now that we generally know who the candidates for each party are going to be. It is the Texas Tribune / University of Texas Poll -- done between June 5th and 14th of 1200 registered Texas voters. The survey has a margin of error of 2.83 points (4.37 points for Republicans only, and 4.58 for Democrats only).
Ted Cruz finished in first in his home state with 20% -- 8 points better than Rick Perry, and 10 points better than Scott Walker. No other Republican got into double digits (including Jeb Bush, who got 7%). Cruz needed this, because he has not fared well in any of the other state's polls.
Hillary Clinton has the support of a majority of Democrats in Texas (53%) -- 38 points higher than second place finisher Bernie Sanders.
The poll also asked respondents whether they approved of the job the president and Congress are doing (see bottom chart). Even though Texas is still a very red state, and the president only got 35% approval, that is still 20 points higher than the 15% approval of the Republican-controlled Congress.
Democrats and Republicans are divided over the president, but no one likes the Congress.