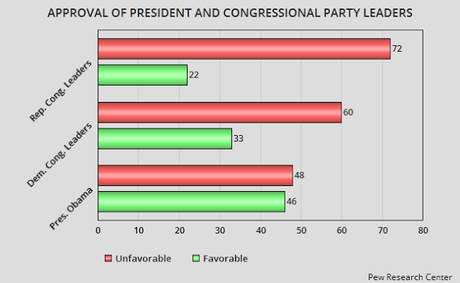 This chart reflects the newest job approval survey done by the Pew Research Center. The survey was done between May 12th and 18th of a random national sample of 2,002 adults, and has a margin of error of 2.5 points.
It shows what the general public thinks about the job that President Obama, Democratic congressional leaders, and Republican congressional leaders are doing. Republican leaders like to talk about the numbers of the president. They do that because they are too embarrassed to talk about their own approval numbers.
It turns out that Republican congressional leaders are the least respected of all -- 11 points behind Democratic congressional leaders, and a whopping 24 points behind President Obama (with the president's job approval being more than twice as much as that of Republican congressional leaders).
The public is clearly not happy with the Republican-controlled Congress.