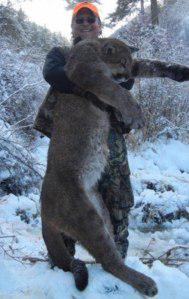 Daniel Richards, the president of the California Fish and Wildlife Commission, has been pictured happily posing with a dead mountain lion (Puma concolor), enraging many around the world.
Mr Richards is believed to have shot the mountain lion in Idaho where hunting big cats is legal. However, the state where his jurisdiction applies, California, has protected the mountain lion from hunters since 1990.
Many in California are now calling for Mr Richards to resign, as the general public feels someone who is meant to be protecting their wildlife, has betrayed them. Not only is the mountain lion protected in California, $30 million of state funding has been set aside to purchase important habitats shared by mountain lions and many other species. This clearly demonstrates a degree of hypocorism to what Mr Richards has done by hunting a species that he has used millions to protect.
This story highlights the sad fact that not everybody at the top of wildlife organizations are as passionate as others when it comes to the wildlife they are meant to be protecting. Not only this, Mr Richards has betrayed the trust of those that employed him and that of the public.
Haley Dolton
Advertisement