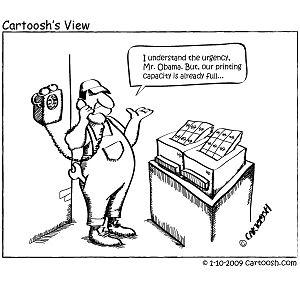 (Photo credit: Wikipedia)
President Obama urged Congress on Tuesday to pass a short-term fix to avert sequester.  Instead of addressing our spending problem he wants to temporarily delay sequestration by raising taxes again.  The Congressional Budget Office (CBO) released its projections for the 2013 budget.  They note that for the first time since 2008 we will not be running a trillion-dollar deficit.  That's right we are improving (insert a sarcastic tone).  The 2013 budget deficit is "only" $845 billion.  What's $845 billion when we owe $16.4 trillion? 
The CBO says the debt has hampered economic growth.  I agree.  I think the economy is trying in earnest to recover.  The stock market and the housing market are indicative of that fact.  The only problem is the uncertainty.  Politicians continue to make the same mistakes.  It just doesn't provide for a very optimistic and stable environment in which business owners are comfortable hiring more employees.
The CBO expects the recovery to be more robust in 2014, with economic growth approaching 3.5 percent by the end of the year.  But an economy subdued by government austerity is likely to have a jobless rate above 7.5 percent for a sixth straight year, the CBO said — the longest period in 70 years with unemployment above that level.
As I explained last month, the fiscal cliff negotiations were only the start of many imminent fiscal problems in our future.  Sequestration will begin soon, if a deal is not brokered.  President Obama is proposing tax increases to extend negotiations for one month.  House Democrats want to instead tax millionaires and oil companies.  The proposal adds $85 billion in new revenue.  Republicans are trying to ensure the defense budget doesn't get cut.
Everyone seems to have their own agenda.
What about our agenda? 
What about America's agenda?
What about doing what is in the best interest of Americans, not what's in the best interest of getting reelected?
At what point do they actually tackle the issues at hand?  I am so sick of these short-term deals.  Get the job done already.  Again, if I didn't do my job, I would be fired.  The fiscal cliff deal only delayed sequestration by 2 months.  High-income taxpayers were subject to tax increases as part of the fiscal cliff deal.  Now they want to increase taxes again.  Spending cuts were not part of the fiscal cliff deal.  They apparently aren't a part of this proposal either.  You can tax these people at 100% of their income and you still would owe trillions of dollars.  At some point you HAVE to address SPENDING CUTS. 
If these people don't know what a long-term deal looks like then they should just pack up and go home.  What a waste of their time.  What a waste of my tax-payer money.  Sometimes I feel like these people like adding looming deadlines, because otherwise they would be bored.
Well you know what?
I don't think this is boring.  In fact I find it fascinating.  Fascinating that they simply can NEVER get the job done.
Maybe it's time for some real change.  Luckily I am old enough to run for Congress.  I certainly have never done their job.  But let's be honest, nor have they.  If anything I am ahead of the game.  I know what must be done and I certainly I am not beholden to any party.
What do you think of this short-term proposal?
Are you as mad as I am?
*Washington Post article I sourced for this post
Email: [email protected]
Twitter: @adrakontaidis & @talkrealdebate