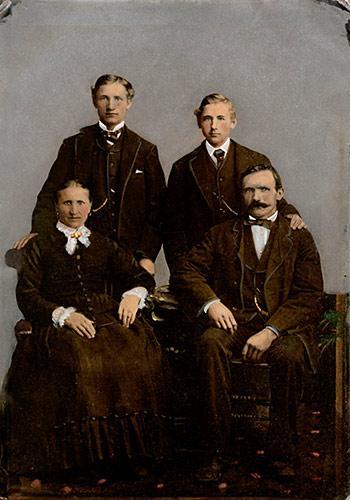 [Three Men and a Woman], Artist unidentified.
Few architectural ideas are able to capture a sense of historical romanticism as readily as the notion of the nineteenth century parlor. Dark wood interiors complimented by the delicate white lace of table doilies, the aroma of cigar smoke passing before a glowing table lamp, and children in evening wear awaiting the dinner bell, such are the details of our popular imagination of this entrancing space. If we could transpose ourselves in time to those elegant rooms and take part in the pageantry and decorum that they showcased, what would we find?
American Art's exhibition, Pictures in the Parlor, provides an opportunity to encounter this bygone era of society and domesticity in its exhibition of decorative images from the mid nineteenth century through the early twentieth century. These pictures take the form of photographs, tintypes, and collages. Depicting the family's aesthetics, status, and history, these artworks reflect the aspirations and sensibilities of their owners. Photographs of family matriarchs, patriarchs, and children are enriched with hand-colored hues, imbuing them with a sense of artistic flare that superseded their material character and bolstered the reputation of their subject.
This show features three different types of media, all of which would have adorned the walls and tables of their sitters' parlors. Twenty-one hand colored photographs of largely anonymous figures allow the viewer to imagine themselves looking at their own family forerunner and daydream of the picture being passed amongst youthful great grandparents in the dark glow of a gaslit room. Accompanying these photographs is a series of nine folios from a Victorian collage album. These "scrapbook houses" would be created by young, middle class girls in the nineteenth century, helping them prepare for future domestic endeavors, such as interior decoration. This would set the stage for the portrayal of their families' values and status.
Twenty-five of the artworks are an early form of photography known as tintypes. Instead of a paper support, tintypes begin as an iron plate, which is covered in a lacquer. In the late 1800s and early part of the new twentieth century, tintypes were intended to be handled. Often, passing these pictures around the parlor resulted in crimped corners. Where these bends occurred, metal was exposed and rust began to spread. In anticipation of this exhibition, Contract Photo Conservator, Rachel Wetzel, added consolidant to areas of exposed metal to prevent the spread of any rust that had formed. She also re-adhered flaking emulsion and paint that had begun to detach from the iron support. Working with a microscope, these consolidation treatments addressed even the smallest areas of concern. In this way, the aesthetics, status, and history, prominently displayed in these families' parlors will continue to be preserved to entice the imagination and popular memory of the American public.
Pictures in the Parlor will be on view until June 30, 2013. Treat the galleries like your own personal parlor and peruse these beautiful artworks with us.