D
ear (s)
Presenting our June 2014 issue of Bliss – the newsletter of SYMA.  For downloading this issue – click here : SYMA Bliss June 2014
 Apart from the editorial, the issue contains : an article on the good performance of the students of SYMA Growth; our Educational Aid Programme slated on 12th July 2014; and an article on 'transporting heart' …. This month's Q is 'who was the first Railway Minister of India ?'……….  As you read this newsletter – something on the Organistiaon – SYMA is considered necessary…
Srinivas Youngmen's Association popularly (SYMA)  has been rendering social service from 1977.  We are registered with  the Registrar of Societies. With care and concern for the society, we have been actively involved in service doing multifarious activities which include – coordination with civic authorities in keeping the environ clean,  conducting health campaigns – promoting health care and hygiene;  organizing  Eye Camps, Blood Camps and other camps. Every year, we have been providing uniforms to poor students and this year too we are to provide 1200 sets.  In the Educational Aid function,  We also provide financial assistance to select college students.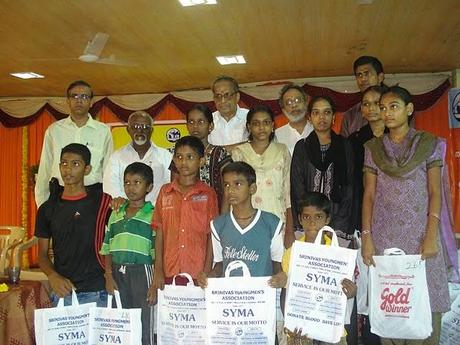 File photo of 2010:  Dignitaries Mr SAM Hussain, Ex MLA, Sri AVM Saravanan; 
Sri TT Srinivasaraghavan with Yours Truly and SYMA President
In our earnest effort to improve the competitive spirit and to instill confidence in school children, We have been conducting Child Fest every year in which more than 4000 students from around 100 city schools participate.    
With a focus on sustainable service, we have two bigger continuing projects :
1)

  
Medical Centre and Laboratory run for the poor wherein free consultation and medicines are provided.
We have a Medical Centre working on all days except Sundays and National holidays.  This functions between 5 – 7 pm.  A nominal fee of Rs.2/- is charged- consultation and medicines are given free.  We have arranged to provide the drugs through medical shops in Triplicane with whom we have working arrangement.  Around 40 – 50 people utilize this daily.  We also have a Medical lab wherein blood and other tests are done at very nominal costs. The running of Medical Centre and Lab costs around Rs.25000/- per month. 
2 "SYMA Growth" – a purposeful special tuition center for coaching poor students of 10th and 12th standards, running since 2008.  This year also we have had  very good results with the topper in X securing 490 out of 500. Through this project we aim to provide  quality educational support to poor  students who are marginal in their studies, ensuring that they pass their public examinations on their road to a good future. 
With this foundation, we strive towards fructifying our  long term vision of imparting value education to those children from the lower echelons of Society.  In the 7th  year of operation nIn its 6th year of operation now, we  will have  4 classes – X Std : English and Tamil Medium; +2 Science and Commerce Group – with around 35 students in each class. Education is imparted through qualified senior teaching professionals who are paid nominal fees by us. Classes are conducted  on all days of the week.  We have created an excellent infrastructure and have dedicated staff too for this.   The classes are conducted at the premises of National Boys High School, Triplicane for which we pay
 a nominal rent and some amount towards electricity and other expenses.  The project expenditure of our Tuition centre is around Rs. 5 lakhs per year. 
Generally, we collect funds in the months of June & July ahead of our Educational Aid Programme, though donations are welcome throughout the year. 
You have patronized us in a big way in the past, and we look forward to receiving your donations this year too.  Cheques are to be drawn in the name of 'SRINIVAS YOUNGMENS ASSOCIATION' – payable at Chennai.  In case any donor wishes to make a Bank transfer, we will provide details of our Bank A/c on request.   Contributions to SYMA are eligible for deduction under Sec 80G (5) (vi)of Income Tax Act, as applicable.
You have all along supported us in a big way and we look forward to your continued support.  Together we will ensure transformation towards a better Society.
With regards
S. Sampathkumar.
Secretary – SYMA; Editor – BLISS
For complete details of SYMA – please log on to : www.syma.in or email us at :

[email protected]

.
PS :  To those of you, who have already  contributed to SYMA this year, this mail is not  to seek additional donation   but only  to say thanks again.