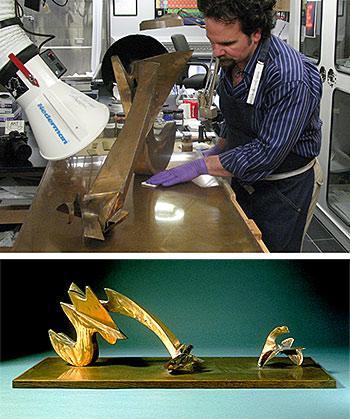 Top: Conservator Hugh Shockey applies layers of wax to the surface of Richard Hunt's sculpture. Bottom: Study for Richmond Cycle. Click on image for larger view.
Though the Smithsonian American Art Museum's collections are housed in Washington, D.C., we want as many people as possible to be able to experience our artworks. One way we accomplish this goal is by sending our exhibitions to other museums across the country. Our staff go to great lengths to ensure that our works are as safe and protected as possible when they travel to other venues, and much of that work takes place in our conservation labs long before the objects are packed and shipped in specially designed, custom crates.
One of our current exhibitions, African American Art: Harlem Renaissance, Civil Rights Era, and Beyond, will be visiting five other museums across the country once it closes here in September, and our conservation staff have been hard at work ensuring that the pieces on display are "road ready." I had the chance to watch objects conservator Hugh Shockey performing a preventive treatment on Richard Hunt's sculpture Study for Richmond Cycle to help protect it as it travels.
The sculpture is made of copper-alloy, which I learned from Hugh is especially susceptible to corrosion and discoloration, not only from the elements but also from everyday threats like dirt, grime, and fingerprint residue. Hugh wanted to make sure that the metal would be protected from agents of deterioration: "We don't want the integrity of the metal affected or degraded in any way. I'm also concerned for the aesthetics of the object, as we always want to keep works of art as close to the artist's original intent as possible," he said. "The focus of Hunt's work is generally on form and shape rather than surface decoration, so we don't want anything happening to the surface that might discolor or mottle it to the point where it becomes the first thing about the piece to catch your eye."
Hugh decided to cover the surface of the sculpture with several layers of purified, micro-crystalline wax. He told me that conservators often apply wax as a protective coating to metal surfaces. It won't react with metal but will create an effective barrier against many damaging elements, and it won't obscure the surface from view but can be easily removed and re-applied when necessary.
Over the course of a week Hugh painstakingly applied and buffed multiple layers of wax onto the sculpture's surface. Before applying a new layer, he had to be sure that the previous layer was dry, evenly applied, and was thick enough to provide protection without clouding the colors of the copper.
African American Art: Harlem Renaissance, Civil Rights Era, and Beyond runs through September 3, 2012 before it begins its journey across the country. When the time comes for Study for Richmond Cycle to travel it'll be ready to hit the road!