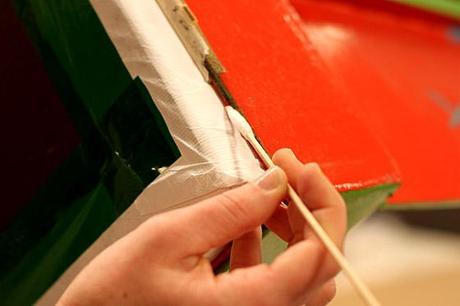 Have you ever taken a poster off a wall and found some pieces of foamy tape left behind? That's similar to what is stuck to the base of the John Scott sculpture, Thornbush Blues Totem.
While the tape might have been added to provide some padding along the bottom edges and sides of the almost 200 pound sculpture, it was not an appropriate choice. The adhesive is bonded to the paint and the foam is deteriorating. The tape needs to be removed before the sculpture is installed in the museum's upcoming exhibition African American Art: Harlem Renaissance, Civil Rights Era, and Beyond that opens April 27.
Hugh Shockey, objects conservator, and Tiarna Doherty, chief of conservation, came together to test various solvents, looking for one that would safely remove the tape without harming the painted surface of the artwork. If you've ever tried to remove poster tape from a wall, you might relate to the difficulty in removing the tape without also taking bits of paint or plaster from the wall. The paint on this steel sculpture is particularly sensitive to any "normal" solvent they might usually use, including water, so careful tests and lessons in chemistry are in order.
Coming up on April 17 Eye Level will publish a follow-up on the conservation of Thornbush Blues Totem as American Art's conservators treat this sculpture before its display in our gallery.