Podcast: Play in new window | Download
The latest episode of the Tennis Quick Tips podcast is now available. In this week's episode, "Prepare For Cold Weather Tennis,", I'll give you my best tips for preparing to play tennis when temperatures have dipped.  You can listen to TQT 023 by clicking on the gray media player above or by listening in with your favorite podcast app.
Below is an edited version of the transcript for this episode that you can read through for notes or to get more information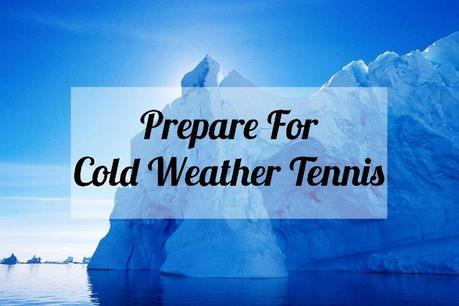 Transcript:
Well, winter is here and the weather has definitely gotten cold. But, that doesn't mean tennis play has stopped. In fact, where I live, we pretty much play outdoors year round. And if you're a die-hard tennis fanatic like me, as long as the courts aren't wet or covered in ice, you want to be outdoors playing too.
But you need to be prepared for cold weather tennis. You can't just step out on court without the proper gear. So, in this week's episode, I give you my best tips for preparing to head out to the courts and play cold weather tennis.
Here we go!
My first cold weather tennis preparation tip – wear layers. Lots and lots of layers. If I think I'm going to be playing in the cold, I wear a whole lot of layers. For example, on top I'll wear a racer-back tank, a long-sleeved sports t-shirt made of some type of dry-wick fabric, a sweat shirt or a long-sleeved cotton t-shirt, a hoodie and then a sleeveless ski vest or track jacket. I can take those off layer by layer as I play and warm up.
On the bottom, I'll wear tights under a skirt with built-in shorts or long yoga pants. Whatever I wear, I make sure that I can securely hold a ball either in the shorts or in the back of the pants at the waist. I do not like keeping a ball in a jacket pocket because I'm worried that will get away from me during a point and, as I'm sure you know, you cannot call a let when you yourself drop a ball.
On my head, I wear a baseball-type cap. I don't ever wear a visor because it makes my hair look weird. The only time I wear a ski hat is if I need to keep my ears cold. But if that happens, it's probably too cold for me to play tennis anyway.
So with all of these layers on, you can see its easy to start peeling the clothes off as you get warmed up and, in fact, I would rather be a little bit chilly than play with all of this bulk so I never actually play a match with this much stuff on.
Next, wear gloves. At least to start with. Your hands will often be the coldest thing on your body and you need those to be as warm as possible to maneuver your racquet. I have cotton running gloves in my bag that I like and use to at least get me started during warm-up. They provide a little more traction and "feel" than some of the cheaper double-knit gloves you find in a drug store. A lot of people use Isotoner or leather driving style gloves. I really can't play tennis in gloves so don't think it's worth the expense to have these in my bag. But if you've got them and can remember to pack them, it might be worthwhile to try playing with those kind of gloves.
Next, wear sunscreen on your face. Even though its cold, it can still be pretty sunny and that means sunscreen is a must. And, if you start taking off layers on top and exposing more skin, like on your arms, be sure to protect yourself by applying more sunscreen. Probably cold sunscreen at that which may not feel so great. This is one of the reasons I prefer spray-on sunscreen – its quick and easy to apply and can be done during a changeover.
Next, wear lip balm. Cold weather usually means dry weather and a lot of time it means wind. I never notice having chapped lips when its hot outside. But when its cold – sandpaper! So avoid chapped lips by keeping a good lip balm, hopefully one with sunscreen, in your bag.
Next, keep hydrated. When the weather's hot, its easy to remember to drink and keep hydrated. When its cold, its not so easy. But you can get dehydrated and suffer the effects of that just as easily in the cold. So keep drinking during your match.
Next, take care of your racquet. And by this I mean – do not store your racquet in your cold, cold car. Think about it – your racquet is your most important and usually your most expensive piece of tennis equipment. While I'm sure racquet technology today is advanced enough that your racquet won't crack when it's freezing outside, your strings might not fare as well. Definitely, when you show up to a match, cold, stiff strings will not be as springy and can have a big impact on how powerfully you're able to hit the ball.
Finally, be prepared for the cold weather game. You'll find that, when temperatures dip, tennis balls are just not as bouncy. So be ready to hit harder and deeper than you're used to and try coming into the net a lot. This will help compensate for the ball being a little "dead" feeling.
That's it for this week's tennis quick tip. I hope that inspires you to get outside and play some tennis even in the cold weather. But if you absolutely can't face the freezing temperatures, I've got a post over on my Tennis Fixation blog that you might want to check out. It's called "Top 7 On-Line Tennis Coaches" and in it, I tell you about the 7 tennis coaches you can find on-line who I think are putting out the very best tennis instruction. The best part is a lot of it is available to you absolutely free. My post includes links to every one of their sites plus a little info on what you'll find when you visit. It's a great way to spend an evening at home curled up in front of a fire drinking a mug of hot cocoa. At least, that's what I think. Anyway, you can find that post at tennisfixation.com/topcoaches. So go check it out.
Hey – what are your best cold weather tennis tips?  I'm planning another podcast episode on just how you play tennis when it's freezing outside.  So let me know what you do to get yourself motivated for those matches and how you actually win them.  You can let me know in the comments below.
And I hope you'll subscribe to Tennis Quick Tips!
SUBSCRIBE IN iTUNES: Visit the TQT iTunes page and subscribe (click on the "Subscribe" button or the blue "View in iTunes" button) or search for "Tennis Quick Tips" in the iPhone Podcast app.
SUBSCRIBE ELSEWHERE: Search for "Tennis Quick Tips" in your favorite podcast app. Or visit the TQT Stitcher page and subscribe. Or visit the TQT podcast feed URL and listen in.
Thanks for listening and, as always, Happy Tennis!

© Kim Selzman 2013 All Rights Reserved