One of the joys of growing and arranging my own flowers is the occasional request to provide flowers for an event. Whilst all parties are lovely, a wedding is a special treat and I have been looking forward to this spring wedding for some time now.
The bride and I first started talking through ideas before Christmas. When you are growing for an event, decisions about the flowers have to be made well in advance to ensure that the right blooms are available for the big day. For this April wedding the bride wanted something very fresh and simple with a green and white theme. We settled on lots of foliage, white narcissi, tulips and snowflakes (leucojum verum), flowering plants of Spiraea 'Arguta' (also known as 'bridal wreath') and tall vases of bare twigs. Before Christmas I ordered lots of bulbs and planted them in the Cutting Garden.
Since Christmas the bride and I have met at my house to plan the arrangements and at the wedding venue so that I could see the church and 12th century barn where the reception was to be held. Last week, after a few sleepless nights and with much trepidation, the arranging finally began. Today I am sharing the photos I took in my potting shed on Thursday. Later this week I will post the photos of the church and venue and then in a final post the brides bouquet.
I hope you will like what we came up with!!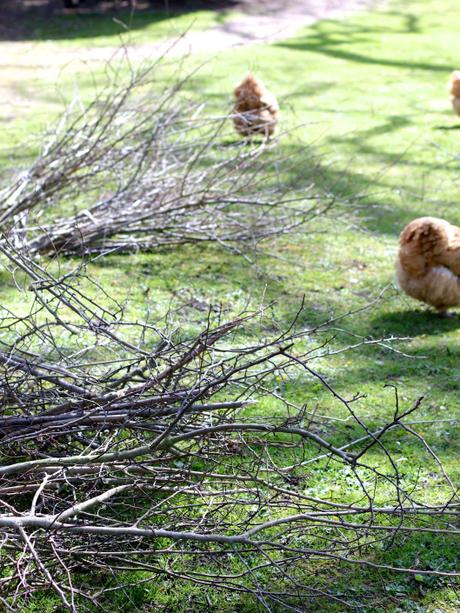 Above you can see the bundles of twigs ready to be transported to the venue. The twigs were collected in January when my deciduous hedges were trimmed. All suitable material was stored by the compost heaps until last week when it was dried, measured and bound into 8 bundles. Below you can see a sample arrangement with a tall cylinder vase filled with twigs and lengths of gypsophila, threaded through to resemble seasonal blossom. Although we talked about it,  I avoided using real blossom as it is too delicate to transport easily and would not have lasted the wedding day without wilting and shedding across the reception tables. There were 8 tall vases in total, each to stand on a round table within a wreath of greenery and white tulips.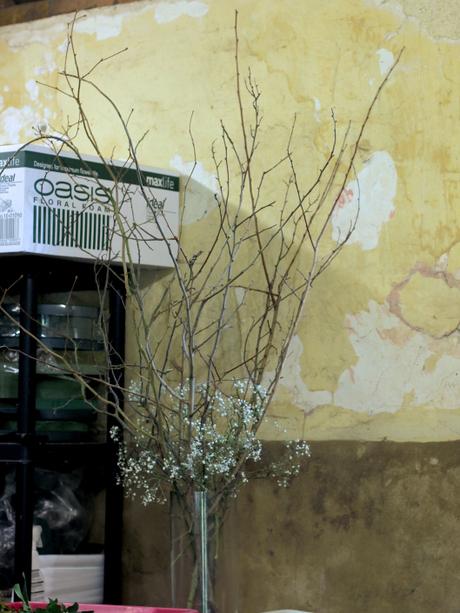 The tulips I grew for this purpose were the double white Mount Tacoma, which were easily mistaken for peonies when threaded through the wreaths. With the recent warm weather these tulips were opening up very quickly last weekend, so at the beginning of the week I took the risky decision to cut the whole crop, wrapped it in bundles in brown paper to protect the flowers and stems and then stored the flowers in trugs of water in the cool dark potting shed. My gamble worked – the tulips stood well and were perfect for arranging on Thursday.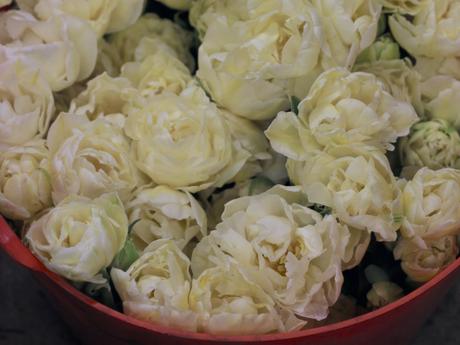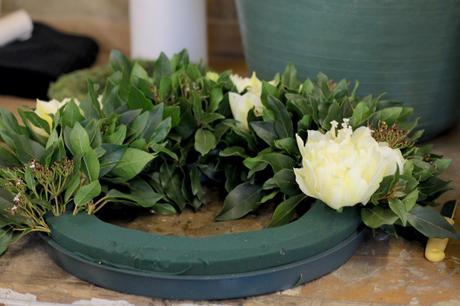 I like to avoid using oasis as much as possible as it does not bio-degrade. For something like these wreaths, however, it is the perfect product to work with. If I had used moss wreaths the tulips and foliage would not have lasted until Saturday and I needed to get these completed on Thursday so that I could get on with other tasks. The damp oasis has worked well – I still have a perfect wreath that has come back from the wedding on my doorstep. The other wreaths were handed out to guests to take home at the end of the evening. I used the foliage of a large viburnum tinus to fill out the wreaths and then cut the stems of the tulips short, so that they could be inserted into the damp floral foam and nestled inside the foliage.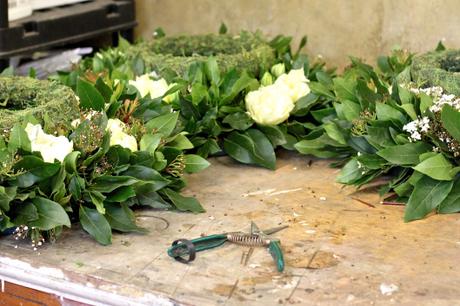 I needed to make 8 wreaths in total – here I had completed just 3!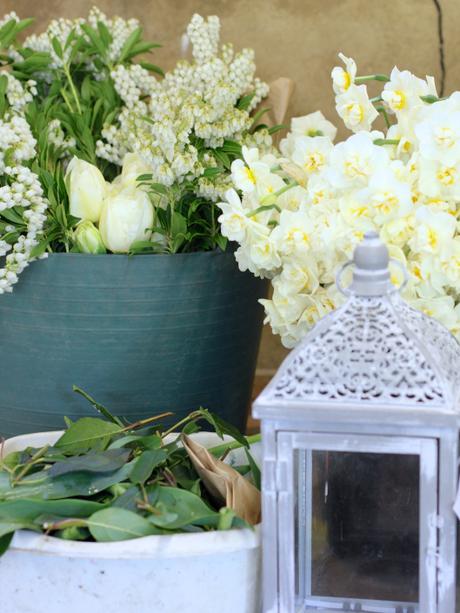 Above you can see a trug full of the appropriately named narcissi Bridal Crown. These were also cut last Monday and survived the week well in the cool dark shed.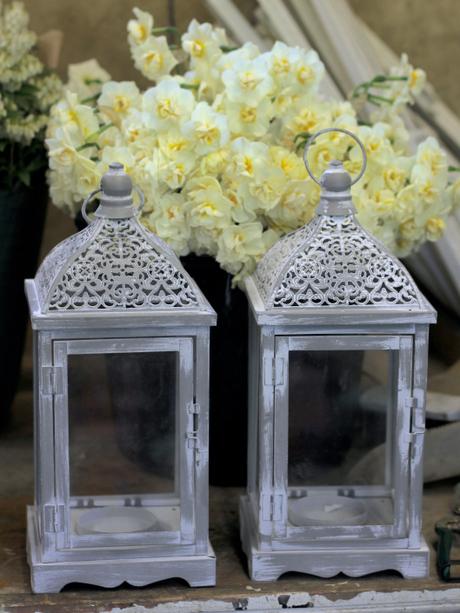 These lanterns made a perfect display on the bridal table, once candles and plenty of gypsophila was added.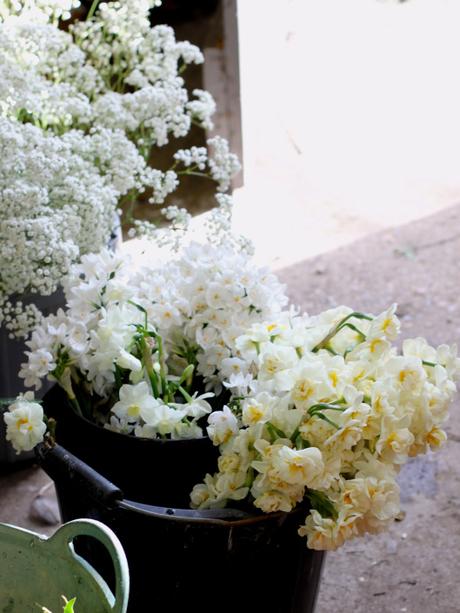 The other narcissi that I grew for the wedding is a multi flowered white variety called Silver Chimes – again very wedding appropriate! Using narcissi is perfect for me as they will flower again in my garden for many years to come. The bride had fallen in love with my Paperwhite narcissi on a visit to my house in February and I was very pleased to have enough in flower last week to decorate the bridal table.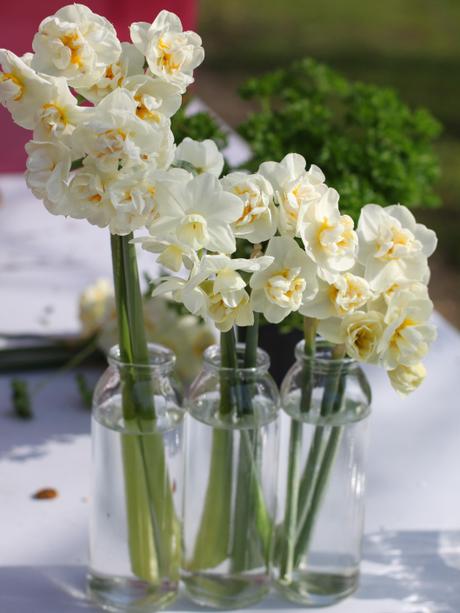 I loved the simplicity of this arrangement that was made to add life and scent to the ladies powder room.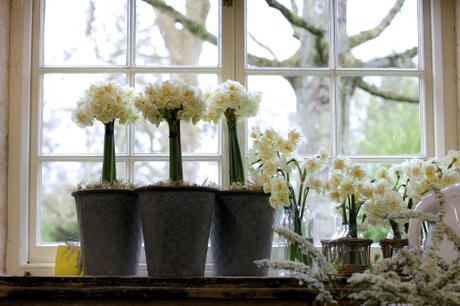 These three pots of Bridal Crown were destined to add a delicate floral note to the masculine bar area.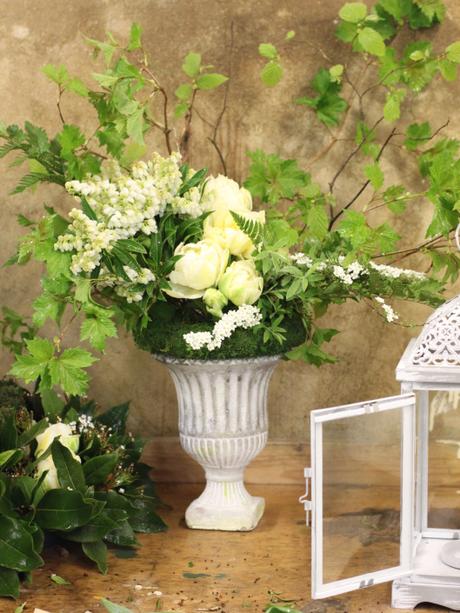 For the church windows I made 5 urn arrangements, using fresh foliage, more tulip Mount Tacoma and stems of the lovely Spiraea 'Arguta'. Spiraea 'Arguta' is my favorite flowering shrub at this time of year – just lovely in the garden and perfect for adding graceful arching stems of white flowers to arrangements. You can also see a few stems of Pieris 'Forest Flame' in these urns and I have to admit to buying these from the market last week – this is not a shrub that grows well in my garden, although seeing how lovely the flowers look I might have to give it another go. This shrub is also called the Lily of the Valley shrub as the flowers resemble the later flowering Lily of the Valley. Gypsophila was another flower that was bought in – although I grow a variety of this in the Cutting Garden, it is not in flower in April.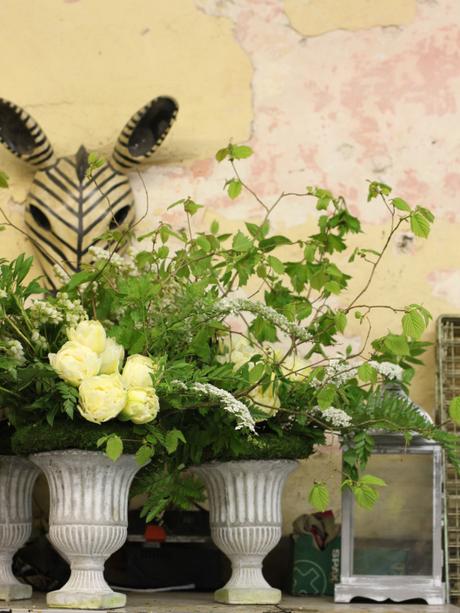 Friday morning saw me up bright and early, loading all these flowers into cars to transport them to the venue. I will be back in a day or two to show you how they looked in situ – just as soon as I have sorted out the many photographs I took whilst putting the arrangements in place!
Finally for today, I must apologize for not appearing with a vase yesterday. Those of you who follow me on Instagram will know that I was in London visiting Kensington Palace with friends yesterday. In the evening we were very lucky to attend a concert by the world renowned pianist Lang Lang at the Royal Albert Hall, so I did not get home until the early hours of the morning. In A Vase On Monday will be back next week.