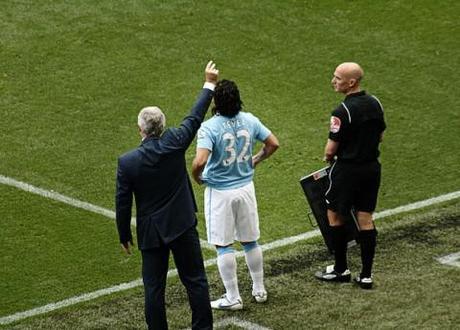 Carlos Tevez waits to make his Manchester City debut. Will he ever play for the club again? Photo credit: Alfonso Jimenez
The January football transfer window has closed with a whimper rather than a bang, most commentators agree. While last year's deadline day say record spending of £225 million, this year was a more subdued affair, with the Premier League spend coming in at £60 million, according to the BBC.
Clubs are showing financial prudence. The lack of headline-grabbing, big money deals implies that "the Premier League is breathing the fresh air of restraint", wrote David Conn in The Guardian. Conn suggested this was due to the new UEFA financial fair play rules, which mean if indebted clubs overspend they face serious sanctions. However, Conn also pointed out that it is impossible to know at this point whether or not the rules will have a long-term effect on football spending: "Restless ambition, rich men's impatience and the desperation of strugglers still thrash beneath the waters, calmer as they seem."
Carlos Tevez is going nowhere. Manchester City failed to offload striker and former captain Carlos Tevez, setting the stage for some serious fireworks. Manager Roberto Mancini  said Tevez was "finished" at the club after the player apparently refused to come on as a substitute against Bayern Munich last year – and relations have only got worse. Tevez is currently in "self-imposed exile" in his homeland of Argentina, reported Sonia Oxley for Reuters, and is facing a £1.2 million pound fine from City for flying home without permission. Now that interest from AC Milan, Paris St Germain and Inter Milan has come to nothing, the club faces a tricky legal situation, said Oxley: "The high-risk option would be to release him and sue him for the loss of a transfer fee that local media estimate at 25-30 million pounds but there would be no guarantees for City that Tevez would be able to pay it."
A game between Everton and Manchester City was halted after a man chained himself to a goalpost. According to The Daily Mail, the man was protesting over Ryanair not employing his daughter. Presumably it's easier – and safer – to handcuff yourself to a goalpost than to a Ryanair plane.
Pavlyuchenko out, Saha in. It was a busy transfer deadline day for Tottenham Hotspur, with Roman Pavlyuchenko, Steven Pienaar, Sebastien Bassong and Vedran Corluka on the way out; and Louis Saha joining on a free transfer from Everton and Ryan Nelson moving to White Hart Lane after Blackburn cancelled the defender's contract. The arrival of 33-year-old Saha raised a few eyebrows, as the striker is notoriously injury-prone: "Saha has managed 20 appearances this season, scoring just twice," noted Andy Hampson in The Independent.
Queens Park Rangers also hit the transfer day headlines, bringing in striker Bobby Zamora from Fulham and Djibril Cisse from Lazio. Manager Mark Hughes told the club website: "I rate Djibril very, very highly. I've watched him for many years and always been impressed by what he brings to the table."
Cahill to Chelsea, Terry on trial. Gary Cahill's move from Bolton Wanderers to Chelsea was one of the top ten transfers of the winter window, according to Goal: "Cahill adds some much needed depth to the Chelsea back line, and looks set to earn himself a starting berth alongside club icon John Terry." And speaking of Terry, the Chelsea captain has entered a plea of not guilty to a "racially aggravated public order offence", reported The Telegraph. Terry allegedly racially abused Queens Park Rangers defender Anton Ferdinand during a match last year. The trial is scheduled for 9 July; the Chelsea player is expected to captain England during Euro 2012 in June.