From a blog called Calvin's Hats, the purpose of creating tiny baby preemie hats is summarized here:
Calvin's Hats is offering to grieving parents a gift which can bring a small amount of comfort and peace... a hat tiny enough to fit right on their precious child's head and something to hold on to when their child is no longer here.
Our wish is for these hats to bring a small amount of healing."
A couple of weeks ago, Raveler Annie said this:
When Calvin's Hats first started in February of 2009, it was with the hope that we could provide some hats to families who were leaving the hospital with empty arms. We had one knitter (Sarah DuVal) and a website with a limit of 3 pages. We were sending out one or two hats per month and thrilled to be blessing those families.
About 6 months ago, something changed. I'm really not sure what it w as that spurred it on, but our goal of getting hats into hospitals was finally working. Since that point, we've sent out a large number of hats. ... but never once has my hat drawer been completely empty. I don't suppose tiny knit hats can really compare to the Bible story of Jesus feeding the 5,000 with a couple loaves of bread, but that's how it feels sometimes.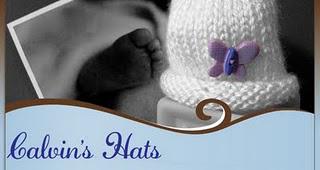 If you want more information about Calvin's Hat , Annie's blog can be found here, along with some easy patterns.