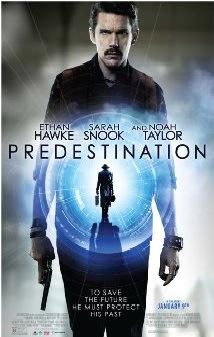 Director: Michael Spierig, Peter Spierig
Writer: Michael Spierig, Peter Spierig (Screenplay) Robert A Heinslein (Story)
Starring: Ethan Hawke, Sarah Snook, Noah Taylor, Elise Jansen, Cate Wolfe, Freye Stafford, Alicia Pavlis, Christopher Kirby
Plot: The life of a time-traveling Temporal Agent. On his final assignment, he must pursue the one criminal that has eluded him throughout time.
There may be spoilers the rest of the review
Verdict: The Circle of Life
Story: Predestination starts by introducing us to our protagonist (Hawke) who works as a form of time cop, while on his final case trying to stop a serial criminal known as the 'Fizzle Bomber' who keeps going back and changing the dates of his attacks. His latest meeting with the criminal leads him to get horribly burnt. One of his covers is as a bartender in 1970 where he tries to investigate the bomber, he meets a mysterious stranger (Snook) who is a writer for a magazine. One thing leads to another thing and the two end up placing a bet for a great story while discussing the Fizzle Bomber work.
We start by hearing the mysterious stranger's Jane childhood how she knew she was different from a young age, stuck in an orphanage where she excelled in class and learned how to fight. Graduation gave her a chance to work with Mr Robertson (Taylor) on a space program. She excels through the training program scoring the highest possible scores, before getting kicked out of the program. Jane ends up pregnant before learning the truth that she has both male and female organs, this leads to her losing her female ones and having to become a man, to make matters worse her baby is taken from the hospital. After spending fifty minutes with this story we actually get to the point of bartender character who actually works with Robertson and offers to let Jane/John kill the man who put him in the position he is in now. All while our bartender figures out who the fizzle bomber is.
Predestination is one of those time travel films that really gets you thinking, even though it seems to give away the ending quite early on. It has plenty of twists and turns a few you don't see coming and few that are clear. I know the bar story does go on too long but in the end it helps discover the points we have learnt from the conclusion. The thing that really confuses is that it is sold on the idea of hunting down a bomber and I know we learn the true identity by the end but we don't get enough of the searching done early on. This will come off slow which is a big drawback but I think most of it gets wrapped up by the end. (7/10)
Actor Review
Ethan Hawke: The Bartender the time traveler who helps Jane learn about what could be possible all while trying to locate his last opposition who keeps escaping him. Ethan does a solid job but doesn't get enough time with his main side of the story. (6/10)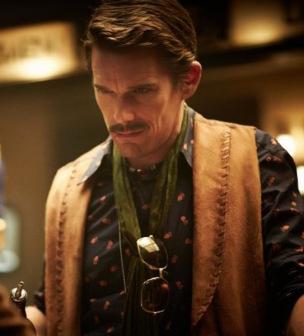 Sarah Snook: The Unmarried Mother Jane who is an orphan girl before finding out the truth that she is capable of being either, she gets turned into a man and gets a chance to go back in time to change how she was mistreated by a man. Sarah does a good job here. (7/10)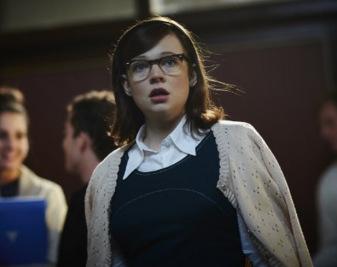 Support Cast: Predestination really doesn't have much of a supporting cast at, we have the lead two stars taking up all the screen time.
Director Review: Michael Spierig, Peter Spierig – The pair do a good job creating a film that keeps you guessing but sometimes makes you think too much. (6/10)
Action: Predestination really doesn't have much action in at all we have one scene replayed from different perspective but other than that it's all talk. (4/10)
Sci-Fi: Predestination makes time travel interesting without throwing the science in our face, it just keeps things simple. (8/10)
Thriller: Predestination does keep you wanting to know what happens but doesn't create any real edge of your seat moments. (5/10)
Settings: Predestination keeps its settings very average but keeps them authentic for the time periods. (8/10)
Special Effects: Predestination has few special effects but the ones it does have work very well. (8/10)
Suggestion: Predestination is one to try it may come off very much complicated but ends up coming together nicely at the end. (Try It)
Best Part: Keeps you guessing.
Worst Part: The opening story is too long.
Believability: No (0/10)
Chances of Tears: No (0/10)
Chances of Sequel: No
Post Credits Scene: No
Similar Too: Triangle
Oscar Chances: No
Runtime: 1 Hour 37 Minutes
Tagline: To save the future he must reshape the past.
Overall: What came first the Chicken or the Egg?
Rating