Just warning you, some of these will be a torturous wait...

Astray by Emma Donoghue, Little, Brown, 388 pp. [October 2012]
"The fascinating characters that roam across the pages of Emma Donoghue's stories have all gone astray: they are emigrants, runaways, drifters, lovers old and new. They are gold miners and counterfeiters, attorneys and slaves. They cross other borders too: those of race, law, sex, and sanity. They travel for love or money, incognito or under duress.
With rich historical detail, the celebrated author of Room takes us from puritan Massachusetts to revolutionary New Jersey, antebellum Louisiana to the Toronto highway, lighting up four centuries of wanderings that have profound echoes in the present. Astray offers us a surprising and moving history for restless times."

Illuminations: A Novel of Hildegard von Bingen by Mary Sharratt
Houghton Mifflin Harcourt, 288 pp. [October 2012]
 "I loved Mary Sharratt's The Daughters of Witching Hill, but she has outdone herself with Illuminations: A Novel of Hildegard Von Bingen. She brings one of the most famous and enigmatic women of the Middle Ages to vibrant life in this tour de force, which will captivate the reader from the very first page." — Sharon Kay Penman, author of the New York Times bestseller Time and Chance

The Secret Keeper by Kate Morton, Atria, 480 pp. [October 2012]

"During a party at the family farm in the English countryside, sixteen-year-old Laurel Nicolson has escaped to her childhood tree house and is dreaming of the future. She spies a stranger coming up the road and sees her mother speak to him. Before the afternoon is over, Laurel will witness a shocking crime that challenges everything she knows about her family and especially her mother, Dorothy.
   Now, fifty years later, Laurel is a successful and well-regarded actress, living in London. She returns to the family farm for Dorothy's ninetieth birthday and finds herself overwhelmed by questions she has not thought about for decades. From pre-WWII England through the Blitz, to the fifties and beyond, discover the secret history of three strangers from vastly different worlds—Dorothy, Vivien, and Jimmy—who meet by chance in wartime London and whose lives are forever entwined.
   The Secret Keeper explores longings and dreams, the lengths people go to fulfill them, and the consequences they can have. It is a story of lovers, friends, dreamers, and schemers told—in Morton's signature style—against a backdrop of events that changed the world."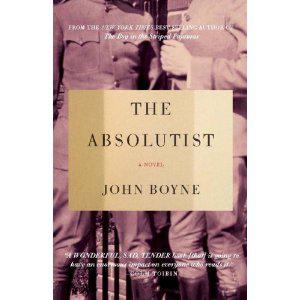 The Absolutist by John Boyne, Other, 320pp. [July 2012]

"It is September 1919: twenty-one-year-old Tristan Sadler takes a train from London to Norwich to deliver a package of letters to the sister of Will Bancroft, the man he fought alongside during the Great War.
But the letters are not the real reason for Tristan's visit. He can no longer keep a secret and has finally found the courage to unburden himself of it. As Tristan recounts the horrific details of what to him became a senseless war, he also speaks of his friendship with Will--from their first meeting on the training grounds at Aldershot to their farewell in the trenches of northern France. The intensity of their bond brought Tristan happiness and self-discovery as well as confusion and unbearable pain.
The Absolutist is a masterful tale of passion, jealousy, heroism, and betrayal set in one of the most gruesome trenches of France during World War I. This novel will keep readers on the edge of their seats until its most extraordinary and unexpected conclusion, and will stay with them long after they've turned the last page."
NonFiction

Phantoms on the Bookshelves by Jacques Bonnet, Overlook, 144 pages [July 2012]
"The book's ideal readers will be those who share Bonnet's love of being surrounded by the evidence of their minds' journeys, insatiable readers who love to linger over large and quirky accumulations of the printed word. For those readers, highly recommended."
(--Library Journal )

My Dear Governess: The Letters of Edith Wharton to Anna Bahlmann, ed. by Irene Goldman-Price, Yale, 336 pp. [June 2012]
"An exciting archive came to auction in 2009: the papers and personal effects of Anna Catherine Bahlmann (1849–1916), a governess and companion to several prominent American families. Among the collection were one hundred thirty-five letters from her most famous pupil, Edith Newbold Jones, later the great American novelist Edith Wharton..."
Remarkably, until now, just three letters from Wharton's childhood and early adulthood were thought to survive. Bahlmann, who would become Wharton's literary secretary and confidante, emerges in the letters as a seminal influence, closely guiding her, her precocious young student's readings, translations, and personal writing. Taken together, these letters, written over the course of forty-two years, provide a deeply affecting portrait of mutual loyalty and influence between two women from different social classes..."
Already Published Yummies :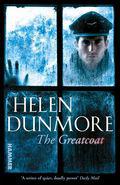 The Greatcoat by Helen Dunmore, Hammer, 208 pp.
 "A terrifyingly atmospheric ghost story by the Orange-prize-winning Helen Dunmore.
 
In the summer of 1954, newly wed Isabel Carey arrives in a Yorkshire town with her husband Philip. As a GP he spends much of his time working, while Isabel tries hard to adjust to the realities of married life. Life is not easy: she feels out-of-place and constantly judged by the people around her, so she spends much of her time alone.
 
One cold winter night, Isabel finds an old RAF greatcoat in the back of a cupboard that she uses to help keep warm. Once wrapped in the coat she is beset by dreams. And not long afterwards, while her husband is out, she is startled to hear a knock at her window, and to meet for the first time the intense gaze of a young Air Force pilot, handsome, blond and blue-eyed, staring in at her from outside.
 
His name is Alec, and his powerfully haunting presence both disturbs and excites Isabel. Her initial alarm soon fades, and they begin a delicious affair. But nothing could have prepared her for the truth about Alec's life, nor the impact it will have on her own marriage."
NonFiction
"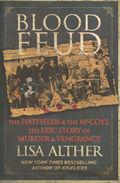 America's most notorious family feud began in 1865 with the murder of a Harmon McCoy, a Union soldier, by a Confederate Hatfield relative. But Southern grudges run long and deep. More than a decade later tempers flared over stolen hogs. This accusation triggered years of bloody violence and retribution that led to a tragic
Romeo-and-Juliet
interlude, a Supreme Court ruling, and Kentucky's last public hanging. The final feud trial took place in 1898, but the rivalry didn't end there. Its legend continues to have an enormous impact on the popular imagination and the people of the region. Here is a fascinating new look at the infamous story of the Hatfields and the McCoys."
An interesting article or two:
Via Flavorwire, Interview with Justin Torres re: The Future of American Fiction