Hi Huneybees,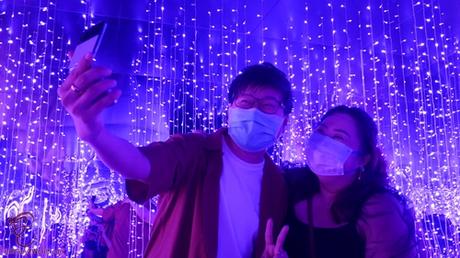 Samsung has just Unpacked and revealed their latest series of updates - The Galaxy Flip4 5G, Galaxy Z Fold4 5G, Galaxy Watch5 Series, and Samsung Galaxy Buds2 Pro. I got to preview and play with the gadgets for a while and here's a little intro...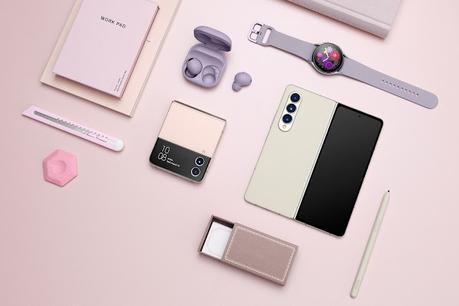 Samsung Galaxy Z Series 5G
Entering into the 4th generation, these foldable gadgets have been enhanced for better performances, to aid in your everyday life. They are Samsung's toughest foldable to date, with Armor Aluminum frames and hinge cover along and exclusive Corning® Gorilla® Glass Victus®+ on the Cover Screen and rear glass.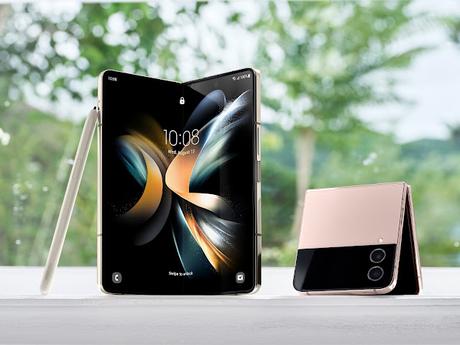 The durability of the Main Screen panel is also enhanced thanks to the optimized layer structure, helping to reduce damage from external shock. They are equipped with IPX825 water resistance, so you don't have to worry if caught in the rain.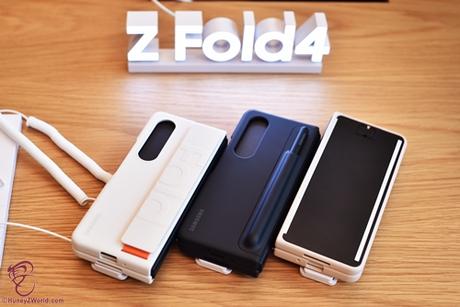 On top of that, there's also an array of new covers to protect your devices and also specific ones to house the S Pen for the Z Fold4.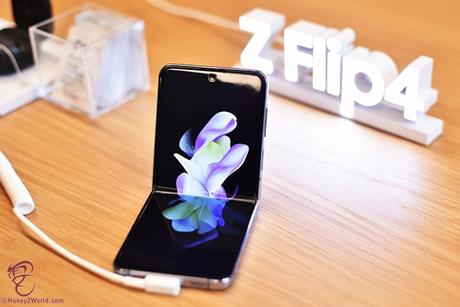 Samsung Galaxy Z Flip4 5G
The Galaxy Z Flip4 5G, maintaining its compact clamshell design, is now shorter and narrower than its previous version, with the inside border thinner for more screen space while you watch your favorite drama. The overall design has been refined with a slimmer hinge, straightened edges, contrasting hazed back glass, and glossy metal frames. The battery has also expanded to 3,700mAh for longer usage and with Super Fast Charging now supported on Z Flip4 5G, it can charge up to 50 percent in around 30 minutes.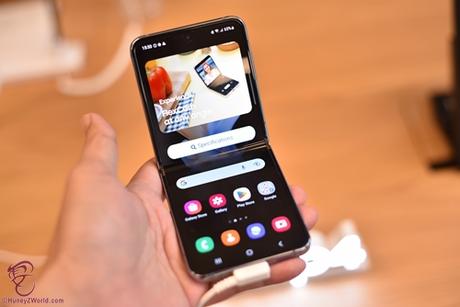 Flip4 is fully customizable inside out, with Galaxy Themes on both Cover and Main Screen. You can make use of the custom fonts, icons, and designs to make the phone match your style, Plus, youcan create your own Cover Screen with new clock designs and backgrounds in various formats such as images, GIFs, and even video.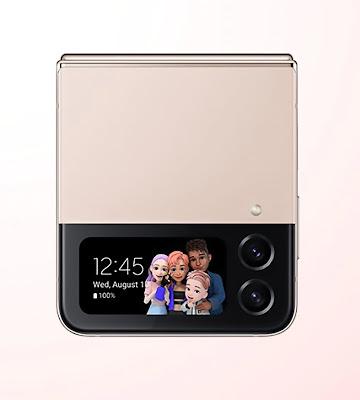 The Cover Screen has also been enhanced so now you can do more without even having to open the phone. There are new ways to theme it, with more widgets added,  so you can make calls, reply to texts (using speech to text), make payments with your mobile wallet, and even control the SmartThings Scene widget, all from the Cover Screen.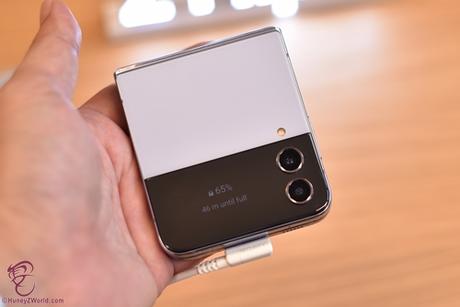 The photo capturing or video shooting experience has also been enhanced with a 10 MP Selfie Camera and 12 MP Wide and Ultrawide Rear Camera, equipped with a 65 percent brighter sensor powered by the Snapdragon® 8+ Gen 1 Mobile Platform; your photos and videos will be crisper and more stable - day or night.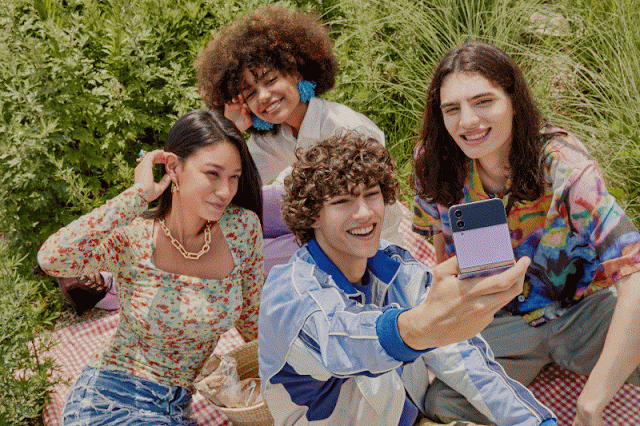 Shoot hands-free video or capture full group selfies at various angles by partially folding Z Flip4 5G to activate FlexCam and with Samsung's partnership with Meta. FlexCam is also optimized for the most popular social platforms, including Instagram, WhatsApp, and Facebook.
You can also take high-quality selfies right from the Cover Screen by leveraging the main camera with the upgraded Quick Shot or shoot high-quality video recording in Quick Shot mode andthen seamlessly switch to Flex mode to continue recording hands-free without stopping the video allowing a more creative video transition.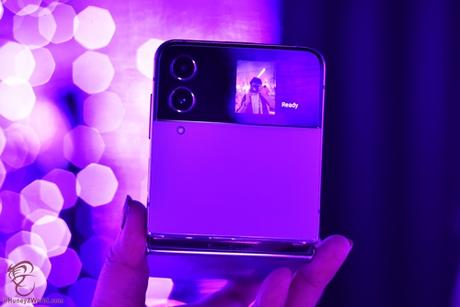 Something cool about the Flip phones is that you can preview from the Cover Screen how you look in the picture when your friend is helping you take a photo. On Flip3, the preview is only limited to the screen ratio, which means you are previewing the photo cropped, making it hard for you to pose correctly. But it is now solved and you are able to take selfies in Portrait Mode and see the preview in the actual photo ratio.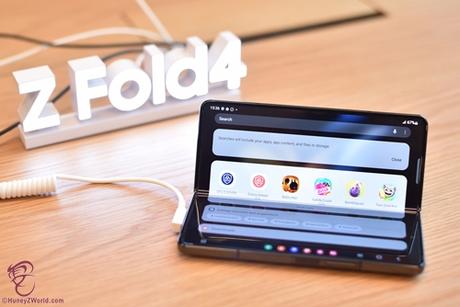 Samsung Galaxy Z Fold4 5G
The Galaxy Z Fold4 5G has yet again proved to be a helpful, multi-tasking powerhouse with ultimate performance to aid in your daily work-life being the first device to ship with Android 12L, a special version of Android created by Google for large-screen experiences (2.7mm wider when closed and 3mm wider when opened) and , including foldables. It is Samsung's most comprehensive smartphone experience to date, shape-shifting design, immersive displays, and PC-like multitasking features, in addition to advanced camera technology and powerful mobile processors.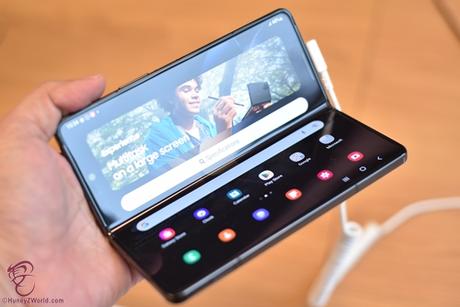 Multitasking on Z Fold4 5G is now made easier than ever with the new Taskbar feature that provides a layout similar to your PC, offering access to your favorite and recent apps. You can also instantly switch full-screen apps to pop-up windows or split your screen in half for more ways. Google apps, including Chrome and Gmail now support drag-and-drop, allowing you to quickly copy and paste links, photos and more from one app to another. With Google Meet, you can connect with more people while enjoying

virtual co-activities, including co-watching videos on YouTube or playing games together whilst on a video call.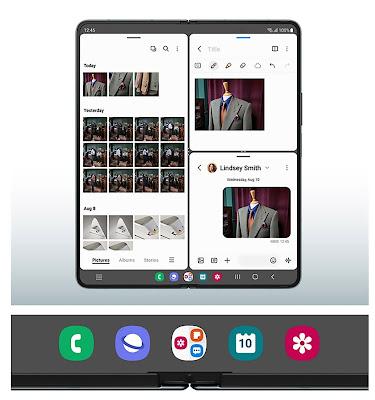 Popular social media apps like Facebook are optimised for the large-screen experience to makecontent more enjoyable. Or open your favorite streaming entertainment service apps like Netflix and 

watch hands-free with Flex mode. For non-optimised apps, users can even control the device without 

disrupting the content with the new Flex Mode Touchpad, offering accuracy while pausing, rewinding, and 

playing videos, or zooming in and out of content while the device is in Flex mode.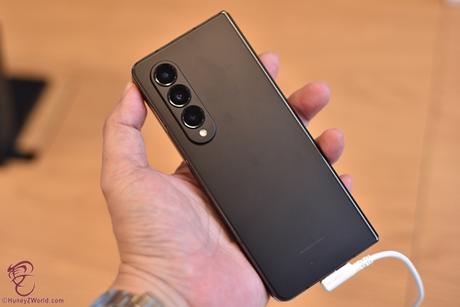 The photo taking and video experience has also been elevated with an upgraded 50MP wide lens and 30x Space Zoom 

lens allowing you to play with a variety of camera modes, including the larger Zoom map activated on Capture View Mode, Dual 

Preview, and Rear Cam Selfie. 

And with the larger pixel size (a 23 percent brighter sensor), and enhanced processing 

power, you can capture clear images even at night!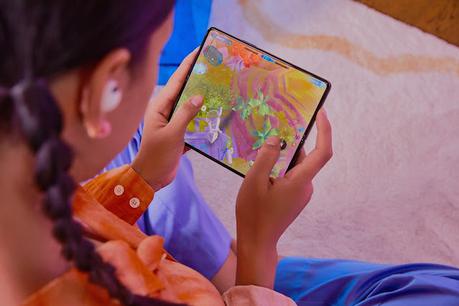 Games are snappier too thanks to the powerful Snapdragon® 8+ Gen 1 Mobile Platform and hyper-fast 5G23. 

With the slimmer hinge, lighter weight, and even narrower bezels, the wider screen enables easier one-handed 

interactions while using the Cover Screen.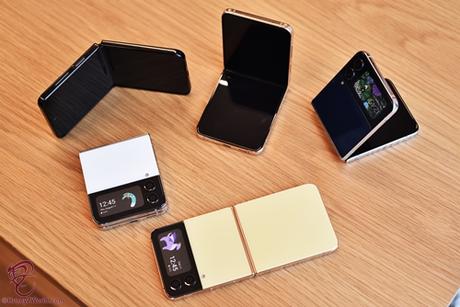 The Samsung Galaxy Z Flip4 5G comes in Bora Purple, Graphite, and new colours: Pink Gold, and Blue. Or go a step further and make it uniquely yours with the expanded Galaxy Z Flip4 5G Bespoke Edition where you can customize and play with the front and back panels and frames.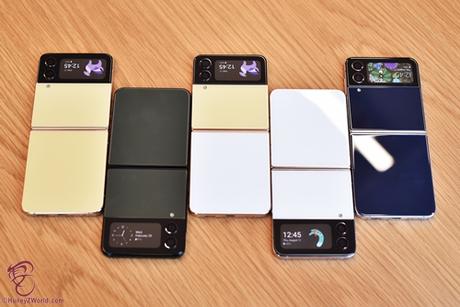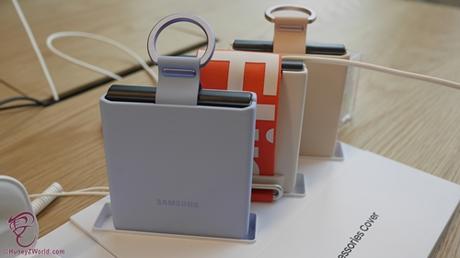 Bespoke Edition colors are Yellow, White, Navy, Khaki, and Red and Frames come in Black, Silver, and Gold, you can combine up to 75 variations. There are also several covers for you to choose to protect your Flip4s too...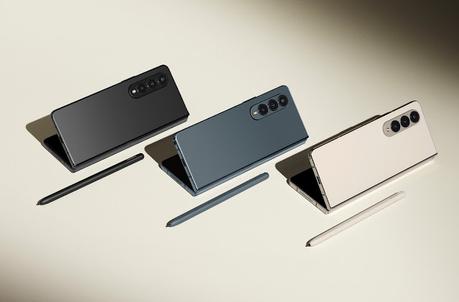 The Galaxy Z Fold4 5G is offered in refined colours that include Graygreen, Beige and Phantom Black. 

Additionally, it is available in Burgundy with additional storage capacity options up to one

terabyte, exclusively on Samsung Online Store.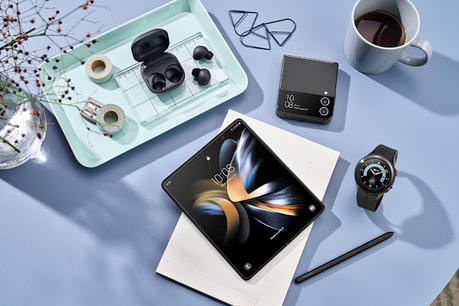 The New & Improved Wearables
 To Aid Your Lifestyle
Along with the new phones, Samsung has also updated their wearables to pair with your smartphones and increase your lifestyle needs and enjoyment. There's the Galaxy Buds2 Pro, Galaxy Watch5 and Galaxy Watch5 Pro.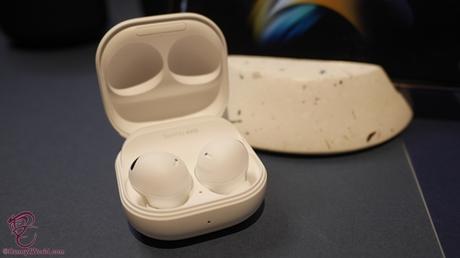 Galaxy Buds2 Pro
Samsung's new top-of-the-line earbuds -

 Galaxy Buds2 Pro is here to provide the 

most immersive wireless audio experience with a new, compact design (

15% smaller for more ergonomic long wearing)

, and seamless connectivity that is 

perfect for any aspect of your everyday life.


The superior Hi-Fi 24bit Audio w

ith the new 

Samsung seamless codec (SSC HiFi) 

and the new

coaxial 2-way speaker, makes the music and sounds richer and crystal clear. Turing on the 

360 degree 

positional audio together 

with the built in native Dolby Atmos™ support, it's almost as though you are personally in the movie/video you are watching. I tried it at the preview and it was so phenomenal that you can hear the distance difference, where each sound is coming from and  even the differentiate the musical instruments used in the music!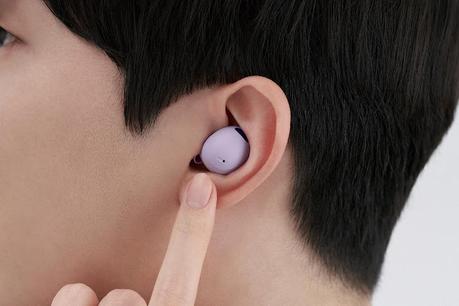 When you need to answer an urgent call while enjoying a gaming session or a movie on your tablet, the 

Buds2 Pro can seamlessly switch the audio connection to your phone with a touch of a finger. 

Your calls on-the-go will not be disturbed by surrounding sounds with the powerful ANC and with

 Auto Switch, you can effortless transition from your favorite TV Show to take a call from 

your loved ones.


Lastly, if you happen to misplace your Buds2 Pro on your commute, SmartThings Find now makes locating them 

fast and easy whether they're inside their cradle or not.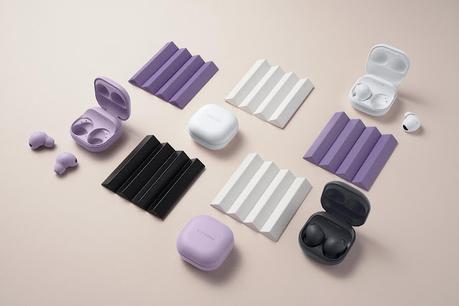 The Galaxy Buds2 Pro will be retailing at $328, coming in 3 all-new soft and neutral hues that perfectly complement with the new 

foldables - Graphite, White, and Bora Purple.
Galaxy Watch5 and Galaxy Watch5 Pro
Give your health more attention with the Galaxy Watch5 and Galaxy Watch5 Pro. Better understand your health and wellness habits with intuitive insights, advanced features and in-depth monitoring.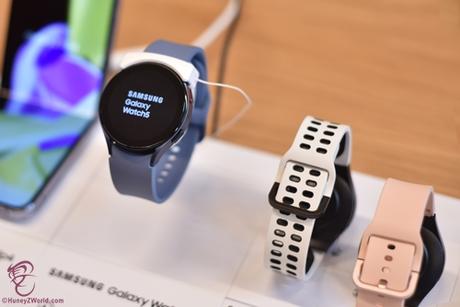 Galaxy Watch5 is equipped with Samsung's unique BioActive Sensor that uses a single unique chip combined with three powerful health sensors - Optical Heart Rate, Electrical Heart Signal and Bioelectrical Impedance Analysis, to help its wearer gain extensive readings (heart rate, blood oxygen level, ECG and stress level).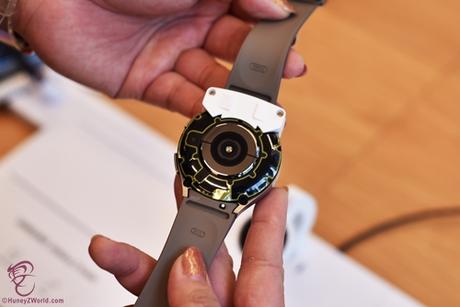 With an increased surface area and more direct contact with your wrist, the Galaxy Watch5 tracks health metrics with greater accuracy than its predecessor.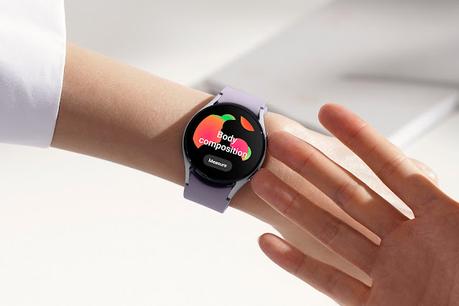 Together with your readings, the Galaxy Watch5 offers a comprehensive end-to-end experience that goes beyond fitness activities and into the post-workout, rest, and recovery process. The Body Composition measurement tool, it can provide a tailored approach to help set goals, guide you through personalised workouts, and track progress. And when it's time to rest, it will also provide recovery data, including post-cardio heart rate (after an intense workout), and customised recommendations on water consumption based on sweat loss.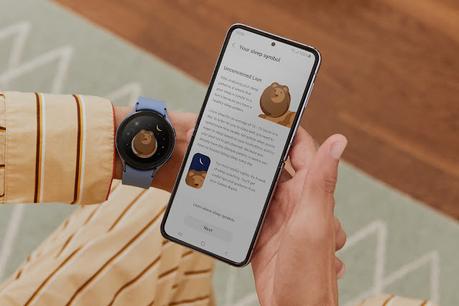 Furthermore, you can also better understand your sleep patterns through Sleep Scores that monitors your stages of sleep, along with snore detection and blood oxygen levels. From that, you can achieve improved sleep habits with the advanced Sleep Coaching that gives a tailored month-long guided program. 
Through SmartThings integration, the Galaxy Watch5 automatically sets connected lights, AC units, and TVs to predetermined settings that make for an ideal sleep environment. With the enhanced fall detection, an emergency contact is notified should you or your loved one stumbles at home or falls out of bed too.
The Galaxy Watch5 comes with 13% larger battery, with up to 40 hours of battery life, that allows eight hours of sleep tracking with just eight minutes of charging. The smartwatch is also more durable now with the Sapphire Crystal display. 
Addtionally, cue up your favorite song on Spotify with just your voice using Google Assistant andfind your way using Google Maps right from your wrist without a smartphone connection.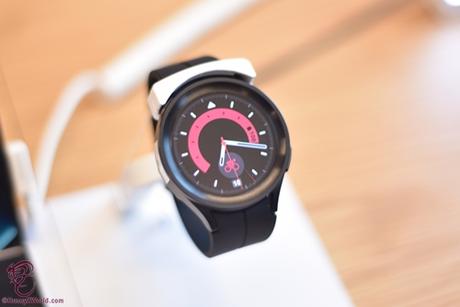 Created for those that love the great outdoors, the Galaxy Watch5 Pro is ready for any challenge from hiking to cycling and beyond. It is enhanced with Sapphire Crystal that better resists any wear and tear and a durable titanium casing that protects the display with a protruded bezel design.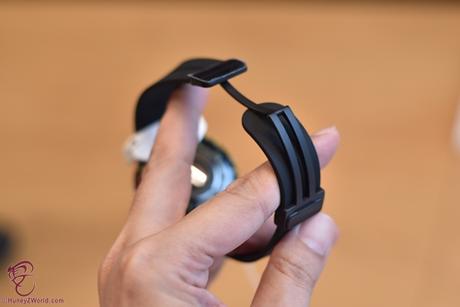 It also comes with an all-new D-Buckle Sport Band that offers rugged durability with a sleek and clean fit; with an easy click on magnetic clasp and no holes, you won't be tracking any dirt as you go about your adventures.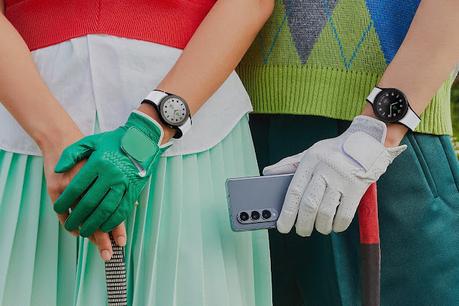 Built strong, and built to last, Galaxy Watch5 Pro has the largest battery in a Galaxy Watch. It is 60% larger than Galaxy Watch4, with up to 80 hours of battery life.  You can track, record and share your hiking session with fellow trail-lovers on the Samsung Health app with Route Workout as well as download hiking and cycling routes from others to try new adventures.
As you hike or cycle, you can keep your eyes on the path and away from the map with intuitive Turn-by-turn directions and when you're ready to head home, the Galaxy Watch5 Pro will get you there easily with the Track back feature that takes you back the way you came.


The Galaxy Watch5 comes with the Large 44mm option available 
in Graphite, Sapphire, and Silver and the Small 40mm option available in Graphite, Pink Gold, and Silver 
which features a Bora Purple strap that pairs perfectly with the Galaxy Z Flip4 5G. Galaxy Watch5 will start 
at $448 for the Bluetooth version and $548 for the LTE version.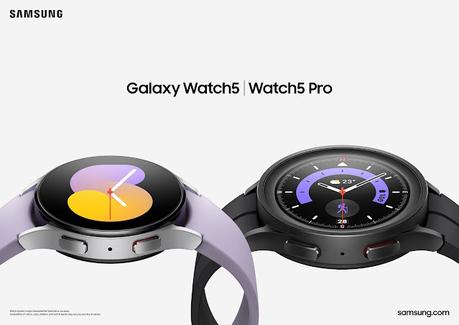 The Galaxy Watch5 Pro will be available in Black Titanium and Gray Titanium, with a 45mm display, starting at $698 for the Bluetooth version and $798 for the LTE version.
Additionally, you can also design your own watches by selecting the model, size, case color and strap for up to 96 unique combinations in the Galaxy Watch5 Bespoke Studio - https://www.samsung.com/sg/mobile/galaxy-bespoke/galaxywatch5/. 

Available watch straps include the all-new D Buckle Sport Band (default with Watch5 Pro), Sport 

Band (default with Watch5), Link Bracelet Titanium, Two-tone Sport Band, and Rugged Sport Band.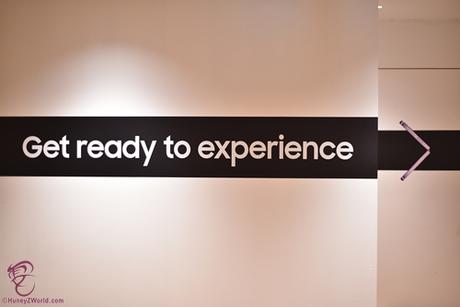 Availability
The Galaxy Z Flip4 5G, Galaxy Z Fold4 5G, Galaxy Buds2 Pro, Galaxy Watch5 and Galaxy Watch5 Pro is now available for pre-order at 

Samsung Online Store, Samsung Official Store in Lazada, Shopee and 

Amazon, selected Consumer Electronics & IT online stores and telecommunication operators online

stores (Singtel, StarHub).



You can also register your iinterest for the Galaxy Z Flip4 

5G and Galaxy Z Fold4 5G with telecommunication operator, M1, or place your pre-order for the allnew 

devices in store at the following:

• Telecommunication operators (Singtel, StarHub)• Samsung Experience Stores• Selected Consumer Electronics & IT Stores
All consumers who pre-order the Galaxy Z Flip4 5G and Galaxy Z Fold4 5G will be entitled to thefollowing complimentary pre-order exclusives:• Galaxy Z Flip4 5G: Samsung e-voucher3 worth $250 and 50% off 2-year Samsung Care+Screen Care worth $238• Galaxy Z Flip4 5G Bespoke Edition: Samsung e-voucher4 worth $250, 50% off 2-yearSamsung Care+ Screen Care worth $238, and free Clear Slim Cover worth $38• Galaxy Z Fold4 5G: Samsung e-voucher4 worth $300 and 50% off 2-year Samsung Care+Screen Care worth $350


Consumers who pre-order their devices will be able to collect their devices from 

26 August 2022

, 

Friday

. There's also a special preorder bundle...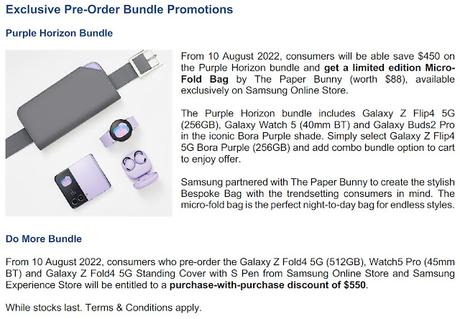 For more information on - •
Galaxy Z Flip4 5G
:
https://www.samsung.com/sg/smartphones/galaxy-z-flip4/
•
Galaxy Z Fold4 5G
:
https://www.samsung.com/sg/smartphones/galaxy-z-fold4/
•
Galaxy Buds2 Pro
: www.samsung.com/sg/audio-sound/galaxy-buds/galaxy-buds2-pro-bora-purplesm-
r510nlvaxsp
•
Galaxy Watch5 and Galaxy Watch5 Pro: 
www.samsung.com/sg/watches/galaxy-watch5/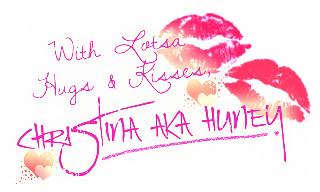 Do follow me on my social media for more daily updates...

Facebook page | 
Twitter | 
Instagra
m
http://www.huneyzworld.com