Hector the pit bull's much beloved brothers are having serious health challenges… please pray for them all and the entire Yori family…
Wallace has hemangiosarcoma, an aggressive cancer.  his best friend Angus tore his cruciate ligament.
I suggested the Conservative Manage Protocol for Angus and Jeff Stanford's healing plan for Wallace.
http://celiasue.com/2012/09/08/conservative-management-for-acl/
http://celiasue.com/2008/10/12/5-tips-on-helping-a-dog-heal/
However, people have to do whatever they think best for their dogs.
How to help 
Here are some ways that people can help.
1.  ChipIn.  So far the vet bills total almost $6000.  If we can get help with even a portion of that we would feel so grateful. ChipIn For Wallace and Angus
2.  Buy Wallace's book.  Wallace: The Underdog Who Conquered a Sport, Saved a Marriage, and Championed Pit Bulls– One Flying Disc at a Time   Make sure your local bookstores and libraries have it.  Read our story.  Share it with others.  Wallace has made a positive impact on this world and he has more to do.
Send stuffies or treats.  Wallace loves to destroy stuffed toys, with or without squeakers (they will be destroyed immediately so don't bother purchasing expensive ones).  Treats must be grain-free and poultry-free.  Good brands for him are ZiwiPeak, Raw Bistro Stix,Wellness Pure Rewards (venison/salmon), Pure Vita (beef liver/sweet potato).  No chews except for Zukes Z-Bones (he hardly has any teeth left).  You can send them to him at 4712 19th St SE, Rochester, MN 55904.
Continue to send him positivity and love.  Say prayers, wish him healing light, reiki, good thoughts… I believe all of that good energy is good for him.
Clara is currently doing a painting of Wallace and will be selling prints online to help with his medical bills.  Those should be ready next week if you are interested.
Hug your pets and be glad for every moment you have with them.  Their lives are too short and they deserve every ounce of goodness possible.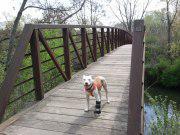 This is Wallace on his 10th birthday this year. He knows how to live life to the fullest and we want to help him do that for as long as he wants to.
https://www.facebook.com/notes/wallace-the-pit-bull/how-to-help/10151181572582733