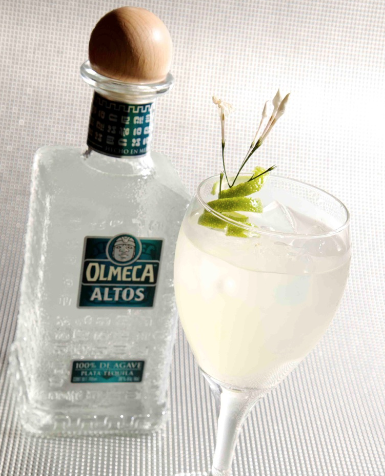 Day of the Dead is one of the biggest dates in the Mexican calendar and it's purpose it to gather families and friends to pray for their deceased. This national holiday takes place on November 1 and to celebrate Olmeca Altos is collaborating with wahaca to host a four-day festival of music, food, art and film at The Old Vic Tunnels.
The Tunnels will be transformed with an exhibition of work by Mexican photographer Graciela Iturbide, work by Mexican artist Dr. Lakra and newly commissioned installations of visual arts by the London based Le Gun collective, British artist Hew Locke and Nancy Fouts. Performing each night are metal, jazz and world music blenders Rodrigo y Gabriela.
Food is served by Wahaca's Street Kitchen and Olmeca Altos bartenders are serving cocktails such as this Jasmine Tea Margarita.
If you can't get to the Tunnels we're giving away a bottle of Olmeca Altos Plata for you to win, make a few Margarita's at home and toast your lost loves.
To enter leave a message on our facebook page under the Day Of The Dead post.
Jasmine Tea Margarita
35ml Olmeca Altos Plata
15ml Freshly Squeezed Lime Juice
10ml Light Agave Syrup
75ml Fresh chilled Jasmine Tea
Serve in a glass over ice, stir well, then garnish with fresh jasmine flowers and lime (flowers optional).

The Old Vic Tunnels
Station Approach Road , SE1 8SW
020 7993 7420
31st October – 3rd November
7pm onwards
£41 (include food from Wahaca's Street Kitchen)
£51 (include food from Wahaca's street kitchen and two Olmeca Altos cocktails)