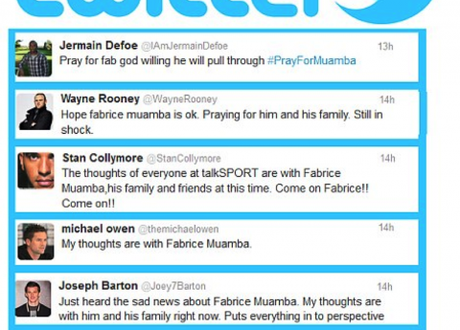 Muamba's peers voice their feelings on Twitter
Stricken Bolton Wanderers footballer Fabrice Muamba remains in intensive care after suffering a cardiac arrest on the pitch on Saturday but he is showing encouraging signs of improvement. Muamba can breathe independently and "has been able to recognize family members and respond to questions appropriately," said Bolton and the London Chest Hospital hospital in a joint statement.
Although his long-term prognosis remains unclear and will do for some time, the encouraging signs have brought some much-needed hope to his family, friends and the game of football, which has been rocked to the core by the traumatic event which took place during Bolton's FA Cup clash with Tottenham. Fellow professionals and football fans have launched a #prayformuamba hashtag campaign on social network Twitter which has captured the public imagination. Bolton manager Owen Coyle observed: "Everybody is praying for Fabrice, which is very important and that has been a real source of strength to the family."
The analysis of the public's and player's response to the event has been occupying (and bothering) the sports commentariat, some of whom feel that, amidst the flurry of tributes, important points about sport and society are being overshadowed.
Prayer comes naturally to sportsmen. At his Guardian Comment is free blog Andrew Brown argued that Muamba's collapse "shows how prayer comes naturally to footballers." Brown was not surprised by the "outburst of reverence" which has followed Muamba's cardiac arrest: "Football, like all elite sport, is a pretty superstitious business. The gap between success and failure can be measured in inches but its consequences in tens of millions of pounds; and the players are constantly pushing at the limits of their skill, so that without a little luck as well nothing can work. But if they worship anyone, it ought to by Tyche, the goddess of chance." "You might say that some footballers also set themselves up as objects of worship," added Brown, who pointed out there is a Buddhist temple in Thailand with a statue of David Beckham among its other deities, "and one premiership footballer is supposed to have a lifesize statue of himself, in golden fibreglass, to greet and overawe the visitors to his mansion." Crucially, said Brown, "there is a difference between a hero and a deity: deities are immortal and heroes die. The fate of even the most wonderful professional footballer is certain. He will grow old. Younger men, with half his skill and none of his cunning, will beat him to the ball. No, sportsmen can't really believe they are gods. So a surprising number of them find prayer entirely natural." 
"We live in an increasingly godless society, where Christians are marginalised, sacked and even prosecuted for upholding their beliefs, yet we are urged to 'Pray 4 Muamba'" sighed Richard Littlejohn of The Daily Mail. "With a dwindling number of people attending church, millions have taken to worshipping footballers and celebrities instead. In the words of G. K. Chesterton: 'When people stop believing in God, they don't believe in nothing – they believe in anything.'"
Another maudlin display of vicarious grief. Richard Littlejohn of The Daily Mail boomed "Pray 4 Muamba, but less of the fake tears." Littlejohn celebrated that "this tragic incident has brought out the best in people, from the instinctive humanity of a hostile home crowd to the heroic intervention of the cardiologist who climbed from his seat in the stand and helped keep Muamba alive," but regretted that it has also "triggered another maudlin display of vicarious grief from the 'football family'. As I have observed before, professional football has a sentimental streak the width of Wembley Stadium. On Sunday, Manchester United and Wolves staged a pre-match display of synchronised applause for Muamba, despite the fact he isn't dead. Real Madrid wore 'get well soon' messages on their shirts, even though I doubt few of the players have ever heard of Muamba. The English disease has gone global." Littlejohn insisted there is a" fine line between a tasteful show of solidarity and exhibitionism. And in this case, football yet again trampled across it. Of course, football doesn't exist in a vacuum. It reflects the values of our modern society, particularly when it comes to wallowing in the kind of self-indulgent weeping and wailing that first manifested itself over the death of Lady Di and reached its gruesome nadir with the demise of Michael Jackson."
Praying's fine but something practical must be done to drag football back from barbarism. Mick Dennis of The Express argued that it is a sad state of affairs when football fans are being applauded for simply behaving with "ordinary decency." "What did we expect? That Spurs fans would chant something foul as medics battled to save the Bolton player's life? 

Or spectators at matches the next day would mock him?

 Well, yes, frankly. We were thankful that football supporters behaved properly for once because frequently some do not.

" Dennis insisted that football fans "go on getting courser. The fighting of the Seventies and Eighties was ended by rigid segregation, but that same segregation now means any chant is possible. 

Nothing is off-limits – not even death.

" Dennis reminded that, only last week, Derby fans chanted "Where's your chairman gone?" last week after Nottingham

 Forest's owner had died – "they were following the game's darkest tradition." While Dennis appreciated that "hostility bordering on hatred is an important ingredient of the game," he insisted that "singing about someone dying is not soccer. It is sociopathic.

 So pray for Fabrice Muamba, by all means. But do something practical as well for the game he loves and has graced. 

Drag football back from barbarism. Don't join in."