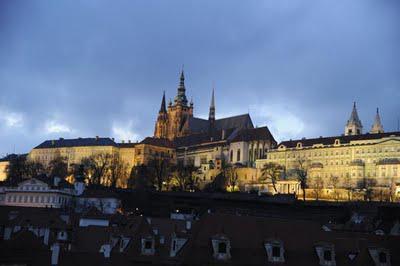 Prague, view from our hotel window of Prague Castle and St. Vitus Cathedral
In November of 2010, we spent five days in Prague and, as I look over my trip diary, it seems as if we spent most of our time eating!  We did, in fact, enjoy many of the main tourist sites, guided one day by a Czech friend, but as you'll see, the focus is on food.  So, here is my mostly culinary tour of Prague.
Day 1:
  We checked into our hotel,
The Royal Palace
, just as the sun was setting.  Our room looked over the large enclosed gardens of the Wallenstein Palace to the Castle (actually St. Vitus Cathedral) high on the hill above.  After a short walk, we ate a traditional Czech dinner at a nearby restaurant, Pod Vezi, where Art got duck and I chose fallow (deer) with what they called dumplings but tasted like the bread dressing of a typical American Thanksgiving.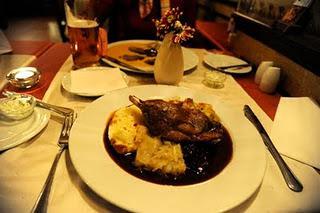 Deer and Dumplings for dinner at Restaurant Pod Vezi
Day 2:
  After breakfast at the hotel, a buffet they call a Swedish table (meat, cheese, bacon, bread, pastries, fruit) which filled us up for the day, we set out to explore.  We walked across the Charles Bridge (for pedestrians only and filled with vendors despite the freezing weather) from Mala Strana (the town below the castle) to Stare Mesto (old town) on the other side of the river, and walked along the twisty cobblestone streets, filled mainly with tourist shops featuring puppets, jewelry made from local amber (actually from Poland), art glass, Russian nesting dolls, etc.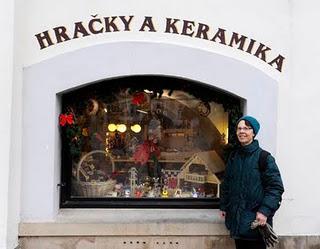 Toy and Ceramic Shop
After visiting the Spanish Synagogue, beautifully decorated and turned into a museum of pre-War Jewish history and culture in Prague, we stopped for coffee and delicious pastries at a Bake Shop on Bikova Street.   For dinner, we picked a restaurant called Herzetova, on the river below the Kafka Museum.  At 6:00, we were the only people there, but it began to fill up as we left. I had pork piccata with gnocchi and Art had veal and potato dumplings in a rich sauce. Servings were huge and I only ate half of mine.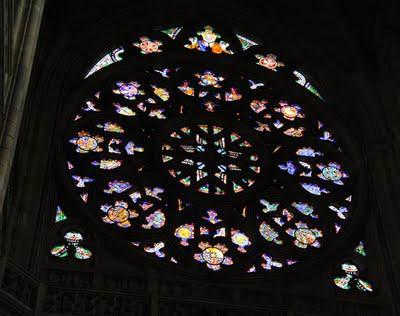 Stained Glass window at St. Vitus Cathedral
Day 3
:  After breakfast, we walked up the hill to the castle and went into St. Vitus Cathedral, a Gothic masterpiece with flying buttresses and giant stained glass windows.  We then visited the Prague Castle Picture Gallery, a small museum with selected pictures from the royal collection, mostly minor portraits and landscapes, but also some notable paintings by Tintoretto, Titian, Veronese, and others. An unusual Tintoretto features the Christ Child off center in the lower left with everything else in the painting sliding toward him.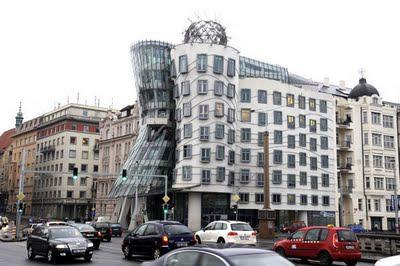 Fred and Ginger building, is an example of deconstructionist architecture
After lunch of goulash and potato soup in a small café, we walked along the river to the
Fred and Ginger building
, co-designed by Frank Gehry and a Czech architect. In stark contrast to the ornate, old stone buildings of central Prague, the two parts of the modern Fred and Ginger building lean toward one another like dancers. It is used as an office building. Dinner that night was at Gitanes, a gypsy themed Serbian restaurant, just down the hill from the American Embassy.  The first course was a bowl of fried donut-like cakes served with two kinds of creamy cheese, one pink, one white.  I then had cheese stuffed fried peppers (a very distant cousin of chiles rellenos) and Art had swarma (cabbage wrapped around meat) over mashed potatoes.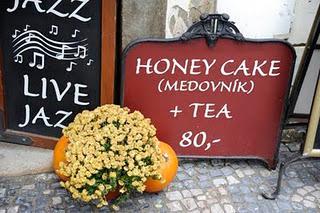 Afternoon Snack
Day 4:
  We spent the day visiting several churches, buying tickets for a concert that night in Dvorak Hall at the
Rudolfinium
(a mixture of traditional and modern music), and stopping for tea and honey cakes at a small café.  For dinner before the concert we ate
moules
(mussels) at a restaurant in Josefov, the Jewish Quarter, which lies between the right bank of the Vltava River and the Old Town Square. Jewish history in Prague goes back 1000 years and the Jewish Museum there has one of the most extensive collections of Jewish art, textiles and silver in the world.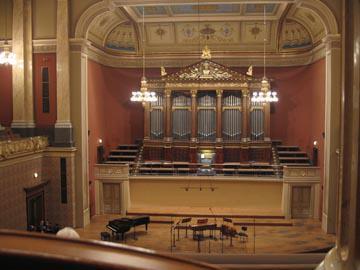 Dvorak Hall
Day 5
:  In the morning we took a tour to
Terezin
, about an hour's drive from Prague.  The walled town, originally built as a fortress by the Prussians, was used by the Nazis as a prison and concentration camp during the Second World War.  The weather had turned raw and windy with swirling snow, making us conscious as we toured the prison how stark conditions had been for prisoners who lived in buildings with no heat and with insufficient clothing.  After we returned to Prague, we visited the
Kafka Museum
, an exhibit of his life arranged, appropriately, in twisting corridors with mirrors and surprise turns. That evening, for our last dinner in Prague, we went to U Patrona, a small but charming restaurant near the Charles Bridge.  Art ordered bream (fish) and I had duck and Greek salad.  For dessert we had panna cotta with fruit.  Everything was good and artfully presented.  We thought it the best restaurant of our visit.
Unlike many other European cities, central Prague was not bombed during WW II, so the heart of the city, which goes back ten centuries or more, retains its historic character.  It is best seen by walking, and although the weather was chilly, we wore warm coats and were quite comfortable walking around.  A few days after we left, a huge storm blanketed Europe with more than a foot of snow, making it almost impossible to get around.  We were lucky that we had mostly clear weather for our trip.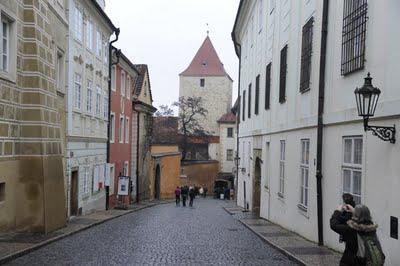 Typical street in the castle area of Prague
Getting around
:  The best way to get around central Prague is by walking, which was what we did.  You do not need to know Czech to visit Prague.  We found that almost everyone speaks English.
Getting there
:  We flew directly to Prague (via Paris) from Los Angeles.  From Prague, we took a train to Berlin (a beautiful ride along the river), and flew back to Los Angeles (via Paris) from there.