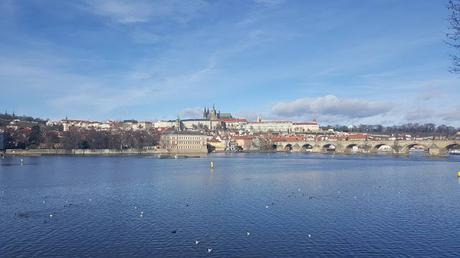 View of Prague Castle and Charles Bridge
If you read my last blog post you would know that after Berlin myself and some of the girls went to Prague. We saw the Libertines on Sunday night in Berlin and we had to catch a coach early Monday morning. We decided to take the bus to Prague as it was significantly cheaper than flying. We caught the bus from the Berlin ZOB Am Funkturm station at around 10am. The coach takes roughly 4 hours 30 mins to get from Berlin to Prague. We booked our tickets through Eurolines and paid approximately 20 euros one way.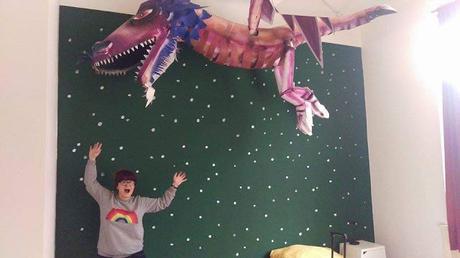 The Paper-mache Dragon in Hostel Downtown
The Euroline coach is spacious, comfy and has free WiFi. Half of our group took this time, to sleep off their hangover whilst the rest of us made good use of the free WiFi. Once we arrived in Prague we took a licenced taxi to our Hostel. It is advisable to take only licenced taxi in Prague; Unlicenced taxis are known to hike up the price of the fare and can also be unsafe. We stayed in Hostel Downtown where we booked a private room which sleeps 3 people. Rachael decided to come with us last minute so she booked a bed in a shared room. Our room had two single and a souble bed. It also had two interesting paper-mache Dragons hanging from the ceiling. Please note that in the Czech Republic they use Koruna as their currency but most places do accept euros.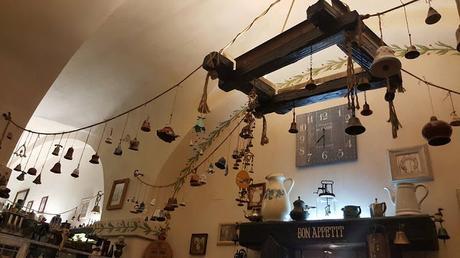 Trinkets and bells in the Pancake house
Once unpacked and changed we headed out for some typical Czech food, Heather was our tour guide for the trip as she had studied the guide book I bought for the trip. Heather found a typical Czech restaurant and we were lucky to get a table. We were offered Czech beer as soon as we were sat down, Czech beer is dark and has a high percentage of alcohol. All of us except Rachael, who is vegetarian, had typical Czech meals, lots of meat and carbs. We were also given some Czech wine and our beers were replaced once they were empty. By the end of the meal we were all a bit tipsy, not realising the beers were 13%! After the meal, we took a little stroll around the center of Prague. The buildings in Prague are historical and stunning. If you are a fan of historical building, Prague is a must. I spotted a Sephora in the city and as a fan of makeup I just had to go in. It was quite small but they had the brand 'Make Up Forever' and I've always wanted to try their foundation so I treated myself to some. We were all in need of something sweet and to celebrate pancake day we found a quaint little pancake house. We had a mixture of sweet and savoury dishes within it's trinketed walls left thoroughly satisfid.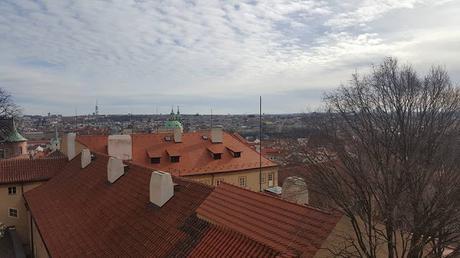 View of Prague from the Castle
The next day began with breakfast in our Hostel. The Hostel offered a buffet style breakfast for 4 euros. You could eat all you want and they offered a vast variety of food. That morning we took advantage of one of the free walking tours the Hostel offered. The tour started outside the Prague National Theatre and our tour guide guided us through the city. The guided tour took us onto the Charles Bridge, which is full of lots of statues. During our time on the Charles Bridge, the tour guide wasn't really talking about the history of Prague and more about how religion is bad. I was slightly annoyed as I wanted to know more about the city and not his views. Hoping the tour guide would stop his rambling we continued on the tour. We made way into the center of town and up to Prague Castle. By the time we arrived at the Castle I had had enough of his attitude and general nonsense so Rachael and I decided to go to the Zoo. The other two girls stayed with the guided tour and then headed to Frank Kafka museum.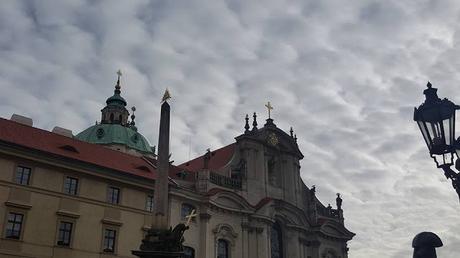 Details on the historical buildings
Rachael and I didn't quite realize how far away the Prague Zoo was! It took us one tram, two underground trains and a bus ride to get to the Zoo, but it was so worth it. Entrance fee for the Zoo is 200 Koruna which is around £6.50 and it was recently voted the 4th best Zoo in the world. The Zoo is easy to navigate around and they have some wonderful animals to see. After the Zoo Rachael and I met up with the other girls for a drink back in the city center. Obviously, we had found the only Indie pub/bar in Prague, I was in heaven. Not only did they serve very cheap cocktails but they also played some really good music. Emily and Heather had made reservations for us all to have a meal on a Jazz boat so after the pub/bar we headed back to the Hostel to get changed and catch our boat. We paid around 1060 Koruna for tickets (roughly £35) which included a 3-course meal and a drink. The food on the boat was average but the music was simply stunning. Jazz is not something I normally listen to but the jazz music played was mesmerising. The Jazz Boat takes you up the Vltava River, the whole city is lite up in the evening making the boat ride even more spectacular. After the boat ride we wandered around the city taking in the stunning views and then we strolled back to the Hostel.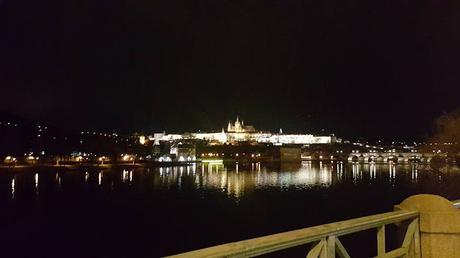 View of the Castle at night
This was our last day in Prague so we wanted to make make the most of it. We had breakfast at the Hostel and then headed to the Museum of Communism. The Museum is relatively small but there was a lot to see. The museum is dedicated to presenting an account of the post-World War 2 Communist regime in Czechoslovakia in general, and Prague in particular. We were feeling a bit peckish after the Museum and found a vegetarian/vegan canteen. By this time we were all missing some vegetables in our life and Rachael was excited to eat some cooked food as most places only offered salad as a vegetarian option. Well and truly veg'd we headed over the Charles Bridge to the Karel Zeman museum. The Karel Zeman museum showcases the work of the world-renowned filmmaker Karel Zeman. The museum maps the life and work of Mr Zeman from his first animations and puppet films in the 1940's to work from his last creative period. The museum's playful approach to the exhibition is unique, it allows visitors to try out with their own photo and video cameras selected special-effect techniques that Zeman used in his films. We had an amazing time there playing with the exhibition. I spotted an Austrian restaurant outside the museum, being half Austrian I had to go inside to remind myself of the homeland.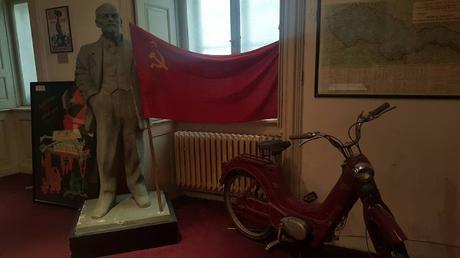 Museum of Communism
Home time was upon us. We grabbed our bags from the Hostel and started to make our way to the Airport. We used public transport which was easy and straightforward to use. Prague Airport is not like most airports, there are no security checks until you get to your designated gate. We flew back with EasyJet and they were extremely tight with bag control - if your bag didn't fit you had to check it in and pay a fee, which is exactly what happened to Heather.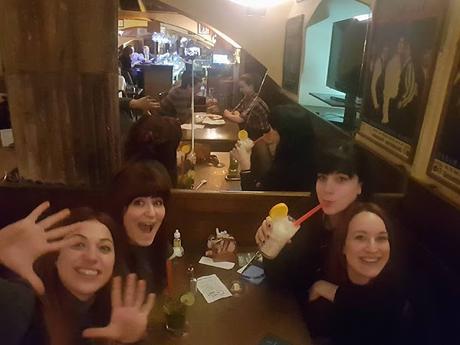 The girls and I trying to use a selfie stick (Rachael, Me, Heather, Emily L to R)
All in all, Prague is one of the prettiest cities I have ever been to and I will certainly return one day.
If you have any questions please feel free to ask :) 
Marianna x