PowToon is a tool that I've known about for a long time.  However, in searching for an easy-to-use tool to demonstrate to teachers for student use in their 1:1 classrooms, I rediscovered it amongst all of my pins on my presentation tools pinboard.  
PowToon claims to bring awesomeness to your presentations, and I would be inclined to agree.  Below is an example of a presentation about digital storytelling that was made with PowToon:
Here's a rundown of the major features of PowToon:
1. Easy to use editor.  Although the editor looks a tad busy, it is very easy to navigate once you start creating your PowToon.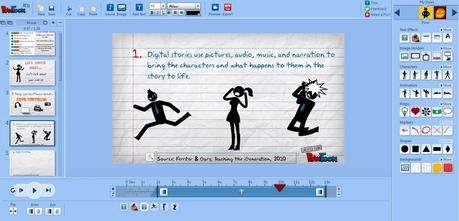 To add all sorts of awesomeness to your presentation, you just select a theme from the top right and then select what objects you want to include from a range of choices.  In the theme chosen above, you can choose from text effects, characters (people that don't move), animations (people that do move; my personal fave out of the theme shown above is the stick figure smashing a laptop against his head; a reflection of my own frustrations at times), props, arrows and shapes, as well as different backgrounds for your PowToon.  You can also insert images of your own, as well as your own audio files.  But if you're like me and have no desire to search for free audio files on the web, you can select from ten soundtracks in the free version that make for pretty decent background music.  
2. They have easy-to-modify templates for those like me who are allergic to making things from scratch.  When you first start creating your PowToon, you can choose from a few categories.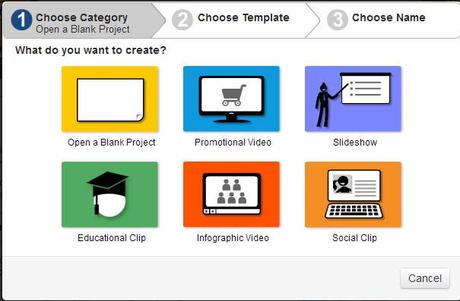 After selecting a category, you can then choose from one of several templates already made for that category.  Below is what shows up after selecting the "Slideshow" category.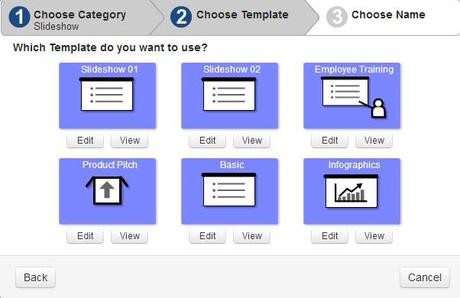 After selecting a template, you can edit it to your heart's desire.  Or, if you like to have total control over what awesomeness is included in your PowToon, choose to make a blank project at the start.
3. There's lots of free stuff in the free version.  As I count right now, there are 8 themes (called "styles" in PowToon lingo) available in the free version, so you can create tons of mind-blowing presentations without ever having to shell out a dime. However, you are limited to 5 minutes per presentation, and you cannot download your final masterpiece.  You can see more information about pricing options here.  They also have student, teacher, and classroom pricing available.
4. It's easy to get your stuff out of it.  Even though you can't download your presentation as a video in the free version, you can link directly to your creation in PowToon (like this), snag an embed code to throw it on a website, or export it to YouTube for the world to enjoy.  
5. It takes a bit to master timing when text, objects, and animations appear.  Well, at least it does if you're me.  I'm not known for my mad video editing skills, but after about 20 minutes of goof-ups and swear words that scared my dogs into hiding I figured out the basics and managed to have everything appear when it needed to appear and disappear when it should.  When you click on an object, text box, or animation, you will see when it enters and leaves the slide on the timing bar along the bottom of the editing screen.  In the example below, the blue bar at the bottom of the screen is revealing when the running man on the far left enters and exits the slide.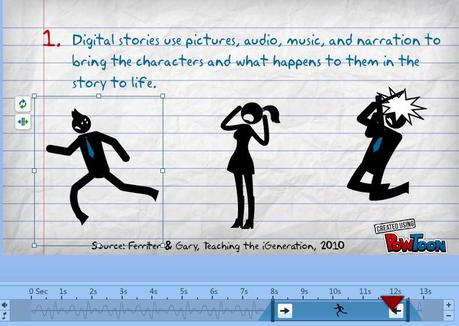 If you want to change the entrance or exit of an object, just drag the vertical blue lines on either side of the blue bar.  To extend the length of time the slide is displayed, click on the + or - sign on the far right of the timing bar.  If you create a slideshow, you can insert holds where you would like the slides to stop playing.  A nice feature, I'd say, that will prevent people from being chained to their computer and scrambling to hit the "pause" button every time they want to say something about a slide.
With PowToon, you have a tool that has tons of features in the free version, an easy-to-use interface, and it makes some pretty slick presentations.  But, like I said in my last post, the power of these tools comes when students use them to create/synthesize what they've learned into one beautiful, cohesive and original whole, and publishing their work to a wider audience for feedback and evaluation.  Could students still use this to put tons of copied information on each slide with some neat-o animations trying to score prettiness points?  Absolutely.  It's the teacher's job, then to give feedback to students during the creation process to make sure this doesn't happen.  But it all starts with giving students a meaningful task at the outset that requires them to make their own meaning rather than repeat the ideas of others for the sole consumption of the teacher.