There have been some powerful earthquakes in the last day or so.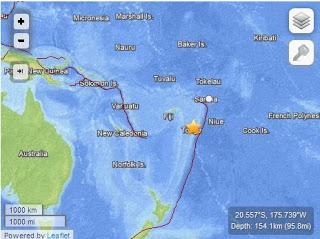 Indian Express reports.
"A 7.4-magnitude earthquake struck 255 kilometres (158 miles) southwest of Tonga today, according to the US Geological Survey, but there were no reports of damage. The quake hit at 5.19 am local time (2249 IST yesterday), and was centred 282 kilometres southwest of Tonga's capital Nuku'alofa and 171 kilometres deep. It was followed four hours later by a second powerful 6.6 tremor 84 kilometres northwest of the town and 103 kilometres deep. "A destructive tsunami was not generated based on earthquake and historical tsunami data," the Pacific Tsunami Warning Center said of each quake. The Matangi Tonga website said the quakes "shook homes and rattled windows" in Nuku'alofa but reported no damage. The powerful tremors also caused false alarms in New Zealand where the official GNS Science monitoring system reported tremors of 6.1 and 5.9 magnitude off the east coast of the North Island."
A powerful 8.3 quake struck in Russia's Sea of Okhostk early this morning. It was felt in Moscow, 4,400 miles away!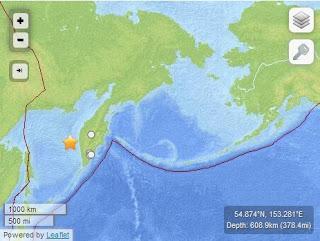 Russia Earthquake: Powerful temblor hits
"A powerful earthquake on Friday hit Russia's Far East with tremors felt as far away as Moscow, about 7,000 kilometers (4,400 miles) west of the epicenter. Marina Kolomiyets, spokeswoman for Obninsk's seismic station of the Russian Academy of Sciences, told The Associated Press the epicenter was in the Sea of Okhotsk, east of the Russian coast and north of Japan. She said the quake registered 8.0 on the Richter scale. The U.S. Geological Survey reported a magnitude of 8.3. The epicenter was in the Kuril-Kamchatka arc, one of the most seismically active regions in the world. Emergency agencies in the Far East issued a tsunami warning for Sakhalin and the Kuril islands, but lifted it soon afterwards."
According to USGS, the average number of quakes in the 7.0-7.9 range per year is 15. So far this year we have had 8.
According to USGS, the average number of quakes in the 8.0-8.9 range per year is 1. So far we have had two, one on February 6, 2013 and the other one today, May 24, 2013.
There was a
strong quake in northern California
today. There have been about 20 aftershocks in the location.
"An earthquake in far northeastern California was felt by thousands of people as far away as San Francisco and in two other states, but there have been no reports of injury or serious damage. The magnitude-5.7 quake broke dishes and shook mirrors when it struck at 8:47 p.m. Thursday, officials said. It was centered near Greenville, about 25 miles southwest of Susanville in far northeastern California, said Rafael Abreu, a geophysicist with the U.S. Geological Survey's National Earthquake Center in Golden, Colo. There have been several aftershocks, including a magnitude 4.9 that struck early Friday morning. Slight damage has been reported including objects falling from shelves and dishes rattled or broken, according to a report from the National Weather Service."
 "The Lord has established his throne in the heavens, and his kingdom rules over all." (Psalm 103:19)
~~~~~~~~~~~~~~~~~~~~~~~~~~~
Further reading
Greatest earthquakes of the bible,
Institute for Creation research
Jerusalem Post guest column,
God, Man, and the Bible
"According to Talmudic teaching, there clearly is a direct connection between human behavior and natural disasters."
Bible topic: earthquakes,
verses about the topic of earthquakes, arranged by subject