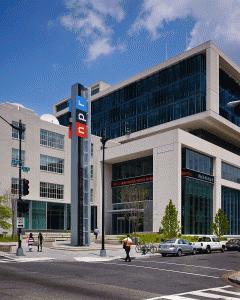 NPR Headquarters Exterior
Poulin + Morris
developed a comprehensive environmental graphics and way finding sign program that prominently influences the exterior and interior of NPR's new headquarters while illustrating the history of the public-supported multimedia company–from its beginnings in radio to its current involvement in video, apps, and photojournalism.  A 52-foot-tall, vertical, LED-illuminated icon tower made of steel and glass stands outside the public entrance plaza identifying the building, while an LED "ticker" ribbon set above the entrance and wrapping the building displays up-to-the-minute headlines culled from NPR data feeds.  The building's main lobby features a 2-story-high, digital "media mosaic" composed of a series of LED screens that display NPR programming, news headlines, popular emailed stories, and member station information from the NPR website and music apps.  NPR's mission statement runs along the walls of the lobby creating a sense of motion, a visually dynamic effect used throughout the building.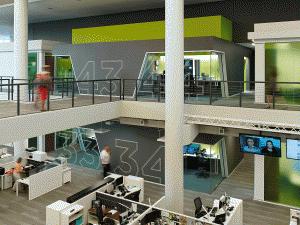 NPR Headquarters Newsroom Murals
The heart of the building is a 2-story, 100,000-square-foot newsroom with broadcast and production studios accommodating NPR's non-stop schedule and serving as the center of NPR's operations.  To easily identify various production and recording studios, as well as floor levels and offices, the designers developed custom, large-scale numbers that visually reverberate like radio or sound waves.  Visual references interpreting radio frequencies, depicted in different patterns and colors, are found throughout the project.
Several large-scale wall murals were designed for various areas of the new facility, including one that spans a 7-story core wall of the central circulation staircase.  Consisting of words relating to NPR's mission (i. e. "listen," "innovate," "engage"), the mural is composed in a manner that emulates upward movement.  Another mural in the fitness center features inspiring words related to physical fitness set against abstract images of the human body in motion.
Poulin + Morris has continued to work with NPR on a variety of projects for their new headquarters, including a permanent lobby exhibition entitled, "This is NPR," a branding and identity program for the NPR store–NPR Commons, and a branding and identity program for their employee-only cafeteria–Soundbites Café.