When you think of playing games, the last thing that would come to your mind is relaxation. Whether you are playing games in a field, or on your computer or smartphone or tab, you need to be alert and fast to beat the challenges, or you need to rack your brain to solve the complications.
But what if there was a game that was actually designed to relax you and calm you down?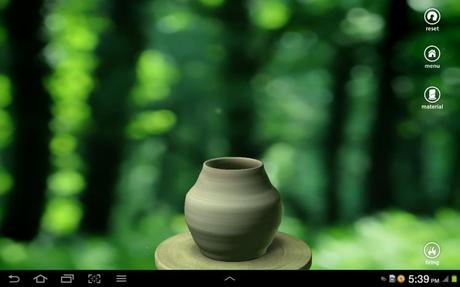 Here is one such game that is being my favourite right now. It is called 'Let's Create! Pottery.' And as you can guess by the name, all you have to do in this game is to create pottery. The potter's wheel spins on, the clay is placed on it, waiting for you to create a pot or vase out of it. And all you have to do is to use your touch to turn that mound of clay into a beautiful pot.
Here are the steps that you'll have to follow:
1. Gently give shape to your pot
2. Put it in fire by starting the 'firing' process.
3. Decorate your pot by using various colours and patterns.
4. Sell it and earn coins. The prettier your vase looks, the more coins you'd earn. And that's where the gaming part lies, in trying to earn better and better.
5. You can also share and showcase your creations at www.potterygame.com.  Just login using your Facebook account, showcase your creations and view and rate the pottery of others. When you login at this website, you can network and get connected with other users, take part in the contests and give your creations the opportunity to be showcased as top creations of the day and the week. The FAQ at the website will also help you to get the best out of this app.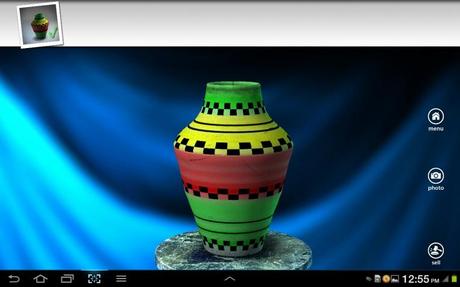 A Vase I created using Let's Create! Pottery Lite Android app
What I also like about this app is the nice and soothing background, and the soothing sounds (tiny bird tweets and crickets' low hum) that give you company while you create your pot. Really soothing.
The app is available in a free Lite version and a paid pro version. The Lite version has only a limited number of colours and textures available for decorating the pots and vases. Here are the links to both the versions:
Paid version: Let's Create! Pottery
Free version: Let's Create! Pottery Lite
So go ahead, give this app a try. I hope you'd enjoy it as much as I do.
***