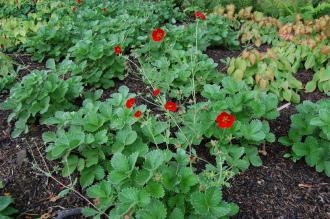 Potentilla atrosanguinea (02/07/2016, Kew Gardens, London)
Position: Full sun to light shade
Flowering period: Summer
Soil: Moist, well drained
Eventual Height: 60cm
Eventual Spread: 40cm
Hardiness: 5a, 5b, 6a, 6b, 7a, 7b, 8a, 8b
Family: Rosaceae
Potentilla atrosanguinea is a deciduous perennial with a clump forming habit. Its dark green leaves are three lobed with dentate margins, up to 10cm long and 15cm across. Its dark red flowers are up to 20cm across and appear on erect stems in open sprays.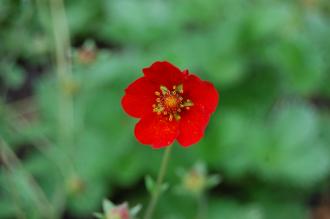 Potentilla atrosanguinea Flower (02/07/2016, Kew Gardens, London)
Potentilla atrosanguinea, commonly known as Himalayan Cinquefoil, Ruby Cinquefoil or Dark Crimson Cinquefoil, is native to the Himalaya region. In its native habitat it grows on mountain slopes at lower elevations.
The etymological root of the binomial name Potentilla is derived from the Latin potens meaning 'potent'. Atrosanguinea is derived from the Latin epithet atro meaning 'better' and sanguinea meaning 'blood red', referring to the color of the flowers.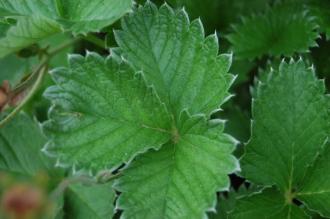 Potentilla atrosanguinea Leaf (02/07/2016, Kew Gardens, London)
The landscape architect may find  Potentilla atrosanguinea useful as part of a mixed herbaceous planting scheme, with attractive summer flowers. Once established this perennial is drought tollerant.
Ecologically, Potentilla atrosanguinea flowers are attractive to pollinating insects.
Potentilla atrosanguinea prefers moist, fertile, well-drained soils. It tolerates most pH of soil. This plant dislikes wet soils.
Potentilla atrosanguinea requires little maintenance. Large clumps may be divided in autumn or spring.


Landscape Architecture