Potato Salad with Avocado dressing (and Wild Garlic)
…
have you ever gone foraging for food
?
I have always wanted to but never know where to go and whom to go with
…
in our first year here in London I had even convinced myself that the bush in the garden with pretty white flowers was an Elderflower bush and was all set to make cordial out of it, but thanks to a friend stopped short or else this blog would be run by a ghostwriter by now
!!
J
Thanks to the farmers' markets and veg box deliveries I have now been able to enjoy a couple of the so called foraged foods that I had heard so much about
…
W
ild Garlic or Ramps or Ramsons being one of them
…
this salad now usually gets made after we have had our fill of the mandatory Wild Garlic Pesto and Prawns with Wild Garlic
…
and then gets made throughout the year even without the wild garlic
...
P.S.  If based in West London, check out the
Putney Food Assembly
for Wild garlic and other produce from Local producers
…
Food Assembly is also coming to
Hammersmith Area
at the end of this month
…
I

am soooo excited! (for a Food Assembly near you in London or UK or France, Italy, Belgium and other countries – check out this
link
)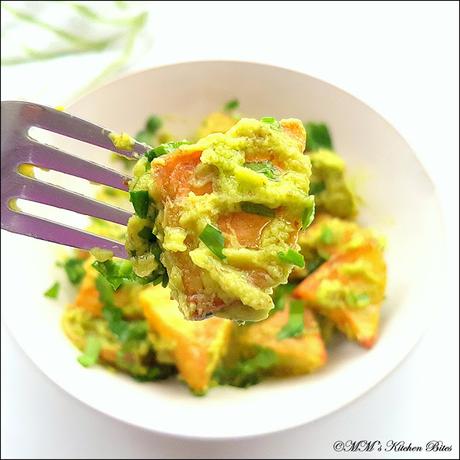 Potato Salad with Avocado dressing (and Wild Garlic)
Ingredients:
Potatoes, cubed,

500gms

Olive Oil, 1 tbsp

Salt, to taste

Pepper, to taste

Wild Garlic, a large handful or finely chopped spring onions/scallions or finely chopped chives
Dressing
Avocado, 1 medium size

Rice Vinegar or White Wine Vinegar or Lime or Lemon juice, 2 tsp (listed in order of preference, go with what you like or is available)

Whole grain Mustard or Dijon Mustard or English Mustard, ½ tsp (listed in order of preference, go with what you like or is available)

Garlic, 1 clove or Wild garlic leaves, chopped, around 2 tbsp

Green chilli, finely chopped, 1 (optional, remove seeds if you want)

Olive Oil, 1tbsp – 2 tbsp *refer to notes

Salt, to taste

Pepper, to taste

Water, about 2 tbsp *refer to notes
Instructions:
You can boil the potatoes in salted water until tender or roast them. We prefer roasting them.
Preheat the oven to 200ยบC. Line a baking sheet with parchment paper.
Toss potatoes in 1 tablespoon of olive oil. Arrange in a single layer on baking sheet and sprinkle with salt and pepper.
Roast in oven for 20 minutes, then toss and roast for another 15 minutes or until crispy and golden. Allow to cool.
Meanwhile, make the dressing by combining the peeled, de-stoned and chopped avocado, vinegar, mustard, garlic (or wild garlic), green chilli, salt and pepper in the bowl of a mini food processor.
Process until smooth, stopping to scrape down the sides a few times.  
Check consistency and adjust by adding water and giving it another wizz in the food processor – I like to keep the consistency of this dressing thick and creamy like mayonnaise and normally with 1 tbsp oil, about 2 tbsp water works well.
Toss cooled potatoes in the avocado dressing. Stir in or top with chopped wild garlic, spring onion greens or chives.
Dig in
!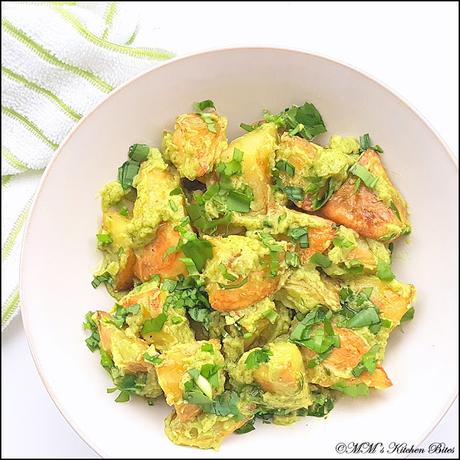 Notes:  
You can of course go totally oil free in the dressing and just use water (or even yogurt) but adding at least 1 tbsp oil makes it taste a little more like mayo

!

 

J
A picture of the pretty wild garlic leaves