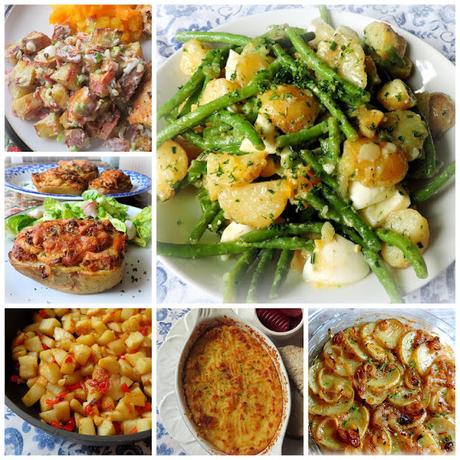 I love potatoes.  I could not live without them.  A day without a potato is not a good day for me.  In fact you could take away my chocolate, and I might protest a bit . . . but if you tried to take away my potatoes, I would be really upset.   They are an important part of my life and have been since I was a child.  
I used to think a potato was a potato was a potato.   I came to learn later in life, and after much experience, that all potatoes are not the same. I have also learned that certain potatoes are better for certain preparations than others.  
With some 4000 different varieties of potatoes available worldwide at any given time, it's easy to see where someone could be quite confused when it comes to potatoes and their uses.
There are basically only two main category of potatoes, with only a few exceptions . . . floury potatoes, and waxy potatoes.
Floury potatoes (also called mealy potatoes) are  high in starch with a low water content.  These tend to be older and larger and become almost fluffy when cooked.  These are the best for roasting, baking, mashing and chipping.  They tend to break up easily when boiled, so aren't really suitable to prepare just as boiled potatoes. 
Waxy potatoes are much lower in starch, with a higher water content.  They are firm in texture and normally have a shiny skin.  They tend to keep their shape when cooked, which makes them an excellent choice for boiling, making salads, sautéing or using in gratins.
Potatoes are also classified as being new or old.  You will find most new potatoes are best in salads and the like, but old potatoes are much better for mashing
Potatoes don't like light or cold, so are best stored in a cool dark place, but not in the refrigerator.  
Now, with all that in mind, I thought it would be fun to share some of my favorite potato recipes with you today, although having said that, I have never eaten a potato recipe I didn't fall in love with.  Enjoy!!
BAKED POTATOES
Here are some recipes which make great use of baked potatoes, or which are created by baking potatoes, in a casserole, on their own, etc.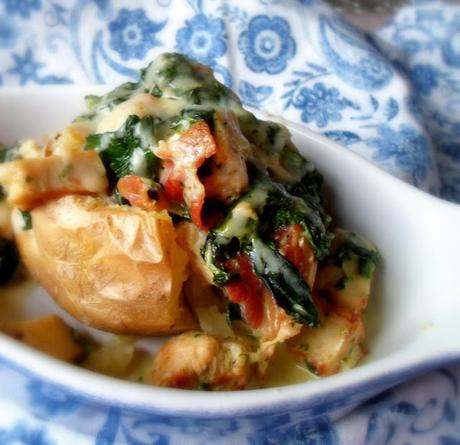 Chicken & Pancetta Stuffed Jacket Potatoes
I like to use up all of my leftovers.  I just hate waste and in today's economic climate, it just makes sense to use up all that we have.   Good use of leftovers makes good food budget economy, and I am all for that!
A great use of leftovers with cooked chicken, diced pancetta, some spinach and a delicious creamy cheesy sauce, spooned over a baked jacket potato. A tasty bit of this and a tasty bit of that!
VIEW RECIPE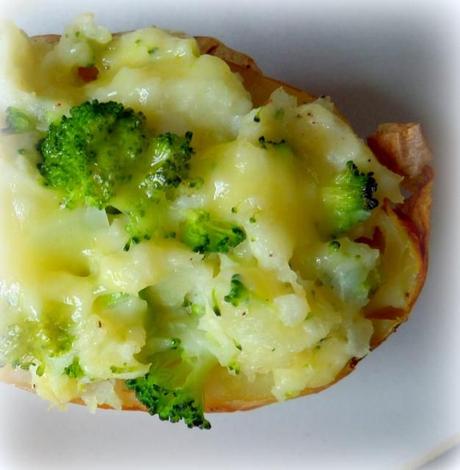 Cheese and Broccoli Stuffed Jacket Potatoes 
Really really tasty stuffed twice baked potatoes, containing crispy tender bits of broccoli and a tasty strong cheddar. 
These are a fabulous way of getting in some of your five a day and really tasty way to get your broccoli haters to eat broccoli!VIEW RECIPE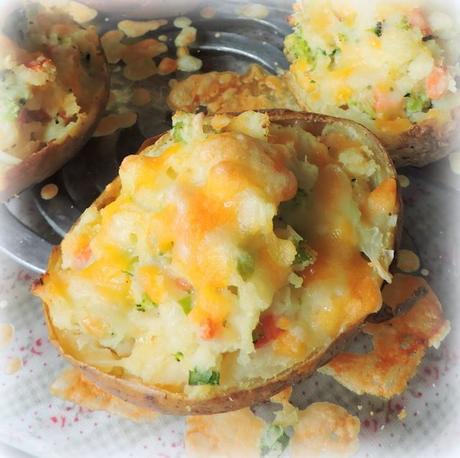 Twice Baked Potatoes
One of the favorite things that my mother would make for us on occasion when I was growing up was Stuffed Baked Potatoes.  These were a real treat, and something which I still enjoy.  She would bake potatoes until done, then cut them in half.  The insides were scooped out and mashed together with butter, milk, seasoning and a smidgen of minced onion.  Then she would stuff the skins with this mixture and pop them into the oven to brown. 
These are all that and more with bits of vegetables, cheese and spring onions added. Nothing goes to waste. 
VIEW RECIPE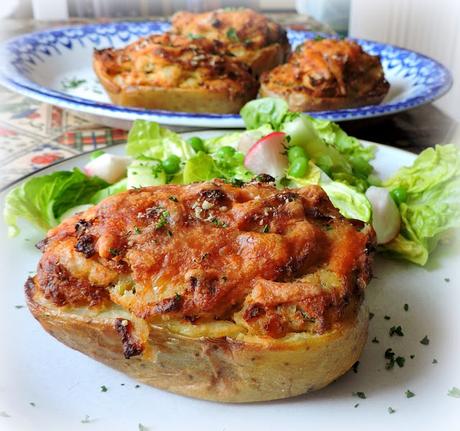 Salmon Pie Stuffed Baked Potatoes 
Of all my favorite childhood food memories, the most favorite of all has to be my mother's 
Salmon Pie.
  It's very much a French Canadian thing and is delicious.  
These delicious stuffed baked potatoes are a riff on that delicious pie. My favorite savory pie filling stuffed into a crisp potato shell. What's not to love? 
VIEW RECIPE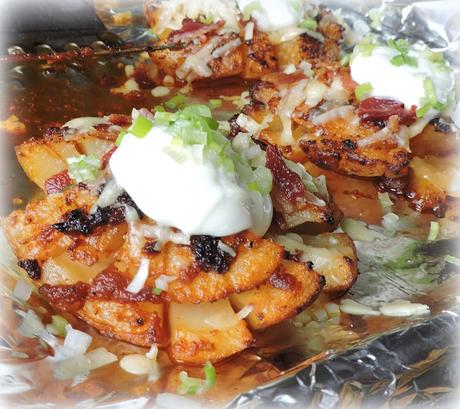 All Dressed Bloomin'Baked Potatoes 
I saw a few recipes for these bloomin potatoes that looked really good.  I thought I could improve on them by combining them with a recipe I have been making for years for potato wedges.  The end result was quite simply fabulous.  
Petal cut potatoes, brushed with a scrumptious butter mixture, baked until crisp and served with your favorite toppings.
VIEW RECIPE 
FRIED POTATOES
These recipe involve frying potatoes.  Deep, or pan fried, fried potatoes are a much beloved favorite of many people.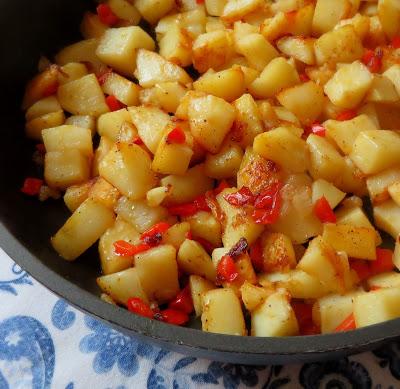 Potatoes O'Brien 
This is a pretty basic version of fried potatoes, using only salt and pepper as seasoning.  You could also add garlic powder and or paprika.  I added some paprika. I like the color it adds to potatoes when you are frying them. 

Basically it is like a potato hash, except it doesn't use already cooked potatoes.  You peel and dice raw potatoes and add them to some hot fat, along with chopped onion and the seasoning. 

Its delicious!
VIEW RECIPE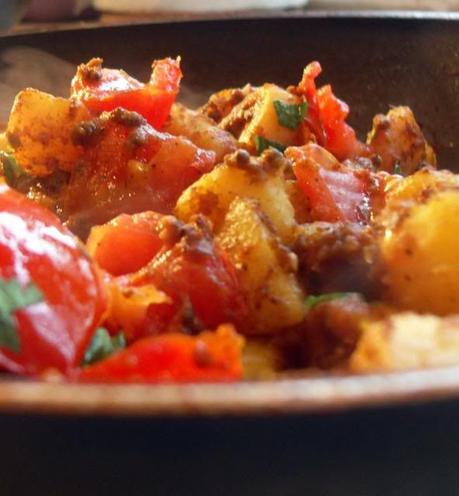 Bombay Potatoes 
An East Indian version of fried potatoes. 
Delicious and spicy with a bit of heat that you can control by either increasing or lessening the amount of chili powder you use.
A delicious accompaniment to any curry, meatwise or vegetarian. 
VIEW RECIPE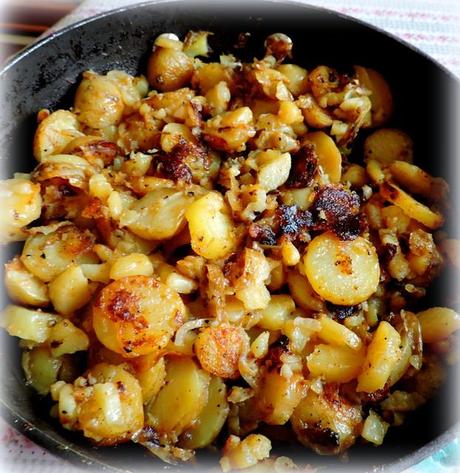 Pan Fried Potatoes
These were always a real favorite when I was growing up.   When my mother made these we were all very happy!  Of course she could never make enough of them!  She used to only make them if she had cold leftover boiled potatoes.  Nowadays I boil potatoes purposely just so that I can make these! 
Nothing could be any simpler really.  You just slice the potatoes and onions, and bang them into a hot pan of butter and oil . . . with some seasoning of course.  Crisp, buttery and delicious! 
VIEW RECIPE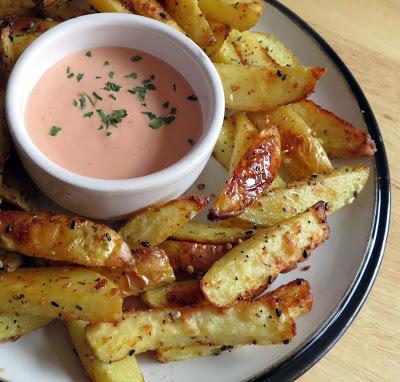 Dirty Fries & Fry Sauce 
These easy oven chips have seeds added to them which helps to increase the fiber and makes them a bit more diabetic friendly. 
A bit of olive oil . . .  dehydrated onion and garlic flakes . . .  white and black sesame seeds, poppy seeds, some flaked sea salt, ground black pepper and paprika. You can use hot or sweet paprika. Its up to you. 
Roasted/oven fried until crisp and golden brown they are delicious served with this lush fry sauce. 
VIEW RECIPE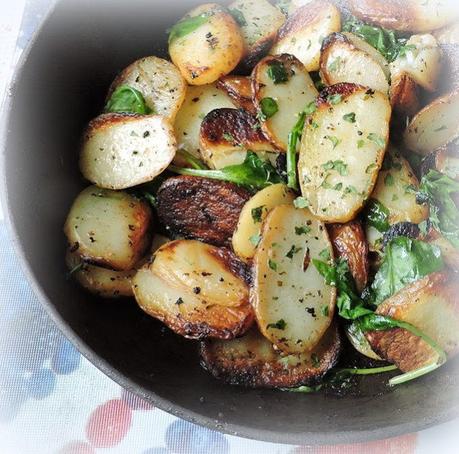 Slow-fried Lemon & Oregano Potatoes
Sliced salad potatoes slowly fried in some olive oil and butter, along with lemon zest, lemon juice, garlic, oregano, salt and black pepper.  
These are braised at the start until the potatoes are soft, deliciously golden brown and almost jammy. 
Crisped over high heat and some spinach added and you have a delightfully different potato side dish! Simple and delicious.
VIEW RECIPE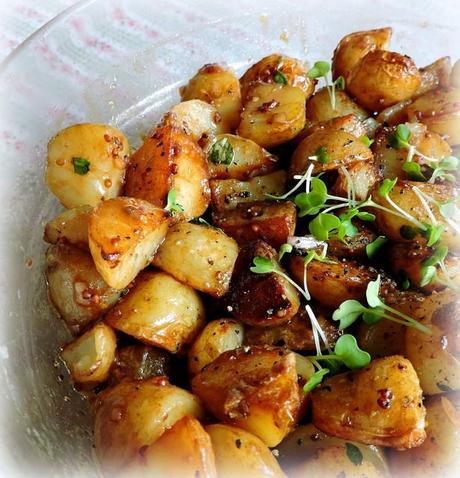 Fried Potato Salad
I often cook too many potatoes in the summertime so that I have leftover potatoes just to make this salad.   It's a bit different than your usual salad . . . and very tasty!  I love fried potatoes . . .  so why not fried potato salad? 
Leftover boiled potatoes (I like the baby ones) halved or quartered and fried, until crispy brown.  Tossed with a punchy honey-mustard vinaigrette dressing, these always go down a real treat!
VIEW RECIPE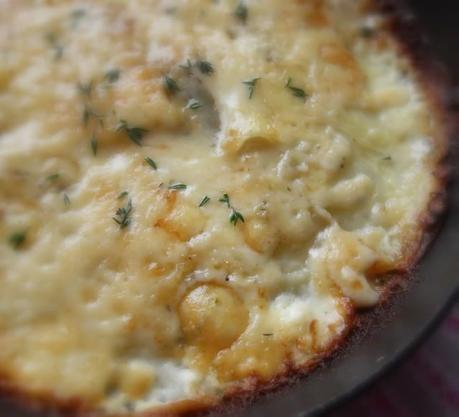 Blue Cheese & Cheddar Stovies 
Ahhhh . . . stovies . . . that traditional Scottish Dish which consists of potatoes, leftover roast from the Sunday roast, and onions stewed in beef drippings and broth on top of the stove . . . until the potatoes are tender and golden.
The whole thing becomes amazingly deliciously scrummy, with little golden bits of potato and onion. This version has cream and cheese added to the broth. Not fond of blue cheese, use all cheddar, or add some Swiss cheese in it's place.
Guaranteed to please!
VIEW RECIPE 
MASHED POTATOES
I don't know about your family, but my family love, LOVED mashed potatoes. Mashed potatoes need never be boring!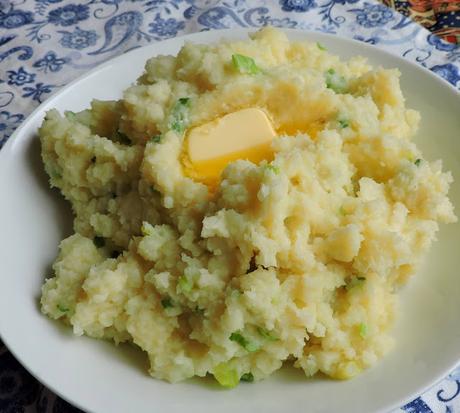 Traditional Irish Champ
Mashed potatoes with warm milk, spring onions and butter beaten into them.  It's so tasty.   The Irish know how to do potatoes and do them well! 
Comfort food, pure and simple.  These go with anything, even on their own with just a slice of bread and butter. A delicious carb-fest!! 
VIEW RECIPE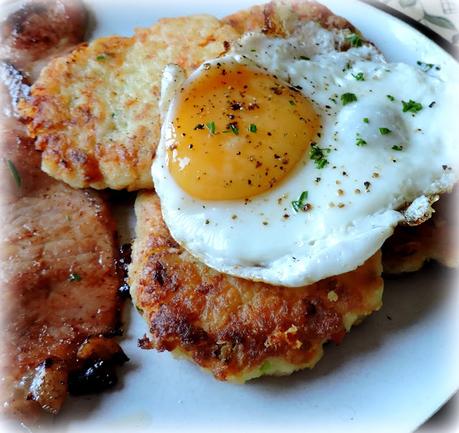 Cheesy Potato Pancakes 
Cheesy Potato Pancakes are almost like a mashed potato fritter and are excellent served with a fried egg on top and a side of grilled bacon! 
You make the mashed potatoes for these the night before and put it in the refrigerator to get really cold. 
Then when you get up you simply add in the remaining ingredients, shape and fry. 
You might think that they aren't going to stay together, but trust me, they will and once you brown the first side, they hold together well and it is easy to flip them over and brown the second side. Delicious! 
VIEW RECIPE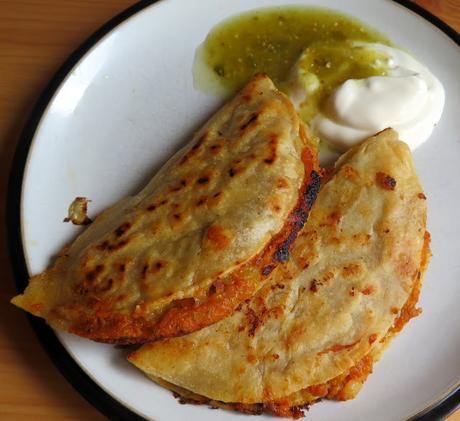 Crispy Two Potato Tacos 
T
hese Crispy Two Potato Tacos are one of my favorite things to eat.  I adore Mexican flavours, and I adore potatoes, both the  sweet and the white.Combining the two, potatoes and Tex Mex flavours,  is like a marriage made in Heaven! I just don't think you can get much better! 
VIEW RECIPE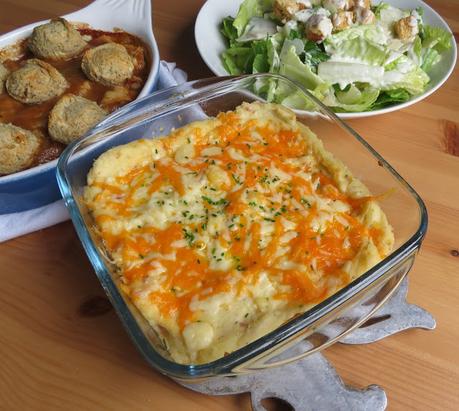 Twice Baked Mashed Potatoes is the perfect size for two people to enjoy and makes great use of store cupboard ingredients.  
Frozen mashed potatoes, crumbled cooked bacon, minced chives, sour cream, cream cheese  . . .  a bit of cheddar on top. 
Of course you can use real mashed potatoes and double or triple the recipe to serve more.  Fabulously tasty! 
VIEW RECIPE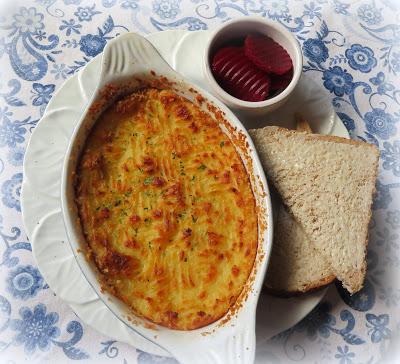 Potato Pie  
Basically this is just cheesy mash baked in a casserole until golden brown!  The casserole dish is well buttered and dusted with bread crumbs, so that you end up with a buttery crust on the outsides.
A butter brushed top guarantees the top bakes up crisp and golden brown as well.  Delicious served on its own with pickled beets and buttered brown bread. Recipe can be doubled, tripled, etc.
VIEW RECIPE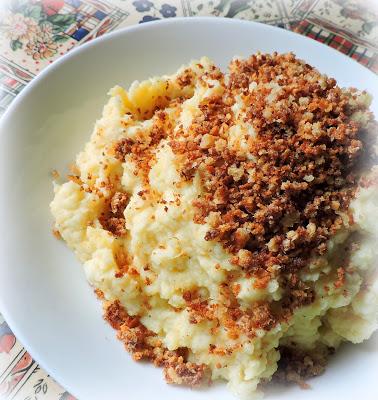 Triple Mash with Horseradish Crumbs 
Potatoes mashed together with parsnips and swede (rutabaga to you North Americans) in a mash that gives you a triple whammy of deliciousness! 
Add a crispy bread crumb topping and you have a beautiful dish, guaranteed to please anyone and everyone! 
VIEW RECIPE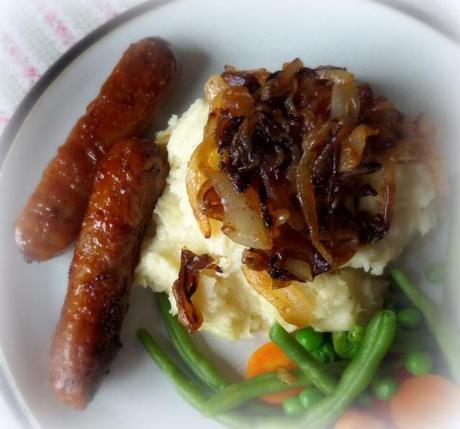 Parsnip & Potato Mash with Spiced Onions 
Parsnips cooked with and mashed together with potatoes. The two together are white bliss!   Especially when you add some cream and a knob of butter. 
Add a delicious topping of spiced and fried onions and you have a marriage made in heaven! 
VIEW RECIPE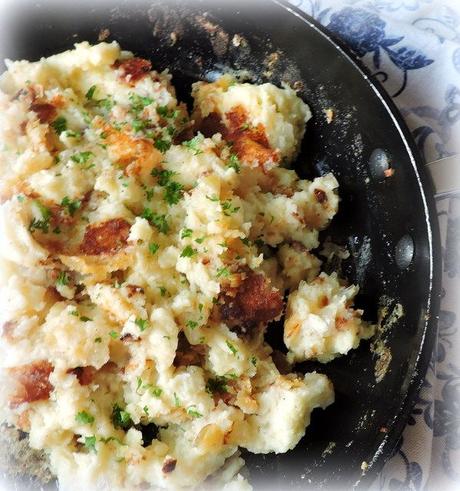 Crispy Mash Hash 
Mashed potatoes, fried up in a skillet with onions until you have lots of lovely crispy bits, mixed with the creamy mash.
Add leftover vegetables from the roast dinner, and you have bubble and squeak.
Delicious any way you do it!
VIEW RECIPE 


ROASTED & CASSEROLED POTATOES 


There is something about roasting a potato that makes everyone sigh with pleasure. Crisp on the outsides, tender inside, what's not to love? Popped into a casserole and baked brings the same amount of pleasure.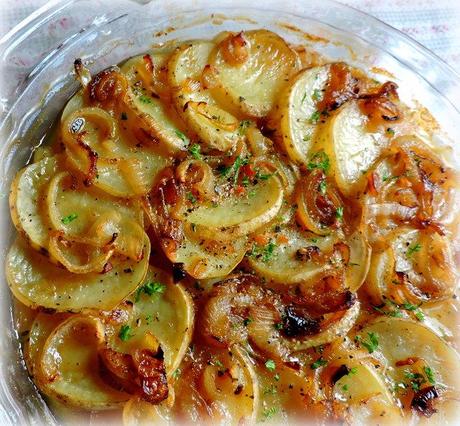 Nigel's Potatoes 
This is basically just layered raw potato, fried onions and chicken stock.   You don't even need to peel the potatoes.  And you can adapt it up or down to serve as many or as few people as you like. 
You just layer it all up in a baking dish and pop it into the oven. Simple and delicious.
VIEW RECIPE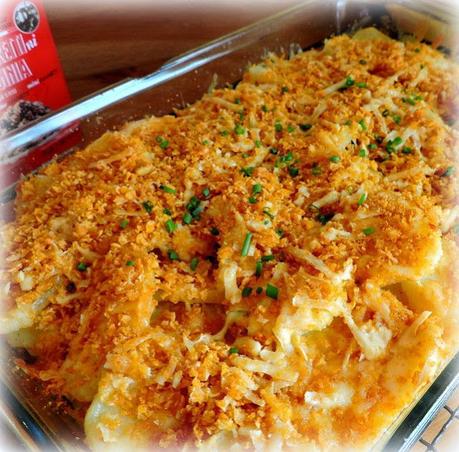 Crunchy Cheese Potatoes 
These potatoes are as simple as peeling and slicing potatoes and then stirring them into a sour cream/milk mixture a pouring them into a buttered baking dish.You tightly cover them with foil and bake, until the potatoes are fork tender.
The timing depends on the type of potatoes you use.  Older potatoes seem to take longer to cook. 
 Once they are tender you just sprinkle some cheese and cornflake crumbs over top and return to the oven to crisp them up.   A scattering of fresh chives on top and Bob's your Uncle.   They're ready to serve! VIEW RECIPE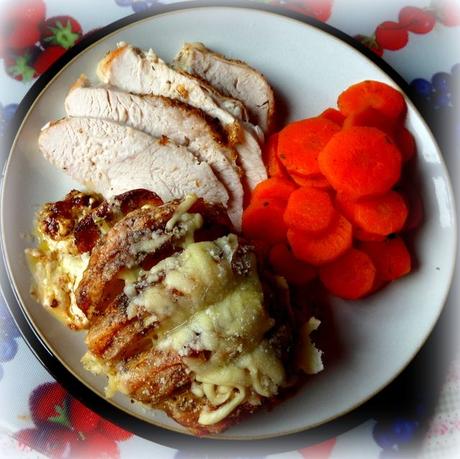 Dauphinoise Hasselback Potatoes 

These are somewhat of a blue-moon treat and not something you would want to eat every day of the week, but boy oh boy, when you do, they are definitely something which will be enjoyed.  
Baking potatoes, sliced almost all the way through at 1/3 inch spaces and then the spaces stuffed with seasoned and herbed butter, alternating with thin slices of Parmigiano Reggiano cheese.
Baked until golden brown, drizzled with some cream and sprinkled with a bit more cheese and baked again. What more could a person ask for? VIEW RECIPE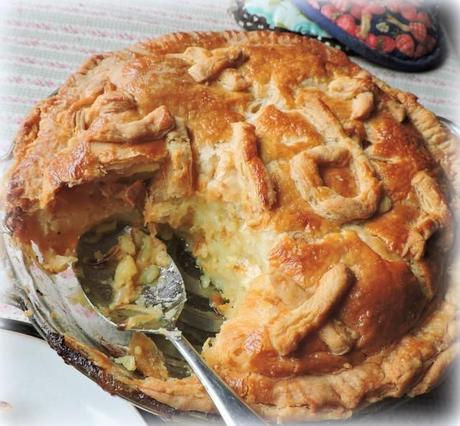 Cheese, Potato and Onion Pie 
Who says that a savoury pie has to have meat in it to be good?  This pie is absolutely fabulous!   You can adapt it to use the cheese which you have in the house. It can be a tiny bit fiddly with the making of the pastry, but absolutely worth all of the fiddle!  
Its a rough puff pastry and incredibly flakey. The end result is delicious and crisp and just really, REALLY nice!  
The filling is not that hard either.  There is no bottom pastry, just top.  You simply caramelize some onions, boil some potato slices, and then layer them in a pie dish with a cheese and cream mixture and a mix of grated cheeses, and bake, until that pastry is scrumptiously golden brown.
Can you say yummilicious? 
VIEW RECIPE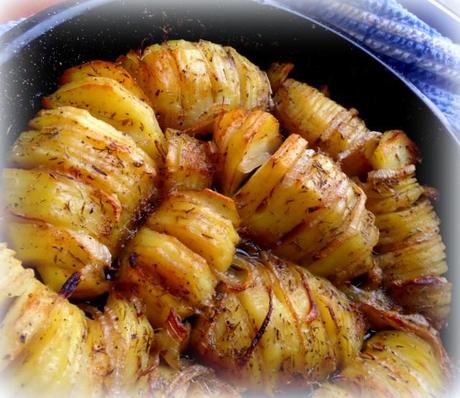 Crispy Potato Roast 
These are simply gorgeous  . . .  just buttery enough, with plenty of flavor . . .  nice and tender inside, but there were also plenty of lovely crisp golden edges to satisfy.  
Crisp potatoes?  Count me in!  
VIEW RECIPE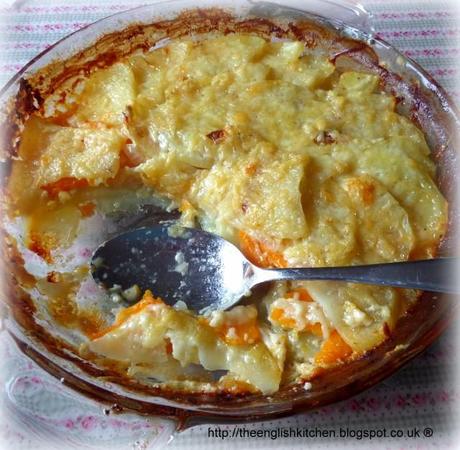 Two Potato Gratin
Sweet Potatoes really shine in dishes like this lovely two potato gratin which I have prepared here today . . . layers of tender white potato, chopped onion,  sweet potatoes and several kinds of cheese.  There is no butter  . . .  you don't need butter with the cheese.   
There is no cream . . .  once again the cheese adds a richness that cream often adds . . .  it is thickened merely with a bit of flour between the layers . . .  it's only seasoning is a bit of salt and pepper . . .  and the moisture comes from ordinary milk. VIEW RECIPE 


POTATO SALADS


I don't know about you, but one thing I really enjoy using potatoes in is salads, and I have a multitude of different ways to enjoy them in this manner.  From the traditional to the unusual. All delicious! (Of course!)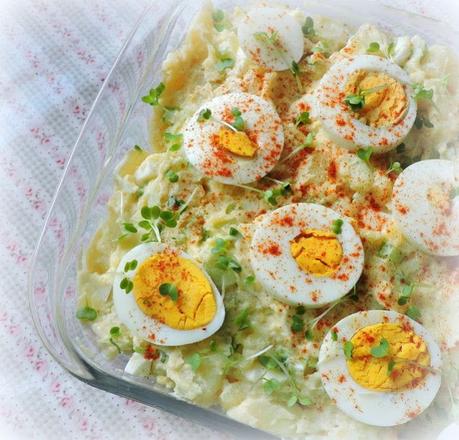 Mom's Potato Salad
Pure and simple. Potatoes, celery  . . .  a tiny bit of onion, some peeled cucumber for crunch, and plenty of chopped egg, salt and pepper and miracle whip. 
This is my favorite way to make a mayonnaise based potato salad.  It is perfect in my opinion, with just the right amount of dressing.   Nicely flavoured with a bit of crunch from the celery and the cucumber.      
VIEW RECIPE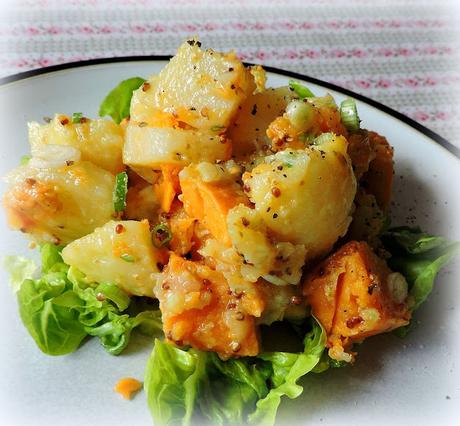 Honey Mustard Potato Salad
Not only is this an incredibly simple potato salad, but it uses two kinds of potatoes, sweet and regular.
With its delicious honey mustard vinaigrette dressing, it is a salad that you can totally make ahead. It is also somewhat healthier than most mayonnaise based potato salads! VIEW RECIPE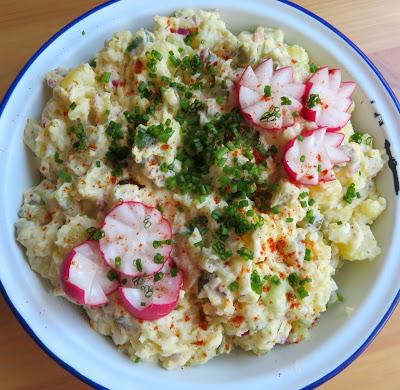 A Healthier Potato Salad 
This is a somewhat healthier version of the traditional potato salad in that it uses half the amount of mayonnaise as my regular one.  I make up for that by combining it equally with a low fat plain yogurt.  This gives the dressing a lovely tang.
I have added plenty of crunch with the additon of chopped sweet pickles.  I use sweet gerkins, but you can use whichever sweet pickles you have to hand which you enjoy. 
VIEW RECIPE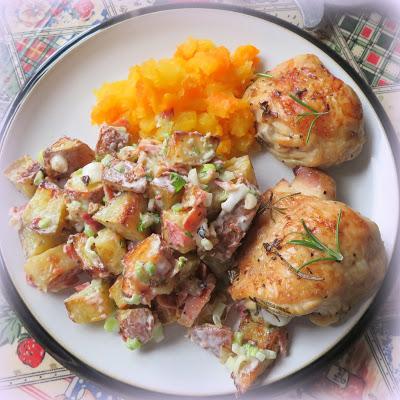 Creamy Roasted New Potato Salad 
This is a really nice potato salad and quite a bit different than the usual one that we see with lots of mayonnaise, eggs, etc. This salad has none of those. 
With gorgeous roasted new potatoes, bacon, spring onions and a creamy ranch dressing, this makes for a deliciously different potato salad. VIEW RECIPE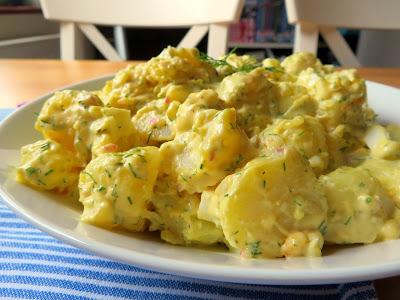 Dilled Potato Salad 
I love the simplicity of this delicious salad. It doesn't take a multitude of ingredients. With a quick and easy homemade mayonnaise using lemon, Dijon, egg yolk, light olive oil, seasoning.  Simple really. You just can't get much easier or tastier.
I just love this salad with its simple ingredients of boiled new potatoes, eggs, chopped dillweed and that lush dressing. Yummy!! 
VIEW RECIPE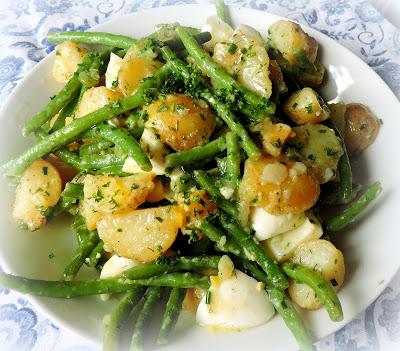 Potato, Egg & Green Bean Salad 
When you dress potato salads with a vinaigrette salad while the potatoes are still quite warm, they absorb some of the dressing which imparts a lovely flavor to the potatoes, it doesn't just coat them. 
This is one of my favorite ways to make a mayonnaise based potato salad.  It is perfect in my opinion, with just enough mayo and lots of flavor.  The flavor of the potato really shines through. Plus you get the added crunch of the beans and the creaminess of the boiled egg.VIEW RECIPE 
This compendium of recipes is just the tip of the iceberg when it comes to the variety of potato recipes here on the blog. If you are interested in seeing more just pop the word potato into the search option!
If these don't whet your whistle for popping to the shops and picking up a bag of potatoes, I don't know what will!!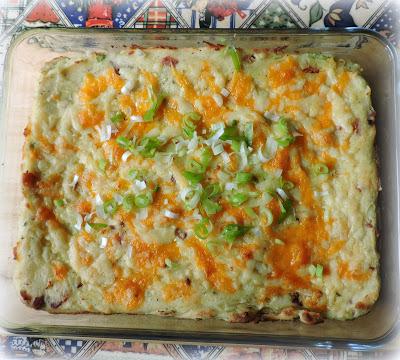 This content (written and photography) is the sole property of The English Kitchen. Any reposting or misuse is not permitted. If you are reading this elsewhere, please know that it is stolen content and you may report it to me at: [email protected] 


Follow my blog with Bloglovin