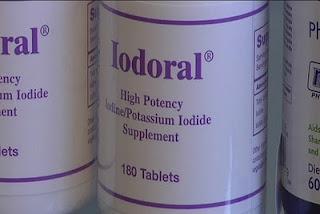 You have probably heard of people in the U.S. taking potassium iodide supplements-just in case they are exposed to radiation from food grown in Japan. It is becoming very controversial.
1. Is it really needed?
2. Is it safe to self-medicate with potassium iodide?
The World Health Organization says it can be harmful if you haven't been exposed to a significant amount of radiation. It is true that fish near the nuclear reactors in Japan and food grown in that area may be contaminated, but doctors say you would need to eat a lot of it to get sick. And government agencies say they are destroying the food that tests positive for radiation. Still, some people are concerned and taking steps, they say, to protect their families. What do you think? Are any of you giving your families potassium iodide?
From NBC: Gregory Hartl/ WHO Spokesman:"If one takes potassium iodide in the absence of a very proximate exposure to radio active iodine, you can actually do yourself substantial damage, so again, do not self-medicate with potassium iodide.*
Gregory Hartl/WHO Spokesman: "Radiation in seawater per se cannot be used to estimate potential health effects of eating seafood. You have to measure radiation in the seafood itself and we have not heard of and specific measurements of that."
-NewsAnchorMom Jen
Skin Dimensions SB products, exclusive to Soderstrom Skin Institute, are manufactured with Pharmaceutical-Grade ingredients. In addition to being "Feel Good Products," they contain unique and innovative ingredients in concentrations that can assist you in the achievement of your own personal skin care objectives. This product line contains higher percentages of Glycolic, Vitamin A, C, E, Co-Q10, green tea, than what you can purchase over the counter.