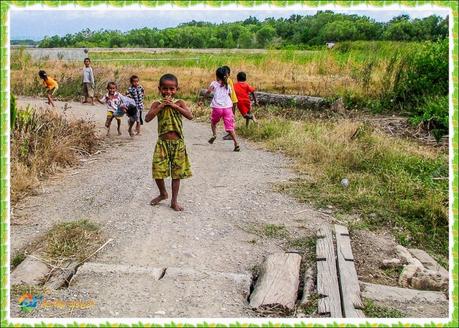 Playful children in West Timor, an island is the far eastern part of Indonesia
Dear Luke and Leia,
Well after 33 hours of flying we made it to West Timor, an island at the far east of the country of Indonesia. We are in the province of Nusa Tenggara Timur (NTT). It was a long flight, but we had no jet lag due to a product called No Jet-Lag. Mr. Richard and Joseph still have it even though they got here a week ago. They should have taken it too.
Today we visited a fish camp and caught our lunch. The Indonesians built a fire and roasted our fish and then we sat on logs in the shade and ate it. This place was beautiful and full of ponds for fishing.
This picture is of some children there. They were a little older than you guys, but they were very playful and Joseph had a good time. When we would walk along the path, they would follow behind, laughing. When we stopped and turned around, they would run off. Just like the silly games you two play.
We even saw a 16-foot crocodile that I took some pictures of. It was on the other side of the fence, so I told Nana to stay put while Mr. Richard and I went to get closer. I got about 20 feet away, turned around and Nana was there, not listening. Haha.
We miss you two. You are the best grandkids ever.
Love,
Nana and Pap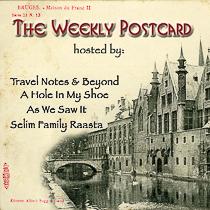 <div align="center"><a href="http://www.aswesawit.com" title="As We Saw It"><img src="http://www.travelnotesandbeyond.com/wp-content/uploads/2015/03/wekpost-3.jpg" alt="As We Saw It" style="border:none;" /></a></div>
An InLinkz Link-up
(Visited 2 times, 2 visits today)