What the heck am I going to write about?



So you have a great blog now but where the heck can you find new topics to write about? Your community wants new material and you are insanely busy! But… you have the dreaded writer's block! What's a blogger to do? I have a few ideas to help inspire you to churn out great topics your readers will love! Yeap I'm sharing the post ideas for bloggers that helped Pauline and I double our traffic in the past few weeks!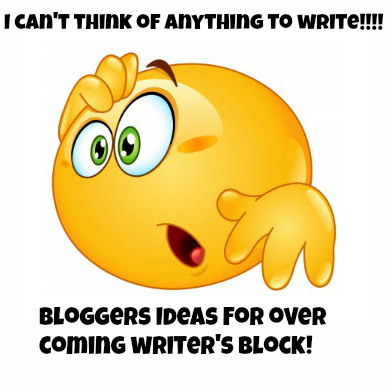 Post Ideas for Bloggers to beat Writers Block
Never be without Paper and Pen
 You will be amazed how often a good idea will come to you then be gone if you don't write it down! Poof it's gone just like that and you can't remember what it was to save your life! It's an old idea but it works. I write my ideas down toss them about with Pauline and just like that we have a ton of new ideas!
Pump up some Tunes!
 My favorite word nerd listens to music as she writes. Tons of great artist do when they are creating. There is just something about listening to music that relaxes the mind and gets the creative juices flowing. 
What do You Want to Know?
 There's a thought! Write about things that you want to know about that haven't been covered! How simple is that? Do research and get the answer yourself. If you are interesting in a topic odds are so are your readers. Answer a question that hasn't been covered and your community will be glad to hear it and sharing it left and right!
Look at your Blog Comments.
 Sounds simple enough but have you tried it? Go look at the questions and comments your readers have been posting on your blog. What are they asking you for. It's a gold mine of blog post ideas. Answer that great question asked by your followers and you have done both our fan and yourself a wonderful service! 
Take a Stand!
 Is there a theory out there that everyone believes except you? Chances are you aren't the only one that thinks it's garbage. Tell why you think it's trash and stand behind your beliefs. Don't just state this is junk. Go out on a limb and tell everyone the reasons. Bet you'll find a lot of other people that feel the same way as you do about it but weren't willing to rock the boat. You could even blast a product or service you think is not worth a hoot or sing the praises of one you couldn't make it without! 
Who Doesn't Love a Series?
This one has been a winner for us here at AssistSocialMedia. I love SEO and Pauline is the Queen of content marketing. We write series about each of these topics and how they can help your business grow by leaps and bounds.Together we have meshed these two important website strategies and are blowing it up! We have double the traffic here in a little over a month just doing this one thing. We each have gotten a nod from leaders in these two niches for writing series about what we love and doubled our traffic at the same time! 
Simply put ..open your eyes and ears. Let your mind relax and wander. It will come to you! Just sit down and start typing!
What do you do when you just can't think of a thing to write? Can you use any of these ideas to pump out some great posts? We want to know what helps you or if you can use these to help get your traffic flowing! Leave us a comment!