Feta and Garlic Roasted Shoulder of Lamb
I got the idea for this super easy recipe from my new favorite recipe book by Fay Ripley, and just adapted it slightly to make do with what ingredients I had in the flat. Fay's recipe was for a mint and feta stuffed lamb shoulder, but on my dash round the supermarket forgot to pick up fresh mint. I decided to improvise - well, just left the mint out!
Here's how you can make this easy but delicious roast lamb. Note: this served two people, using a 400g shoulder of lamb. 
You will need:
Shoulder of Lamb
Pack of Feta Cheese
Olive Oil
Garlic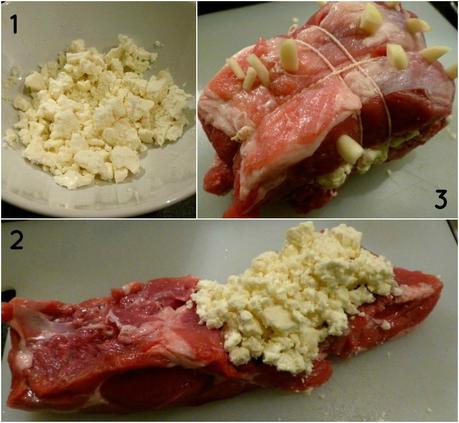 1. Crumble approximately 75-100g of feta (about a third/half a regular sized packet, 
depending on the size of your shoulder of lamb
) into a bowl. Add a teaspoon of olive oil and a big squirt of garlic puree, or two crushed garlic cloves.
2. Open up the shoulder of lamb either by pulling it apart or slicing it. Add your feta mixture, pressing it into place. 3. Close the lamb shoulder, and tie with string. I just replaced the string which the lamb came in originally. Make about 10 slices in the outside of the lamb, and push in sliced garlic cloves. Rub a little olive oil into the skin and season with rock salt. Cook according to instructions on lamb shoulder packaging. For this 400g piece I cooked it for 45 minutes at 190c which meant it was a little crusty on the outside, but still slightly pink inside.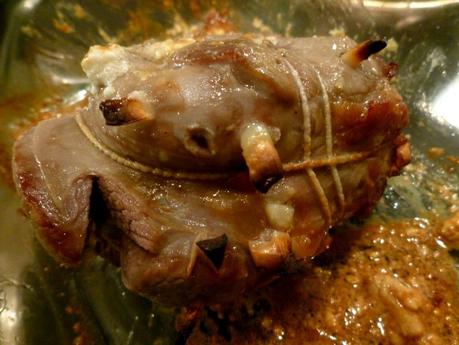 Once cooked, leave to stand for about 10 minutes. You can add the meat juices to your gravy to make it super tasty. Slice into chunky pieces, and scoop over the 'leaked' feta. Serve with roasties and veg - and any other trimmings you wish!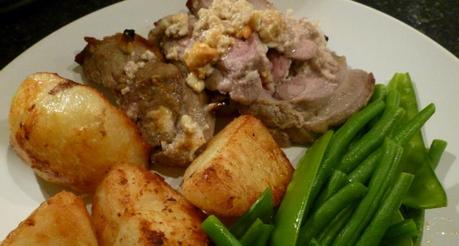 That on top of the lamb is not vomit, but tasty feta, honest!
Enjoy!
Remember to enter my 500 follower giveaway here!