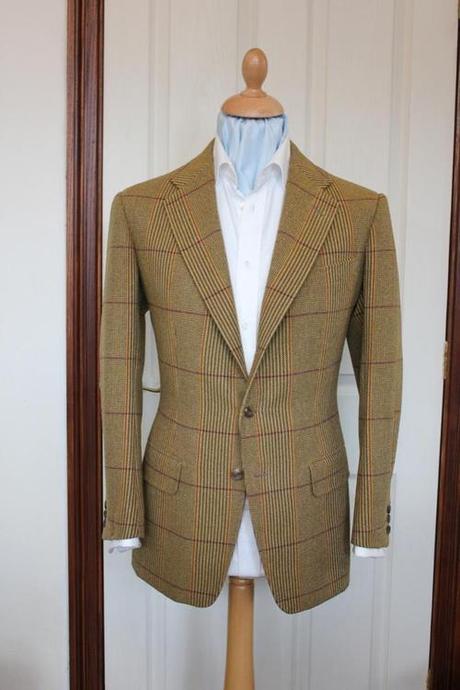 I may be speaking too soon — as this jacket is still in transit to me — but this Russell plaid sport coat by Steed may be the best tailored jacket I will ever own. It was inspired by a photo of George Frazier, a writer who started his career as a jazz critic before moving on to more general topics. In 1960, Esquire published his essay titled "The Art of Wearing Clothes," which in my opinion, is one of the best pieces of writing on men's style that has ever been penned. A must read, if you haven't already.
Russell plaid is a distinctive check. It's something like a tan glen plaid, but with the horizontal stripes stripped away, so only the vertical ones remain. For the lateral sections, there are dark, thin lines, typically in plum, brown, or rust orange, which help balance the rest of the pattern. You can find it in the form of a made-to-order hacking jacket at Leonard Logsdail, or in Harrisons and Hardy Minnis' books if you're going bespoke. Mine is from Harrisons (Porter & Harding's Hartwist No. 32137), which is a darker color than the beigey version you'll find from Hardy.
This jacket reflects Steed's house style well, although I did have some things adjusted. The quarters are cut slightly more open, to give the jacket a dynamic look, but aren't so open that I feel they define its style. I also asked for flapped welted pockets, rather than my usual patch, as I felt they'd give the tweed a certain kind of refinement. Additionally, I had the details done up in a more American or Italian sensibility, rather than British. The front is made with a 3/2 roll and a cheeky three buttons on each sleeve, rather than Steed's default of four.
Everything else, however, has been left the Steed. The co-founder of the house, Edwin DeBoise, previously worked as a cutter for Anderson & Sheppard and Edward Sexton, and his tailoring style heavily reflects those experiences. His house cut is a type of London Drape, with soft, natural shoulders that slope down, ending in a somewhat full sleeve (albeit with high armholes) that tapers nicely to the cuff. The chest is sculpted and full, which gives a beanpole like me some shape, and the waist is nipped to accentuate the athletic look. The skirt is also cut close to the hips, which allows the line of the jacket to flow nicely into the trousers.
For those interested in getting something from Steed, they're currently taking appointments for their US tour next month. They do bespoke and made-to-measure, and have a nice "Build a Wardrobe" program for people who want to order multiple things at a slight discount. The best thing about working with Edwin, I think, is that you're getting your cutter, fitter, and salesman all in one person, which can be helpful with a traveling operation. He's also just a pleasure to deal with. To see more of his work, you can check out Steed's most sartorially famous customer, Voxsartoria.
I'll be seeing Edwin and his son Matthew when they arrive in San Francisco in mid-October, and plan to order another jacket, but I doubt that I'll be able to pick a fabric as great as this one. This might be the best sport coat I'll ever own.