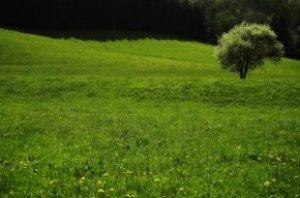 "It came about after the death of Abraham, that God blessed his son Isaac; and Isaac lived by Beer-lahai-roi. (Genesis 25:11)
In Genesis 24:62 and in Genesis 25:11, we are told that Isaac lived near Beer Lahai-roi, or the Well of Him that lives and sees. He lived in the "South Country", or what is referred to as The Negev. This section of Southeastern Palestine was a desolate and arid region (Negev literally means "Dry"). It bordered on the Arabian Desert. So why of all places was Isaac living here?
Beer Lahai-roi was undoubtedly a special place for the people in Abraham's household. The first instance where we are told about the Well is when the Angel of the Lord appears to Hagar after she flees from her mistress, Sarah (Gen. 16:7-16). It was there that Hagar had a revelation of the love and concern that God has for even the outcast and broken-hearted. It was at this spot that Hagar heard the voice of God speaking to her.
Obviously, the relationship between Isaac, the son of Sarah, and Hagar, his father Abraham's concubine, was not the most amicable. But it seems that Hagar must have shared her account of what happened at Beer Lahai-roi that day since the Well came to be commonly known by the name she had given it. Perhaps Isaac was so impressed by what had happened that he headed for that very spot when he set out on his own.
What better place is there to go than that place where God has spoken? What destination is preferable to that where the Lord has revealed Himself? We know that God is not bound by the confines of any particular location; He is omnipresent. But we are wise to look for Him where we know He has been and to seek Him in the last place we saw Him. So often we plead with God to go with us to where we are moving when we would do better to go where He already is. Isaac did just that. Eager to have the hand of God leading his own life, as He had led Abraham's, Isaac went to the place where God had moved before.
To Jesus Christ goes all glory. In service to Him,
Loren
[This post was originally published May 1, 2010]
[If you do not know the Lord Jesus Christ or you are not certain where you are headed when this life ends, I invite you to read the article "Am I Going To Heaven?"]
**Unless otherwise indicated, all Scripture quotations are taken from the New American Standard Bible (NASB) © The Lockman Foundation and are used by permission.
Scriptures marked (CSB) are taken from the Christian Standard Bible  (CSB) Copyright © 2017 by Holman Bible Publishers. Used by permission. Christian Standard Bible®, and CSB® are federally registered trademarks of Holman Bible Publishers, all rights reserved.
Scriptures marked (NLT) are taken from the New Living Translation (NLT) Holy Bible,New Living Translation, copyright © 1996, 2004, 2007, 2013, 2015 by Tyndale House Foundation. Used by permission of Tyndale House Publishers Inc., Carol Stream, Illinois 60188. All rights reserved.
Scriptures marked (KJV) are taken from the King James Version of the Holy Bible, Public Domain.
Advertisements
&b; &b;