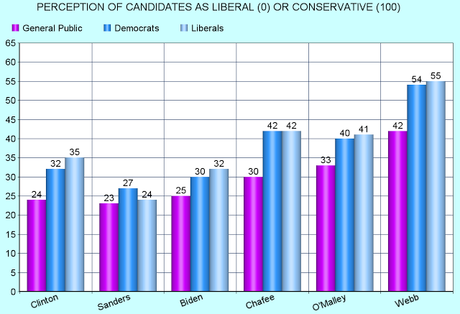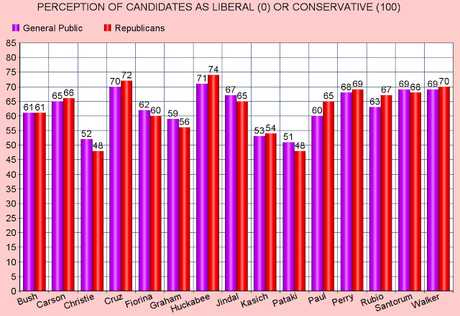 This survey was done by the YouGov Poll between June 6th and 8th of a random national sample of 1,000 adults (and has about a 4 point margin of error).
This survey is different from all of the other polls being taken. It doesn't ask the respondents which candidate they support or like. It just asks them to place the candidates on the political scale with a number -- with 0-40 being liberal, 40-60 being a moderate, and 60-100 being conservative. The numbers shown are averages for the general public and party members (and for liberals on the Democratic chart).In other words, the lower the number the more the candidate is perceived as liberal, and the higher the number the more the candidate is perceived as conservative.
I thought it was remarkable how closely the perceptions of GOP candidates were for the general public and for the party members. There was a little more difference for the Democrats -- with the general public perceiving some candidates as more liberal than party members did.
Generally, among the general public, Clinton (24), Sanders (23), Biden (25), Chafee (30), and O'Malley (33) are considered liberals. Webb (42), Christie (52), Graham (59), Kasich (53), and Pataki (51) are considered moderates. The general public thinks the conservatives are Bush (61), Carson (65), Cruz (70), Fiorina (62), Huckabee (71), Jindal (67), Paul (60), Perry (68), Rubio (63), Santorum (69), and Walker (69).
Democrats consider Clinton, Sanders and Biden to be liberals, while they consider Chafee, O'Malley, and Webb to be moderates. Liberals agree with that assessment. Republicans consider Christie, Graham, Kasich, and Pataki to be moderates -- and all the other candidates to be conservatives.