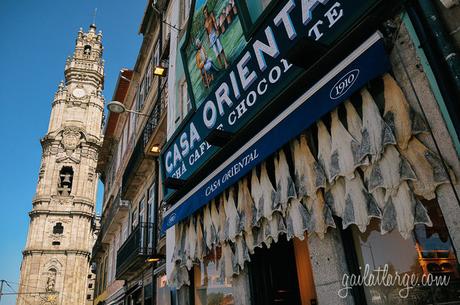 Porto residents, have you been to Casa Oriental lately? It looks a little different than it did just four months ago. Let's review the changes, shall we?
The sign is new. It doesn't look much different, but it's been repainted a darker green. They also gave the shirtless man serious abs! The laundry is for show — I've passed by on other days and it's the same items. Besides, full loads of real laundry hang all over the city. Who would hang just two socks, a couple of kids' shirts, and a tea towel?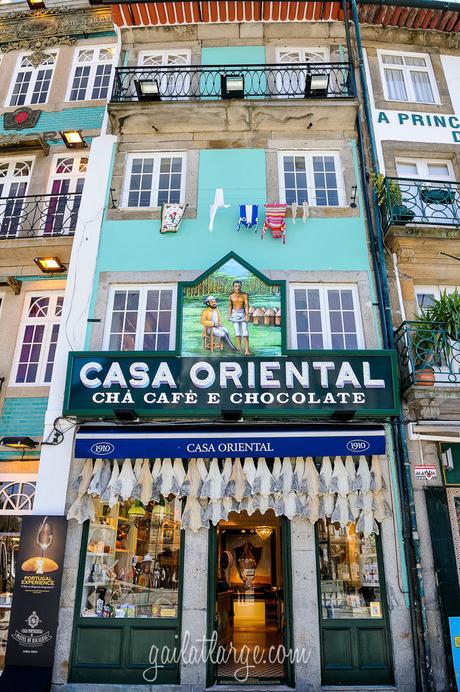 Actually, the first thing that dumbfounded me was that the bacalhau hanging from the awning wasn't real. I had to get a closer look to see what the fake bacalhau was made from… cardboard? It could pass for real from afar, including the fake sea salt, except real bacalhau isn't this flat or even. Real fish would have to be run over by a road paver to look like this.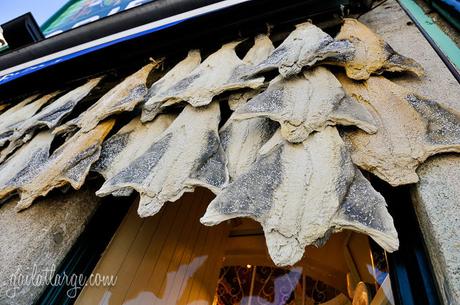 I had to go in and see the place for myself. At the back is a very small selection of real bacalhau. Compared to how prominent bacalhau used to be for Casa Oriental, this section seems rather token at worst and an afterthought at best.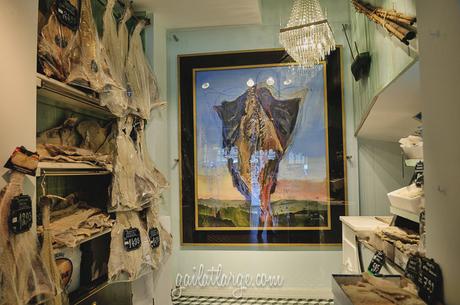 So what does Casa Oriental carry now? Good question. It is no longer a greengrocer. The new wares are in bags, jars, bottles, or tins with long shelf lives. I felt like I was standing in a fancy pantry, preparing to choose food items to sustain me on Mars. With lots of wine.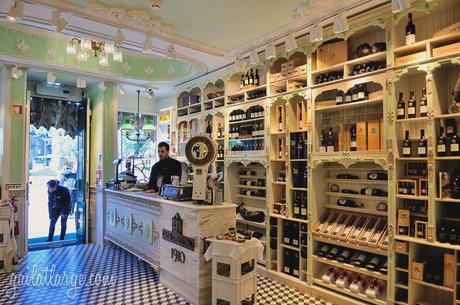 I walked around the store with my camera in a mild state of disbelief that this was the same place I wrote about just four months earlier. It's completely different now, but I suppose this change was inevitable. Porto receives a LOT of tourists to this area because of its proximity to Clérigos Tower and Livraria Lello & Irmão. But those tourists are not buying bacalhau, except in this new form packaged for tourism with port wine next door.
This is not a new story, you know how it goes: Casa Oriental decided to reinvent itself to become more profitable, and as a result it's become unrecognizable except for the sign (with some modifications).They've spread out to two floors instead of one and added heavy, ornate mirrors and a chandelier. Everything has to be labelled now. Clearly, their target market isn't the people who shopped there before 2016, it's the cruise ship passengers who want to take a bit of Portugal home with them in an airtight, flight-friendly container.
I could go on, but instead I'll wrap this up with one final point which tells me everything about Casa Oriental's current marketing strategy: I lost count of how many times they put the year 1910 around the shop, but it's somewhere in the neighbourhood of 20x. It's everywhere: twice on the front awning, the welcome mat, by the register, and in this photo below it alternates between all the signage above the shelves and probably repeats on the opposite wall in case you didn't see it the first dozen times. Hey, maybe it will end up in a trivia show like Sabe ou Não Sabe…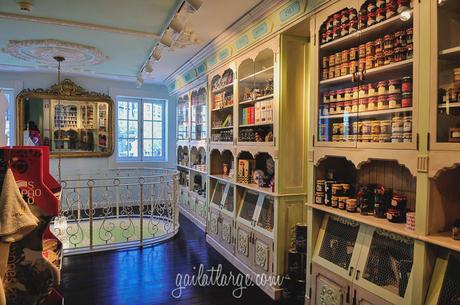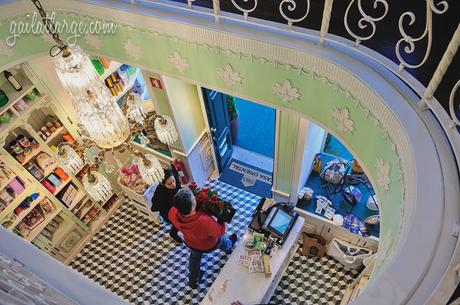 April 6, 2016
Album: Portugal [Spring 2016]