Port Barton is a barangay in the municipality of San Vicente in Palawan. It is about 145 km north of Puerto Princesa.
Go
From Puerto Princesa
From Puerto Princesa, there are two shuttle companies that go to Port Barton:
SBE 0928 765 2181

Puerto Princesa to Port Barton 830AM / 130PM / 4PM
Port Barton to Puerto Princesa 630AM / 10AM / 130PM
Recaro 0998 569 4871

Puerto Princesa to Port Barton 730AM / 9AM / 11AM / 2PM / 4PM
Port Barton to Puerto Princesa 630AM / 10AM / 130PM
Fare is Php 250 and travel time is 3 hours. For some reason, foreigners are charged Php 350. And Recaro, when I called, said fare was Php300 (Php 350 if picked up from airport). The shuttle vans will drop you off at your accommodation in Port Barton.
Heads up!
From Puerto Princesa to the turn off for Port Barton is smooth sailing, but from there on to Port Barton is a jiggle wobbly slippery muddy (when raining) ride. Brace yourselves! It is actually just 22 km but it takes an hour to an hour and a half to navigate this muddy road. Concreting of this road is underway and will hopefully be completed sometime 2017.
From Sabang
Port Barton can also be reached by van (Lexxus Shuttle) or pumpboat from Sabang.
From El Nido
Port Barton can also be reached by van (Lexxus Shuttle) from El Nido.
From the Poblacion of San Vicente
Although part of San Vicente, Port Barton is kind of cut off from the municipality in the sense that there is no direct road between Port Barton and the Poblacion of San Vicente. Well, there is, but as of the moment, it is a small dirt road that only motorcycles dare use. There are three ways to travel between the two barangays:
motorcycle or habalhabal through the mountains – 45 minutes, but not recommended during rainy season (June to November)
jeepney then shuttle van – from Port Barton take a jeepney to Roxas (Php 100, 1.5 hours, leaves Port Barton between 8AM to 9AM) then at Roxas terminal take a shuttle van to San Vicente (Php 120, 1 hour)
pumpboat – Php 1500 for up to 4 pax, 1 hour.
Stay
Sorry to disappoint you, but I don't have a list of accommodations for Port Barton. There are a lot! But I do recommend the place I stayed in: 
Divinagracia Cottages
 [Mrs Julie Divinagracia 0912 543 0983 / Ms Avon Divinagracia 0947 424 8584]. It's not beach front, but just a one minute walk to the beach. It is that close! 

Divinagracia's native cottage


The room on the ground floor of the Divinagracia's concrete building
Divinagracia Cottages has two native cottages and two rooms in the new concrete building. Each room is good for 2 persons and priced at Php 600 per room. All rooms have a fan (electricity is from 6PM to 12MN only) and an ensuite toilet and shower. Towel, toilet paper, soap, and shampoo provided. The rooms are clean. The owners are friendly and helpful.
Eat
There are many restaurants in Port Barton, but I only had the chance to try these two:
Gacayan Restaurant
Gacayan Restaurant is said to be the cheapest restaurant in Port Barton. The food is affordable and the serving size is quite big. They have many dishes to choose from (their menu took up the entire width of one wall!).  The dishes I tried are special adobo with rice (Php 130) and shakshuka with two pieces of bread (Php 120).
Miam Miam Glou Glou
Miam Miam Glou Glou is a French Restaurant. The owner is a Cebuano from Pasil who married a Frenchman. They bake their own unsalted bread. I tried their savory crepe (Php 160), hummus (Php 120), and homemade bread.
Do
Laze Around
You're on vacation. Just relax and laze around on the beach.

Island Hop
There are four island hopping tours each offering about 3 destinations. Each tour costs Php 700 per person, which includes lunch, snorkel and mask, and lifevest. The tour is from 9AM to 4PM They require a minimum of three persons. Solo travelers can join other groups. If you are very unfortunate to not find other groups to join, you'd have to go on a private tour which would cost Php 2500 per boat.
Although only three destinations are listed for each tour, we were actually taken to: Exotic Island, Paradise Island, Starfish Island, and snorkeling in Twin Reef, Ocean Reef, and an area near German Island/Double Island where there was a sea turtle.

Exotic Island

Paradise Island

Starfish Island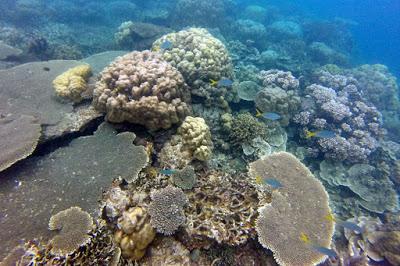 Twin Reef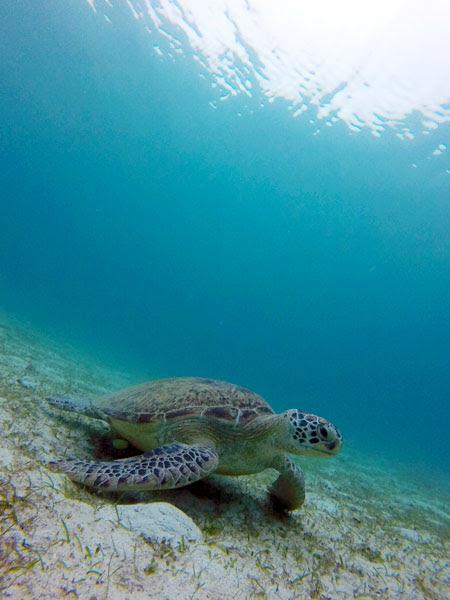 Sea Turtle near German Island/Double Island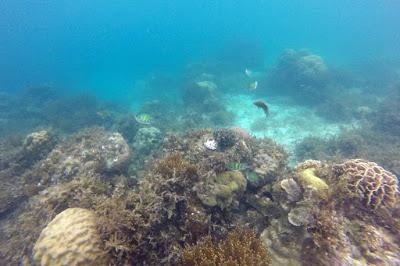 Ocean Reef
Other snorkeling spots you can visit while on an island hopping trip: Aquarium Reef, Marine Sanctuary, Wide Reef, Fantastic Reef.
Visit Waterfalls
For those with itchy feet and can't stay put for long periods of time, visit Pamuayan Falls and Bigaho Falls. Pamuayan Falls can be reached by hiking a 3.5-kilometer trail near Greenviews Resort. Bigaho Falls can be reached by taking a pumpboat to the village of Bigaho then a short 20-minute hike. Bigaho Falls is part of one of the four island hopping tours offered in Port Barton.
Heads up!
Visitors are required to obtain an eco card (Php 50) which is valid for 10 days. This can be obtained from the tourist office or through the isand hopping operator.